Overcoming network challenges in Financial Services from COVID-19
What we're hearing from FIs—and our advice for adjusting to the new work environment
We're facing a public health crisis the scope of which few could have predicted or imagined. As coronavirus (COVID-19) continues to spread, we know how hard those in financial services are working to help those who are most impacted. Now, many teams and customers are working remotely, and you find yourself expanding the use of digital and communication services.
We're having ongoing discussions with banks, wealth managers, insurers, and other financial institutions (FIs). While your specific situation is unique, we wanted to share some of the common challenges we're hearing from customers across your industry and how we're helping them respond.
CHALLENGE: Communicating with key parties
ADVICE: There is an increased need for executive communication with strategic staff, suppliers, employees, and customers. Equip the business with executive conferencing solutions and expanded digital tools across a variety of channels to enable more agile messaging. Consider additional executive communication methods like SMS, voice, and video conferencing that can adjust to enable large-scale reach.
CHALLENGE: Network volume
ADVICE: Due to increased network volume from customers and employees working remote, FIs are experiencing increased latency and restricted or problematic access to critical apps, especially at hub sites. Add internet and hub site bandwidth to help scale the network quickly to address increased traffic and other network-related stress.
CHALLENGE: Home connectivity
ADVICE: Consistent and highly reliable home connectivity for remote workers is a big concern. Internet service is a shared medium that may not be enough to support access to the critical resources your company maintains. For those roles that need higher performance assurance, augmenting with cellular and other performance-enhancing services can be a solution.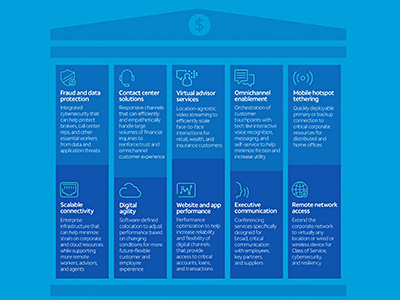 10 Financial Services priorities for COVID-19 and beyond
These are the top technology priorities we're hearing from financial services providers.
CHALLENGE: Collaborating more with remote colleagues
ADVICE: Equip remote workers with audio, web, and video collaboration tools and highly reliable mobile connections, so teams can group chat, text, set and send alerts, have video conferencing, and the ability to share access to files on the go.
CHALLENGE: Increased call volumes
ADVICE: Many are experiencing increased volumes at critical support centers and other operational hubs. Increase your overall call capacity, implement soft client technology (that can run on mobile devices and laptops to more accurately label outgoing calls for caller ID), and redirect calls to more centralized support centers.
CHALLENGE: Cybersecurity
ADVICE: There is concern about cyber criminals attacking as FIs increase the number and scale of connections. Because highly secure remote access has become the backbone of working remotely, it's important to know that your infrastructure is up-to-date and patched. Systems and applications typically used in fixed corporate environments may now need to be accessed by remote users, requiring extra scrutiny from a security perspective. Cybersecurity consultants can help you assess evolving network configurations and identify whether automation could alleviate some of the burden on your IT team.
CHALLENGE: Training on new digital tools
ADVICE: Many are concerned about helping employees to get up to speed on new digital tools for ordering and provisioning. Business solution providers typically have professional services in place you can engage for help on training. If you've just purchased a new service or solution, check to see what training comes as part of the package.
We are committed to serve
Please know that we are always dedicated to helping you—and we're taking even more steps to help during this extraordinary, heightened time of need. Please reach out if you need any services or devices to help your organization, or if we can help answer any questions. If you'd like to know more information about how we're responding, how our network is performing, or how we can help you in the face of unpredictable events, visit our Business Continuity page.
AT&T Business is a leading provider of Edge-to-Edgeˢᵐ solutions for Financial Services Solutions. Help achieve smarter, more trusted interactions with our unique ecosystem of highly reliable, highly secure technology, expertise, and global network.