Omnichannel contact centers in the financial services industry
Learn about a 'super' solution financial companies are considering
We all like to think we work hard for the money we earn. So, when someone takes charge of that money on our behalf, the relationship must instill a very personal sense of trust, confidence, and value.
In the financial services sector, the introduction of game-changing technologies and data-driven relationships have also introduced both threat and opportunity. The threat comes from a new breed of nimble competitors with low overheads and platforms based on the latest scalable and adaptable technology. The opportunity, created by that same technology, is to develop deeper, more informed customer relationships based on a more holistic experience, rather than purely a transactional service.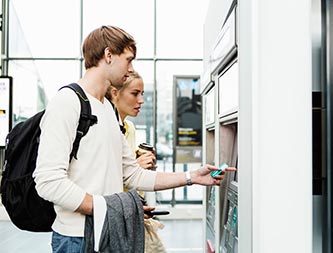 Financial Services
Inspire renewed loyalty, streamline operations, and position yourself to outpace competitors with integrated, data-driven solutions.
Data-driven, omnichannel contact centers
Customer expectations of banks, insurance companies, lenders, and wealth management specialists have changed irreversibly.
Now, the imperative for finance companies is to meet those expectations with the help of technology and solutions which support highly personalized yet scalable customer relationships.
One "super" solution is a data-driven omnichannel contact center hosting multiple communication channels on a single platform. For the customer, that can mean a seamless experience, regardless of the path taken. Across touchpoints, the customer benefits from a truly "joined-up" experience with contact center agents who can integrate real-time data with accurate and highly responsive customer service.
An end-to-end omnichannel experience could involve a financial services product being introduced in-branch, but with customers browsing the features online. Using an online chat facility, the customer can seek clarification that the product policy is the best fit for them and even be offered a special promotion.
With a phone call, the customer can seek further assurance from a product specialist, make a final decision, and even sign the policy online. With policy documents sent online and integrated customer service offered across all channels, the customer is happy to provide good service feedback and is then placed into an appropriate retention workflow for future relationship building.
For financial services advisors, a data-driven omnichannel contact center means greater customer insight and operational intelligence. And with the ability to deliver a more personalized customer experience, a virtuous circle begins to form.
When customers feel a greater sense of understanding from advisors, it becomes easier for them to entrust that hard-earned money for investment or take on additional financial responsibilities.
For financial services advisors, a data-driven omnichannel contact center means greater customer insight and operational intelligence.
Migration challenges
The case for an omnichannel contact center is powerful for enterprises in the finance industry. However, it's also easy to see why some organizations find the idea of migrating to an omnichannel platform a daunting prospect – despite the potential for greater customer success and competitive advantage.
With challenges such as legacy infrastructure, Customer Relationship Management (CRM) integration and Unified Communications to consider, the task of moving toward omnichannel demands a hybrid set of skills, insights, partners and technologies to be successful.
With over 30 years of experience working with contact center executives, AT&T can help financial institutions find the right mix of technology, the right partners, and the right strategic operating model to deliver an integrated, omnichannel customer experience across the entire retail customer-facing enterprise.