New year, new resolutions
What are your tech plans for 2019?
It's another exciting year for advances in technology, which means new ways to enhance your business. Here's a look at what's coming, so you can take advantage of the opportunities that the new year brings.
1. 5G is starting to roll out across the U.S.
5G, the fifth generation of cellular wireless technology, will ultimately offer massive connection power and lightning-fast speeds that will enable transformation across virtually every industry. From healthcare and manufacturing to retail and finance, 5G stands ready to spur market growth and the global economy with waves of innovation.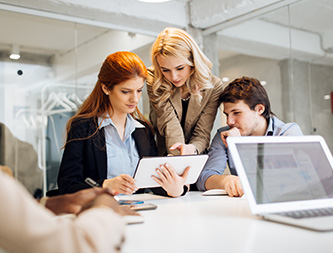 Network Services
Technology is changing rapidly and with that comes higher demands on your network while pushing bandwidth requirements to its limits.
As an example, let's look at healthcare. Access to near-real-time data and the ability to make split-second decisions are critical in healthcare environments. 5G will ultimately offer reliability, extreme speeds, and low latency, which will in turn greatly improve file transfer time, which can help improve diagnostics time and optimize patient care. For example, if a clinic needs to send a large file to another facility for diagnostics, 5G will eventually enable the file to transfer much faster than before, and without hindering the clinic's network connection. Faster file transfer means faster decision-making, and the healthcare facility can potentially see more patients in the same amount of time.
To thrive in this next industrial revolution, make sure you take steps to prepare to alter how your business operates. The first step is to understand the capabilities that 5G will ultimately have the power to unleash. Read "The dawn of the 5G world: How 5G technology will ultimately alter the DNA of the digital experience."  
At end of 2018 , AT&T standards-based mobile 5G network was launched in parts of 12 cities: Atlanta, Charlotte, N.C., Dallas, Houston, Indianapolis, Jacksonville, Fla., Louisville, Ky., Oklahoma City, New Orleans, Raleigh, N.C., San Antonio and Waco, Texas. In the first half of 2019 we plan to deploy mobile 5G in parts of these 7 additional cities: Las Vegas, Los Angeles, Nashville, Orlando, San Diego, San Francisco and San Jose, Calif.
5G stands ready to spur market growth and the global economy with waves of innovation.
2. It's time to dust off your cybersecurity strategies
It's vital for companies to periodically analyze and adjust their security postures. The beginning of a new year is the perfect time to reflect on what threats surfaced the previous year and what your business should consider next. Here are a few things to keep in mind when assessing your cybersecurity strategy.
Digitization brings new risk, but preparation can result in a multi-layered cybersecurity strategy that work.
Companies shouldn't wait for a breach to evaluate their strategies. And it's not just the IT department's responsibility to consider cybersecurity; it's a company-wide task. Make sure your organization knows and understands their roles in protecting the enterprise.
An over-reliance on insurance can be a mistake. Companies should invest across insurance, technology, and third-party service providers for a layered approach.
Sophisticated systems need sophisticated protection. Make sure as you adopt new technologies, your cybersecurity strategies are sufficient. Get help with roadmaps and plans.
Work with security providers for strategies that last. Admit that you might have in-house knowledge gaps, and don't be afraid to ask for help from experienced security providers.
Learn more about AT&T Cybersecurity offerings and how we can help meet your security needs.
3. Predictions for IoT in 2019
Internet of Things (IoT) technology continues to grow at an exponential rate, advancing innovation across almost every industry. Here are a few predictions for 2019, as noted by Chris Penrose, President of IoT Solutions, AT&T:
Video-as-a-sensor technology will enhance IoT data insights. Companies that adopt video sensors as part of their IoT strategy will have an enhanced ability to improve operations, save time and money, and increase public safety. Expect surveillance-as-a-service and inspection-as-a-service models to gain traction.
Manufacturing, healthcare, and public safety will be the early benefactors of 5G. Smart factories will revolutionize the manufacturing process and connect the entire supply chain. Healthcare efficiencies will transform the patient experience. First responders will have new lifesaving capabilities.
IoT solutions will be key to helping companies achieve their sustainability objectives by conserving water, reducing energy and fuel use, and driving lower carbon emissions. Industrial IoT applications such as asset and fleet management solutions will unlock massive efficiencies and help reduce emissions across multiple industries such as manufacturing, transportation, logistics, and energy.
Global adoption of low power wide area networks will spur innovation and mass deployment of IoT devices.
The data-sharing economy will continue to gain momentum. More and more businesses will look to share valuable data across partners, vendors, manufacturers, and other third parties from disparate sources in a trusted and highly secure manner. Data sharing and advanced analytics will be key to maximizing the value of IoT.