New research shows hospitals are digitally transforming the patient experience
Progress varies, but providers are on their way to revolutionizing patient care
The idea of deploying current and emerging technologies to transform the patient experience inside healthcare facilities – from the waiting room to the patient room to the operating room – is now a priority for most healthcare organizations, according to a new survey from the Healthcare Information and Management Systems Society (HIMSS) and AT&T.
The survey, The Digital Hospital: How Technology is Transforming the Patient Experience, reveals healthcare organizations are readying their IT backbones to deliver enhanced patient care and the kind of overall experience today's connected consumers expect.
Early adopters report implementing technology to improve the overall guest experience, from simplifying the patient check-in process to offering Wi-Fi connectivity to patients and visitors. Others are advancing more slowly: they are still weighing solutions or are hindered by resource shortages.
"The results of this survey are definitely encouraging," said Maria Lensing, VP of Healthcare Solutions at AT&T. "Patients today have demands similar to other consumers. They have high expectations for what their healthcare experience should be. While there is still more work to be done, many providers are taking tangible steps toward deploying edge-to-edge digital technologies, so that consumer expectations are exceeded. It's exciting."

"Providers will find it increasingly difficult to remain competitive without fully embracing edge-to-edge technology throughout the continuum of care."
Share this quote
Opportunities abound
HIMSS conducted the survey on behalf of AT&T in June 2018 to better understand how hospitals and integrated delivery networks (IDNs) are transforming the patient experience inside their facilities through technology, thus changing how they operate and deliver patient value.
Of the 101 qualified respondents who completed the survey:
52% represented IDN/multi-hospital systems
44% were clinicians, 32% in information technology, and 25% business leaders
72% of the respondents were from systems with 200 or more beds
Key research findings
The majority of hospitals are actively involved in digitally transforming the patient experience, but it's still early and progress is slow:
8% have fully executed their digital strategy
30% are in the process of making changes across the enterprise
26% are making ad hoc changes at the departmental level or for specific use cases
32% are still gathering information and formulating a plan
5% are not taking any action and have no plans to do so
 Hospitals are deploying a growing number of technologies to enhance the patient experience, particularly in large systems:
53% of systems (66% of large systems) have three or more technologies in place today
70% of systems (85% of large systems) are planning to use three or more technologies
Wireless connectivity, self-service solutions, and entertainment/education top the list of tech deployments already in place, but emerging technologies such as artificial intelligence (AI) and the Internet of Things (IoT) are on the horizon:
60% of systems provide reliable and ubiquitous wireless connectivity

45% currently deploy self-service solutions and mobile apps to simplify patient check-in processes
48% have plans to use machine learning/AI to enable on-demand access to information and services

44% have plans to implement IoT technologies for asset/inventory tracking
Larger hospitals and systems are more likely to embrace emerging technologies:
52% of larger systems are currently using wireless bedside telemetry
55% are planning to use machine learning/AI
51% are planning to implement IoT for asset and inventory management tracking
47% are planning to provide post-op patients with wearables
Hospitals are reporting success at using technology to advance key goals. But effectiveness lags on many key objectives, primarily because of a lack of resources and vision:
53% of all respondents said improving patient satisfaction was a goal, but only 35% characterized their performance in achieving this goal as extremely or very effective

57% said they were extremely or very effective at creating a more efficient patient check-in process, but only 21% identified that as a top goal
Respondents cited lack of budget (51%), lack of in-house tech resources (40%), and lack of a unified strategy/vision (35%) as the biggest obstacles to fully realizing digital transformation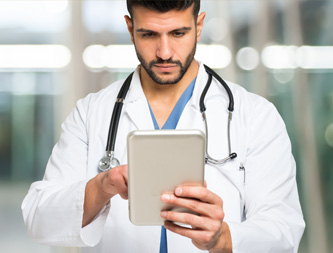 Healthcare Solutions
AT&T provides edge-to-edge technologies that help healthcare organizations orchestrate the transformation from healthcare to human care.
Modernization now a must
"Providers are facing competition from a range of consumer-oriented digital entrants that have strong online presences, are steeped in a culture of analytics, and offer cloud-based services," says Lensing. "These emerging potential competitors have expertise in relationship management strategies and incentivizing wellness/fitness programs. They are totally disrupting the industry and providing healthcare consumers with more choices than ever more. Providers will find it increasingly difficult to remain competitive without fully embracing edge-to-edge technology throughout the continuum of care."
Regardless of a healthcare organization's digital maturity, the HIMSS survey indicates momentum for modernization is building across the healthcare sector, with larger health systems leading the way. These organizations are priming their IT infrastructures to provide ubiquitous wireless connectivity, so solutions work without disruptions, which is paramount in a healthcare setting. If all goes as planned, patients and clinicians will benefit from improved care delivery and operational efficiency made possible by today's—and tomorrow's—technological advances.