Ready to make the move to SD-WAN?
Our new eBook guides you to a more efficient network architecture
AT&T Business knows how challenging it can be for small- and medium-sized businesses like yours to manage and optimize network infrastructures. Not all businesses employ personnel with the necessary expertise to implement the latest technologies. That's why we work hard to bring you advice and resources that can guide you towards embracing powerful solutions.
Take for instance Software-Defined Wide Area Network (SD-WAN). You've probably heard of this network topography, but you may not fully understand how it can improve your network performance. Or perhaps you're aware of its benefits but don't know how to implement an SD-WAN solution that's best to fit your specific business goals.
The challenges of COVID-19 altered how businesses deliver services and protect their critical data, and SD-WAN emerged as a powerful tool to help navigate those changes. AT&T Business sponsored an eBook in partnership with International Data Corporation (IDC) to explain the role SD-WAN plays in helping your business thrive in a post-COVID-19 environment.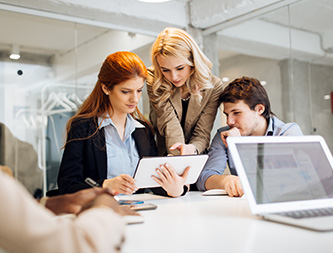 Network Services
Technology is changing rapidly and with that comes higher demands on your network while pushing bandwidth requirements to its limits.
To create the eBook entitled "SD-WAN Enables Digital Resiliency," IDC performed market research to illustrate how small- and medium-sized businesses are using SD-WAN to cope with the economic consequences of COVID-19. The eBook allows readers to customize their viewing experience by displaying statistics relevant to their business size. Filtering the eBook to show data for your business segment gives you a better sense of how your organization compares to others, and it helps you identify opportunities to successfully incorporate SD-WAN

The eBook highlights some key data about the post-COVID economic landscape:
41% of small- and medium-sized businesses are still focused on business continuity
49% plan to invest in SD-WAN over the next two years
Businesses with SD-WAN achieved up to 25% better business and operational outcomes
These stats reveal how economic pressures motivate businesses to seek out new tools. SD-WAN can ease the strain of adapting to evolving business priorities by improving network performance.
COVID-19 altered how businesses deliver services and protect data, and SD-WAN emerged as a powerful tool to help navigate business challenges. Read our new eBook to learn more.
In the eBook, you'll discover how SD-WAN solutions help businesses:
Navigate the complexity of network management
Improve internet connectivity
Optimize bandwidth
Enhance network visibility
Gain cost-reducing efficiencies
Reduce the risk of multiple security threats
The resulting technological improvements can help your business increase efficiency, facilitate innovation and expansion, and increase revenue.
The eBook also provides practical guidance on selecting an SD-WAN managed provider and deploying the best solution architecture for your priorities. You can incorporate SD-WAN into other digital capabilities, including videoconferencing, cloud services, and Internet of Things (IoT) to gain even more versatility and improved performance.
AT&T Business is here to help provide guidance on choosing and implementing network solutions tailor-made for your small-to-medium-sized business. You don't have to navigate the changes alone—we're here to help every step of the way.
Learn more about AT&T Business SD-WAN solutions.
Request info
To get sales help from a Business Solutions specialist, please complete this form.