Measuring success of social media is serious business
Download Part 5 of our 5-part series and learn how to measure the success of a social media campaign
A robust social strategy is critical to any business, and social media success has a different meaning to different people. Of course, the question we all want to know is:
Are my social media efforts working?
Social media is fluid. People come and go, but numbers are solid. That raw data becomes a reflection of your success. How is your message being received? Are you reaching the right audience? Is your brand memorable?
 
Why numbers matter
Social media is a crowded place, so it's essential to track how well you're doing. The numbers don't lie—and they're why learning to measure success is so important to your business and marketing plans. The data will show you what content is working and what is not. What data means most to you and your business? That kind of analysis is what small business owners need to know before getting started.
AT&T Business and Fullscreen have developed a powerful tool for your toolbox to help build a better business in a COVID-19 world: the Small Business Social Media Playbook. Inside, you will learn practical tips to help you find the right metrics.
Throughout the last several weeks, we have provided small and mid-sized business owners with parts of the Social Media Playbook to guide you as you take your business on the social media journey: 
After investing your time and resources, it's time to discover and display your success in social media with Part 5: Measuring Success. 
The numbers don't lie, which is why learning to measure success is so important to your business and marketing plans.
Share this quote
Download Part 5 of this vital 5-part series to learn what your small business needs to be effective on social media today! 
During this step of the social journey, you will connect with your customers by learning to: 
Optimize content
Understand what your fans connect with in social media
Measure post and/or paid media success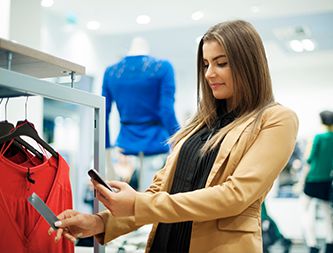 Retail Solutions
AT&T empowers retailers with data insights and secure technology solutions to help provide a powerful, connected consumer experience.
What business owners are saying about the Social Media Playbook
The Small Business Social Media Playbook you shared was incredibly helpful to me during the darkest days of the pandemic and will continue to be a helpful navigation tool as I move forward. 
From guidance on determining my target audience to developing my voice to defining the best platforms, the guide was supportive for someone at the beginning of this journey. It reinforced to me that my instincts were right and helped me to hone in on my social personality.
The analytics portion was also very helpful. It helped me learn how to gauge success and build upon learnings. The generational segment definition page and their habits was also very valuable to understanding how my target audience interacts with social and their shopping habits. Thank you so very much for sharing this with me and other local small businesses.
~Sonia Malloy, Splurge Gifts, Greenwich, Connecticut


Discover the power of metrics and how to gauge a social campaign's success today! Download Part 5 of the Small Business Social Media Playbook, "Measuring Success."