Market your business through online giveaways #LikeABoss
Build up your customer base with this nifty checklist that'll help you run effective contests and sweepstakes
Giveaways, contests and sweepstakes add major excitement to the usual act of scrolling through social media or crammed inboxes. Who doesn't want free stuff, even if you have to lend your email address in exchange?
As a small business owner, running a giveaway can be just as exciting and valuable — you have the added bonus of learning special insights about your fan base, as well as gaining a larger audience overall. Plus, you'll end up making one or more special winners very, very happy.
But much like venturing into the Arctic Circle and expecting to survive, preparation is key.
Before you decide to jump in and start your business's giveaway, you'll need to make a checklist. Just kidding — you'll need to cross things off this checklist we already made for you, which you can download as a PDF below. Or, you can keep on scrolling if you're not ready to commit to a PDF just yet.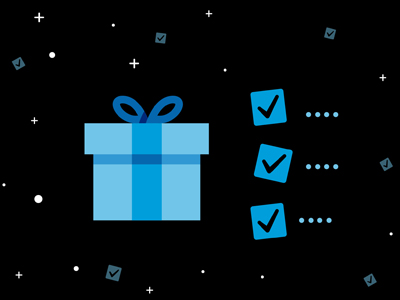 Hype up your customer base with online giveaways
Want to run your best giveaway yet? Keep this checklist close by so you can boost business while providing extra value to your customers.

Prep #LikeABoss   
Pick your giveaway goal to monitor:
o   More followers
o   Email signups
o   Awareness of product/service
o   User-generated content   
Decide on a prize that's relevant to your audience.
o   For example, if you're an accountant, give away a free tax-return service instead of something like 30 pounds of peanut butter.   
Review giveaway rules with a legal professional.   
Ensure giveaway adheres to rules of each social media outlet you use.   
Decide a timeframe.
o   2–4 weeks is ideal 

Choose either one big giveaway or frequent, smaller giveaways.
o   Consider smaller giveaways just for entering to increase amount of entries.   
Set up a landing page for the giveaway to monitor traffic.   
Create a low barrier of entry.
o   More people will sign up if there are less steps to enter.   
Require email signup before entry if your goal is to get more subscribers.   
Make the prize equal to the amount of effort people have to go through to enter.   
Consider third parties:
o   Use an online giveaway service.
o   Use influencers to spread the word .
Don't take a break just yet      
Engage with everyone during the giveaway timeframe.  
o   Manners matter: Say "thank you."  
o   Keep everyone updated on the contest.      
Post useful content outside of giveaway posts.  
o   Show your new followers what you do outside of this giveaway.      
Use paid advertising.
We have a winner!   
Announce the winner.      
o   Follow up with content showing the winner enjoying their prize, to really rub it in the losers' faces.  

Analyze data — did you meet your goals?   
Learn from the past.      
o   Note what you can tweak to make the next giveaway even better.
There you have it. Now go make someone's day. And don't worry if your first giveaway process seems a little rough. Like most things, practice makes #LikeABoss perfection.