Making a business case for IoT and network infrastructure in manufacturing
Learn more from recent AT&T report based on study of 100 industry leaders
The factory of the future can provide flexibility to help manufacturers remain competitive in the ever-evolving market and supply chain. And for the type of manufacturing operations they have – process, discrete, or a combination of the two, these companies have different priorities for the technology and business models that will help to keep them competitive and growing.
To maintain a culture of innovation and increase business value, companies must invest in the infrastructure of their business, but even the most ambitious of manufacturers often struggle to solicit executive support for technology improvements.
No matter the size of the operation, they're aware that support for building the factory of the future is dependent upon their ability to win the confidence of executives by delivering on their ROI expectations.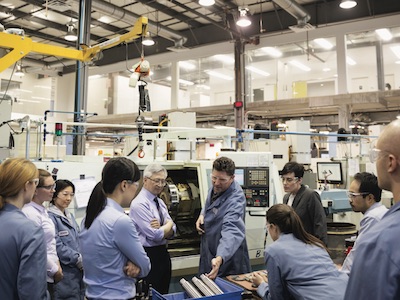 Realizing the factory of the future in manufacturing
Our recent white paper report covers how investments, training, and new technology can help manufacturers overcome daily challenges and realize ROI.
AT&T Business collaborated with Connected Manufacturing Forum to conduct a study of 100 business leaders in both process and discrete manufacturing to determine how they view the current technological landscape for the industry and their business goals. In our first post about the findings, we reported that process and discrete manufacturers have different ideas for how to use technology and supply chain opportunities to innovate and compete.
In either scenario, achieving executive support to capitalize on IoT and network infrastructure enhancement is a challenge. The data shows that half of manufacturers are primarily concerned about these challenges for their key technology investments, and as they struggle to realize the varied ways that advancements in IoT technology contributes to the health and growth of the business, nearly half (49%) are primarily concerned that it will take too much time for them to capture ROI.
But some manufacturers are keeping pace with the game. More are prioritizing IoT adoption in the next 24 months than any other technology. Many are building a business case that proves IoT viability to executives and demonstrating how it will help them realize their top priorities—new revenue streams, direct-to-consumption (DTC) models, and others.
Delivering ROI in the 'factory of the future'
In the latter part of our full report in a section titled "Making a business case for new technology adoption," we discovered that the lack of executive support may be attributed to leadership not making the connection to IoT and emerging technologies as being a solution to help meet their business goals. But contrary to this, factory-level teams already have a direct line of sight into how IoT and network infrastructure solutions are now critical to growing business value.
AT&T Business collaborated with Connected Manufacturing Forum to conduct a study of 100 business leaders in both process and discrete manufacturing to determine how they view the current technological landscape for the industry and their business goals.
Share this quote
These teams are seeing first-hand how IoT can make the assembly line work more efficient through collecting data that informs minute-to-minute decision-making for improved throughput. This includes less downtime as a result of predictive maintenance. And for facilities that already have a level of IoT adoption, advancing improvements through AI, augmented reality (AR), and co-bots to help make working on the factory floor safer may be embraced as a means to make the factory run more smoothly. 
In fact, respondents' ambitions to achieve executive support and ROI are directly rooted in a current lack of technology that could make these options a reality. Forty-nine percent either somewhat (40%) or strongly agree (9%) that they "do not have the technology they need to be competitive."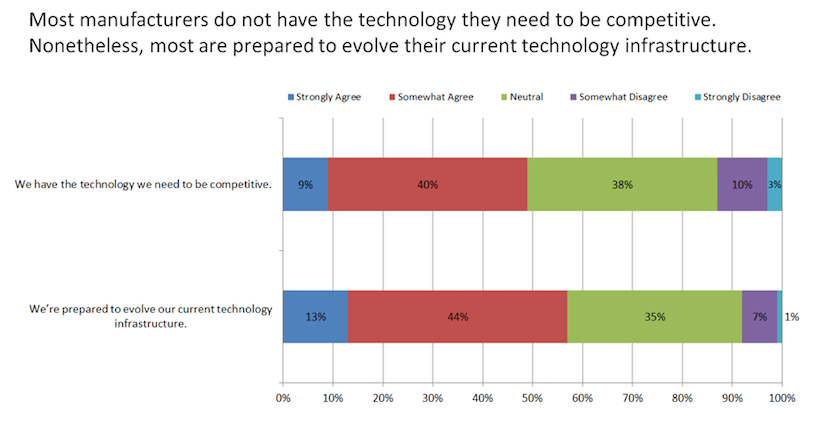 For those who disagree with this assessment, their concerns about performance are not for lack of readiness for new technology adoption. Most respondents agree (57%) that they are prepared to evolve their current technology infrastructure. Only executive approval can relieve their performance issues, which hinges on being able to anticipate ROI.
IoT and the bottom line
Now, manufacturers are aligning those technology and performance needs with revenue. More identify factory-based technology (25%) as their first-priority revenue investment than any other in the study, followed closely by business development (19%).
Through this survey we've learned that IoT is most-cited as the number one technology or capability manufacturers require to transition to the 'factory of the future' (29%). Most process and discrete manufacturers prioritize product innovation and direct-to-consumer models, respectively—technology-driven initiatives that add business value directly. To bring these goals into action, however, alignment between the factory floor teams and executive leaders is needed.
AT&T Business offers highly secure network, IoT, and other manufacturing-beneficial solutions and services to help executive leaders discern the technology that's can help them meet their goals both for their teams and overall operations. Visit our manufacturing page to learn more.