Improving conferencing call audio with carrier-based voice
Video conferencing has seen a huge surge in demand as a result of the COVID-19 pandemic and has become a necessary element of the work-from-home environment. Online meeting growth has not been limited to business; individuals have moved much of their social lives online, and schools have adopted video conferencing software to help with remote instruction.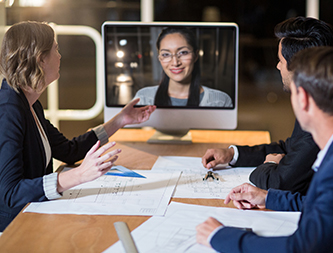 Collaboration Solutions
Empower your teams with solutions that can help you grow your business.
No matter the reason for meeting through video, the audio connection is everything. If you can't hear fellow meeting participants or they can't hear you, a meeting's effectiveness can quickly decline. There are a number of reasons users experience poor call quality, including poor microphone functionality or background noise. These are easy fixes. But what users may not realize is that if audio runs over Wi-Fi or over the internet, high voice quality can't be guaranteed. A poor wi-fi signal can cause the conference to fail. A busy or slow network can create issues on a live call as data signals could compete with other network traffic, causing delays and, ultimately, a less than stellar voice experience.
No matter the reason for meeting through video, the audio connection is everything.
Share this quote
Using the reliable Public Switched Telephone Network (PSTN), which optimizes voice traffic, can provide better audio clarity for a better overall user experience.

Watch this short video for a quick summary of why you should use a carrier-based voice solution so that next time you join a video meeting, you can optimize your call quality. Both you and you participants will be grateful you did.