Improving communication for remote caregivers during COVID-19
What we're hearing from the healthcare industry—and our advice for adjusting to the new work environment
As coronavirus (COVID-19) continues to spread, we know how hard healthcare professionals are working to save the lives of those patients who are adversely impacted—on top of their regular caseload. On top of that, the network that these professionals rely upon faces intense capacity demands. Many teams are working remotely, and virtual care is growing.
In our recent and ongoing discussions with healthcare providers, we've heard that many currently need or anticipate the need for expanded technological support and network capabilities. Here are some current challenges and possible ways to overcome them.
CHALLENGE: Home connectivity for remote workers
ADVICE: Broadband is a shared medium that may not be enough to support access to the critical resources your company maintains. For those roles that need higher performance assurance, moving to fiber services at home may be a solution.
CHALLENGE: Collaborating more with remote colleagues
ADVICE: Equip remote workers with enhanced collaboration tools and highly reliable mobile connections, so teams can group text, set and send triage alerts, have video and audio conferencing, and share access to files on the go.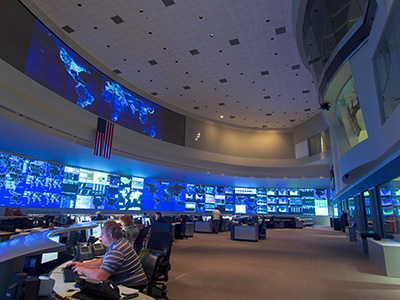 Business Continuity
In the face of unpredictable events, we can help your business stay connected. For additional resources and information, check out our AT&T Business Continuity site.
CHALLENGE: Voice quality and connectivity for telehealth consultations
ADVICE: Ensuring you have low-latency, highly reliable voice connections goes a long way to making telehealth consultations effective.
 
CHALLENGE: First responder communication
ADVICE: During emergencies, mobile spectrum and networks can get congested, potentially blocking first responder communication. Take advantage of FirstNet, the only nationwide high-speed broadband communications platform dedicated to and purpose-built for America's first responders and public safety community, including healthcare institutions and healthcare professionals. FirstNet subscribers have always-on, 24-hours-a-day priority and preemption across voice and data.
 
CHALLENGE: Temporary triage/care facilities need connectivity
ADVICE: Technology exists to take care of this type of scenario. Think of festivals, events, or other places where you can find temporary pop-up stores and cell towers. Like these, your pop-up triage and care facility can be outfitted with wireless WAN connectivity.
CHALLENGE: Due to high increases in patient volume, healthcare providers are experiencing increased bandwidth requirements, increased latency, and problematic access to critical apps.
ADVICE: Software-defined networking and virtualization technologies can enable you to dial up bandwidth on demand. You can efficiently scale network requirements to help with large and numerous file transfers, increased traffic, and other network-related stress.

We are committed to serve
The work we do is critical to millions of people and companies around the world, and we're committed to being there when our customers and colleagues need us most. If you'd like to know more information about how we're responding, how our network is performing, or our business continuity plans, please visit Our Response page.
 
Please know that we are always dedicated to helping you—and we're taking even more steps to help during this extraordinary, heightened time of need. Please reach out if you need any services or devices to help your organization, or if we can help answer any questions. By pulling together, we can help and support as many people as possible.