Hurricane season is here. Does your business have a plan?
Hurricane season is here. Does your business have a plan?
The 2019 Atlantic hurricane season officially began Saturday, June 1, and runs until Saturday, November 30. The National Oceanic and Atmospheric Administration (NOAA) predicts a 'near-normal' season. According to NOAA, an average hurricane season produces 12 named storms, 6 of which become hurricanes. For 2019, they predict a range of 9-15 named storms, of which 4-8 could become hurricanes. More to the point—now is the time to make a hurricane plan.
For those who live and work in states that can be affected by hurricanes, keeping an eye on updates from NOAA and other disaster authorities—such as the Federal Emergency Management Agency (FEMA)—during a storm goes with the territory. Many people keep on hand a 'storm kit' of emergency necessities, and a lot of businesses have some kind of emergency storm plan and a communication tree in place.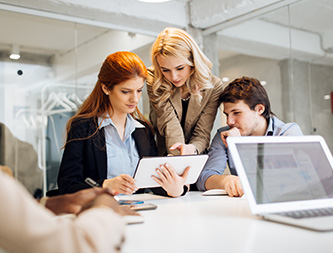 Network Services
Technology is changing rapidly and with that comes higher demands on your network while pushing bandwidth requirements to its limits.
As far as your business goes, what can you do before disaster strikes to help prepare and protect your employees, customers, and company, if a storm hits? What would happen, for example, if your business data was lost, and you didn't have a backup plan in place? Or if you could not communicate with your employees?
AT&T has created new resources and tools to help you plan for disasters before they strike.
Introducing the new AT&T Disaster Preparedness website, with invaluable tools and resources to help you prepare now for future disasters. You'll get:
Tips, checklists, and other tools to help you plan for post-storm business continuity and connectivity
Training tools to help your staff plan and prepare
Links to storm and service update resources
Important government resources
Our two-pronged preparedness approach focuses on helping you maintain connectivity when disaster strikes and on establishing protocols that make it easier for you to prepare your business and customers for hurricane season.
First, we have a short-term planning checklist reminding you to take steps such as setting up call-forwarding services and putting in place data loss prevention methods to help keep things 'business-as-usual' during a crisis. There's even a checklist to help you make detailed evacuation plans for your locations.
Learn ways to help keep your team connected, to help protect and back up your data, and to help plan failover and backup systems so you can get back to helping your customers and business as usual after a storm.
The second component features our long-term planning checklist with steps on defining roles and setting up a team for preparedness and response planning. It clarifies how to assess your data and technology needs in the event of a failure. The checklist also shows you how to implement solutions to help you communicate with your teams, customers, and vendors, as well as how to access essential data in the event of an outage. In addition, it can be used to help train your staff on your disaster plan and protocols.
Daniel Kaniewski, Ph.D., the FEMA deputy administrator for resilience, said readiness is important: "Preparing ahead of a disaster is the responsibility of all levels of government, the private sector, and the public. It only takes one event to devastate a community, so now is the time to prepare." (www.noaa.gov)
Visit the new AT&T Disaster Preparedness website, with invaluable planning tools and resources to help you prepare now for future disasters. Learn how to:
Activate emergency workforce alerts to reach employees when communications go down
Help keep critical business applications running when systems are interrupted or fail
Back up your data and recover services after a disaster
Put a plan in place to help guard your network from security threats
AT&T is committed to delivering the highest levels of service quality and reliability for our customers under all circumstances. At any stage in hurricane season, please focus on your safety first. We'll be there to help support your business recovery. Please check out our Disaster Preparedness website and begin making your storm plans today.