How video intelligence can help the transportation industry
Discover how video intelligence can create a future-ready fleet
As businesses continue to adapt to working in a post-COVID environment, the transportation industry begins to assess their operations in a post-COVID world. While online orders and shipping has surged, transportation companies need to consider every measure to help create a safe environment for their drivers and customers.
These measures can be an adjustment for both employees and business operations as a whole. Many organizations are investing in technology solutions to help them adapt to this "new normal." One of the ways they can do this is through Internet of Things (IoT) video intelligence.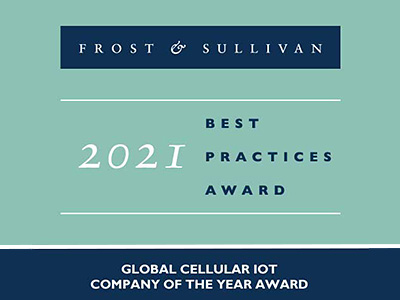 Internet of Things (IoT)
Drive your innovation into the future with our best-in-class IoT solutions. Discover why we're recognized by Frost & Sullivan as the 2021 Company of the Year for Global Cellular IoT.
How video technology in transportation can help create a safer environment for their customers
The transportation industry has used video surveillance for a variety of reasons. Often to monitor safety on loading docks or security around the facility. But, advancements in video technology, artificial intelligence (AI), and IoT are creating opportunities that empower businesses to do more with video footage.
These advancements have led to an emerging field we call "IoT video intelligence." As the name implies, "video intelligence" is the process of applying AI and machine learning to video footage to monitor, automate, and perform functions that help businesses drive efficiencies or otherwise carry out tasks that the human eye can't handle or minimize the need for human intervention. These systems can be optimized to analyze large amounts of video data on a near real-time basis.
This video technology, such as AT&T IoT Video Intelligence, is an end-to-end, integrated solution designed for monitoring and analyzing video. It provides situational awareness and reporting from new or existing video cameras and delivers alerts to help businesses make faster, more informed decisions. Transportation companies can use IoT video intelligence to help comply with COVID-19 guidelines, minimize exposure incidents, and more, in a time with increased safety concerns and precautions.
Assisted safety monitoring and alerts – Driver and worker safety is always a priority on the loading dock. Video surveillance systems are commonly used to identify safety hazards and to try to help prevent incidents. But this often relies on the diligence of a person tasked with monitoring multiple video feeds for hours at a time. With IoT video intelligence, transportation companies can help detect safety violations and automatically send alerts to personnel quickly. For instance, personnel can receive alerts when employees are missing their face masks or required PPE.
Monitor occupancy count and distancing – IoT video intelligence provides the ability to count people in a room and even determine the distance between them. It helps facilities adhere to social distancing and occupancy guidelines that help keep employees safe.
Check employee body temperatures – One preventative measure a business can take is stopping personnel with elevated body temperatures from entering their facility. IoT video intelligence uses thermal analytics to screen for elevated body temperature of personnel. This enables facilities to run checks at the beginning of each shift before the work floor is exposed.
"Video intelligence" is the process of applying AI and machine learning to video footage to monitor, automate, and perform functions.
Share this quote
In the pursuit of maximizing efficiencies and adhering to COVID-related safety precautions, transportation companies and fleets are undergoing digital transformation through IoT video intelligence. And while these solutions open a landscape of opportunity, the amount of data processing needed for many video intelligence solutions is more than most standard transportation hub networks can handle.

There is a solution to this problem, and it lies in edge computing.
Edge computing: the video intelligence enabler
Edge computing helps bring computing power closer to the edge of your wireless network (on location) to process data in near real-time. How does that help transportation companies with their IoT video intelligence solutions? Let's explore how edge computing fits into one of the use cases we mentioned above.
Imagine you manage a shipping facility that uses wireless video cameras to monitor the loading docks. This high-resolution video data travels over a public cellular network from the facility to a provider's core facility or a remote server location for processing. This traditional architecture often does not supply the bandwidth needed for the transmission of these video feeds.
But with an edge computing solution, such as AT&T Multi-Access Edge Computing (AT&T MEC), a new path is formed that effectively cuts the distance the video data has to travel while separating it from other traffic on the cellular network. AT&T MEC brings the AT&T core network directly to your facility's premises. In the camera's case, its data is directed to the on-location server for processing—rather than sent down the traditional path.
Now, the IoT video intelligence solution receives and acts on locally processed, low-latency data. Edge computing enables processing power closer to the facility's network location and shortens the path for mission-critical data. The IoT video intelligence solutions and devices that are crucial for operations can now function with ultra-low latency and higher efficiency.
Where to begin in building your video intelligence framework
Whether you are building a system from scratch or looking to augment your existing video and camera set up, the first step is aligning yourself with a technology provider. Ideally, you want a provider that can supply the IoT video intelligence tools and applications and design and implement the network required to support those tools. Make sure you have access to professional resources and consultation services that can help address the specific needs of your business.
The world of IoT and video technology can be key to adapting to a post-COVID market. It's important businesses find the right guidance and support in adopting these innovative solutions.
For more information on emerging technology solutions for the transportation industry, check out our "empower your fleet" page.