How to improve agility to deliver next-gen experiences
Learn how to achieve the kind of digital flexibility that can deliver context-aware customer experiences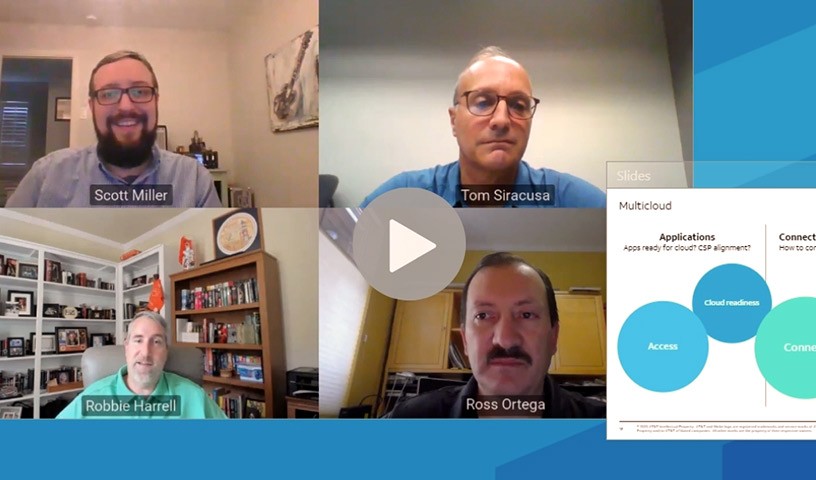 In this on-demand webinar, technology transformation experts Robbie Harrell (AT&T Consulting), Ross Ortega (Microsoft Partner Program Manager), and Tom Siracusa (AT&T Business Strategy and Innovation) discuss how the three pillars of digital agility (SDN, Multicloud, and Edge) can help deliver the context-oriented experiences customers have come to expect. Scott Miller (AT&T Business Financial Solutions) facilitates.
Recent events have accelerated the transformation of legacy technology. Financial institutions are rethinking business continuity, cybersecurity, and digital agility. Uncertainty abounds, and flexibility is critical. What are the tech adoption strategies to help optimize and accelerate? What are the next steps for achieving digital agility in the COVID era?
Scott Miller, Financial Solutions Specialist at AT&T Business, cites the rising importance of software in the enterprise ecosystem. According to a recent publication, about 66% of global banking executives say that new technologies have had a major impact, up from 42% the previous year. According to Miller, "Software is eating the world, as Marc Andreessen famously stated in 2011. We're putting it all into many different clouds, and these expanding and exciting capabilities are now allowing us to deliver common sense, contextual outcomes."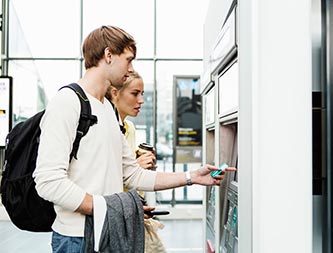 Financial Services
Inspire renewed loyalty, streamline operations, and position yourself to outpace competitors with integrated, data-driven solutions.
Robbie Harrell, Practice Lead for Networking and Cloud at AT&T Business, agrees with Miller. "At the end of the day, the agility and automation are enabled by software. SD-WAN adoption is leading, but software-defined data center and software-defined LAN are maturing rapidly." He adds, "It's about enterprise efficiency and developing APIs more than GUIs." Harrell also talks to the other panelists about how multicloud environments can be optimized by the emergence of automation, AI, and machine learning.
Ross Ortega, Partner Program Manager at Microsoft, details how software-defined cloud based solutions impact applications. "A major byproduct of SD-WAN is that both the business owners and those running the infrastructure have better visibility into the performance of the apps." Ortega also shares his take on hybrid cloud scenarios, including their versatility and importance for business continuity. "Some customers may deploy their applications in different public clouds to take advantage of different capabilities, including cloud-based disaster recovery."
It can elastically grow as you need it… multiple clouds have become the new data center, and home workers have become the new branch
Share this quote
"It can elastically grow as you need it… multiple clouds have become the new data center, and home workers have become the new branch," according to Tom Siracusa, Business Strategy and Innovation at AT&T. Siracusa discusses the synergies between SD-WAN and multicloud integration, despite the challenges that are common when "network and IT design and operations are typically supported by different teams." He also addresses questions related to complexity and horizontal scaling requirements, infrastructure geography, and private vs. public connectivity.
Watch the full webinar and/or download the presentation deck, browse other "Virtual Viewpoints" in this series, or schedule a virtual meeting if you'd like to dialog directly with AT&T Business experts.



AT&T Business is a leading provider of AT&T Business is a leading provider of Financial Services Solutions. Help achieve smarter, more trusted interactions with our unique ecosystem of highly reliable, highly secure technology, expertise, and global network.