How to stay visible in a virtual world
Small business tips for finding new customers in the new normal
Much has been discussed on how the COVID-19 pandemic has affected the business landscape and how small businesses should re-evaluate marketing efforts to engage with their customers. It's a largely virtual world out there today, not only in how business is performed, but in how customers are interacting and responding to businesses.
It's natural that small businesses may feel less optimistic about getting new customers and keeping their current ones. Many owners face the daunting, yet essential task of straying away from the "way things are always done."
The task poses some daunting questions, such as, what's important to customers today, and what excites them? And how can your business keep your old customers coming back while attracting new customers and keeping everyone safe?
As part of an ongoing AT&T Business webinar series featuring Barbara Corcoran, founder of the Corcoran Group and a "Shark" on ABC's Shark Tank, brings industry experts together to answer questions about "How to Stay Visible in a Virtual World." In addition she shares "5 Tips to help Better Understand Your Customers" in a short, informative video. Let's look at some of the takeaways from Barbara and her guests' discussion that can help every small business meet the demands of the new normal.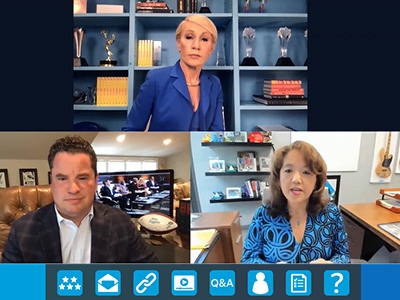 Smart Advice for Small Business
Communicate to customers simply and make them feel safe
Customers are smart. But they have a lot of messaging coming at them when they're in the market for a product or a new solution. One of the best ways to cut through the noise is by using clear, concise, and simple language.

The goal with every marketing message should be to address the customer need as directly as possible. Avoid technical jargon and train your employees to educate and engage with your customers, rather than speaking at them. Respond to inquiries in a way that answers questions quickly and makes customers feel they are getting what they need. It's a sure sign that your business respects your customers.

Part of that respect involves keeping your customers' safety in mind for when they do come on location. People are doing their best to adhere to social distancing and health safety guidelines as a result of the COVID-19 pandemic. Businesses need to let their customers know that they value their health and safety. Solutions like temperature screening, signs that enforce hygiene and customer care, plexiglass at cash registers, or foot traffic/distancing markers on the floor help customers feel safe.

It's time to go virtual

While the COVID-19 pandemic has accelerated us into a largely online market, the shift to digital and online commerce has long been underway. Going virtual doesn't mean closing your brick-and-mortar locations. Rather, it means using exciting and engaging new platforms to augment those locations to draw in more customers and create new opportunities. Platforms like:

Business websites – A business website is more than just an advertisement. It's a place to reach out to customers and inform them of what you're doing. It's also a place to sell goods, feature promotions, and interact with your customers.

Online shops – Now more than ever it's important to digitally display merchandise and provide options for customers to buy products or services online. An overwhelming majority of consumers will go online before buying a product – even if they ultimately choose to buy the product in your physical store.

Social media – The main draw of social media is its ability to facilitate a conversation between your business and a potential customer. It provides you a creative way to speak to and reach new and existing customers. And you can meet your customers where they are, rather than asking your customers to find you. Make sure your business has a strong social media presence.

For many brick-and-mortar locations, much of what makes them unique comes from their in-store experiences. They must now look at new ways to replicate these experiences online and remotely.
Share this quote
Invest in the ways you reach your customers
For many brick-and-mortar locations, much of what makes them unique comes from their on-site experiences. These businesses must now look at new ways to replicate these experiences online and remotely.

Web conferencing and virtual appointments are "must haves" for today's customer. Small businesses that regularly meet with clients will need to invest in a web conferencing platform that lets them maintain the face-to-face interactions they rely on.

Perhaps your small business uses live demos and hands-on experiences to appeal to customers. Video streaming or pictures uploaded to your website or social media accounts are a great way to reproduce those experiences for your customers while maintaining social distancing. Engage with your customers on these platforms. Run contests for prizes and free products or services. Use the virtual tools available to you to expand the ways you interact.
You don't have to go virtual alone. Find the help you need.
One of the biggest hurdles for small businesses when going virtual is knowing where to start. The easiest start is reaching out to technology experts. Together you can figure out what your customers need and what technology can help you satisfy those needs.

One thing is certain – technology is what is going to keep businesses together and moving forward. Whether your business needs help building an online storefront or it needs the network support and tools for a web conferencing platform, the time is now to seek the solutions that will allow you to adapt to changing customer expectations.

AT&T Business is taking every step to help during this extraordinary, heightened time of need. Please reach out if you need any services or devices to help your organization, or if we can help answer any questions. If you'd like to know more about how small businesses are using technology to adapt to change, please visit our small business solutions page. Or check out our Going Virtual Playbook for a step-by-step guide on how to take your business virtual.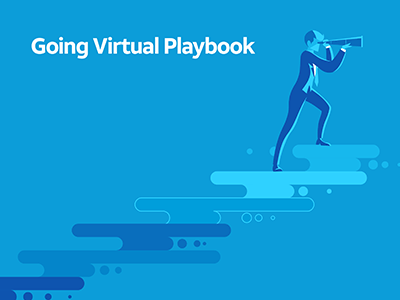 Going Virtual Playbook
A step-by-step guide to take your business virtual