How manufacturers can gain support for IoT and network infrastructure improvements
Learn more from recent AT&T report based on study of 100 industry leaders
Manufacturers are setting their sights on increased IoT and network infrastructure improvements as they take advantage of enhanced and emerging technologies and align them with ROI. But although many prioritize IoT, they are falling short in terms of the skills, capabilities, and business case they need in order to gain internal support for expanding their capabilities.
AT&T Business collaborated with Connected Manufacturing Forum to conduct a study of 100 business leaders in both process and discrete manufacturing. In the results, IoT is most-cited as the number one technology or capability manufacturers require to transition to the 'factory of the future' (29%).
The full set of data shows that IoT infrastructure is critical to closing efficiency gaps, creating new business opportunities, and innovating product development. Among 11 options, manufacturers consider IoT infrastructure (16%), artificial intelligence (AI) or machine learning (11%), and automation (10%) top choices as primary industry 4.0 disruptors.
Nearly half (49%) of manufacturers are taking advantage of IoT technology and prioritizing adoption in the next 24 months with another 27% considering the move to improve their operations.
Many are ill-prepared for adoption and may fall behind in adopting newer technology, as 77% have not adopted IoT infrastructure, and 1% have no intention to adopt IoT at all. Less than half of manufacturers believe they have sufficiently skilled personnel in place to adopt new IoT, which may contribute to their hesitation to incorporate more IoT into their business.
Mapping differences between process and discrete manufacturers
Researchers segmented process and discrete manufacturers to determine which priorities are driving each group individually. The results show that process manufacturers are prioritizing product innovation and new revenue streams.
Many process manufacturers distribute products to other manufacturers or distributors before their final products reach the market. They can diversify their products based on needs and cost-savings opportunities within supply chains, driving incentives for innovation.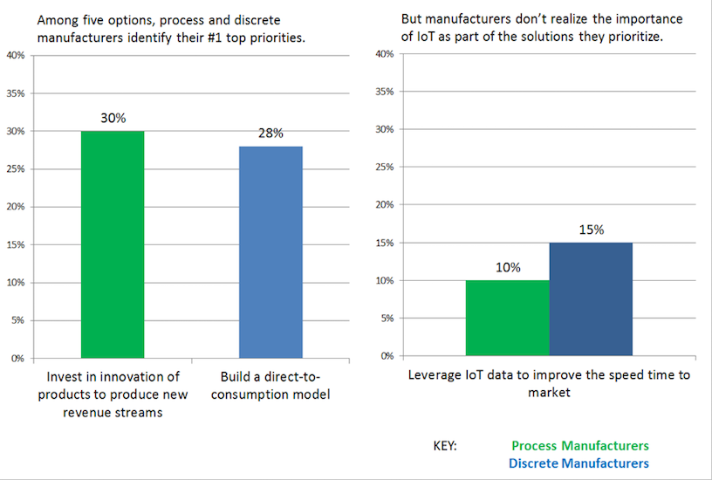 Now, these process manufacturers are researching technology to streamline fulfillment and data management solutions, then encouraging team members to experiment with new, potential solutions for customers. But their acknowledged lack of IoT infrastructure may prevent them from optimizing the innovation and fulfillment capabilities that make new revenue streams possible.
Discrete manufacturers hope to build direct-to-consumption models that give them more control over customer experiences and how their products are distributed. This may also help them to expand their revenue opportunities as well as their profit margin. But optimizing a direct-to-consumption model requires IoT-enabled business solutions—in fleet management, for example—that most direct manufacturers are unable to support.
Today, very few process and discrete manufacturers—10% and 15% respectively—are successfully utilizing IoT to improve speed-to-market and prioritizing IoT infrastructure to that end. They realize IoT will contribute to their top priorities, even as many manufacturers are still two years away from launching IoT infrastructure.
AT&T Business collaborated with Connected Manufacturing Forum to conduct a study of 100 business leaders in both process and discrete manufacturing.
Share this quote
How IoT helps inform a successful business case
As we've seen, IoT infrastructure is widely acknowledged as the primary industry 4.0 disruptor—manufacturers realize its value and the urgency for adoption. So, why the slow pace bringing IoT infrastructure to fruition?
The hesitation for investing or extending investment in IoT stems from a lack of executive support. In fact, exactly half of respondents (50%) report a lack of executive support is among their primary concerns about investing in technology.
Business leaders can prove IoT viability to executives by showing how IoT will help them to address their top priorities—innovation, new revenue streams, direct-to-consumption models, and others.
Learn more about how AT&T Business is helping manufacturers realize the factory of the future today on our manufacturing page.