How IoT and big data are transforming asset management
AT&T AMOC and SAP solutions work together for visibility and control of your assets
IoT technology has enabled new developments in asset management, empowering businesses with efficiencies, cost savings, and unprecedented operational visibility. To help customers better monitor their IoT-connected possessions, AT&T has built a flexible, customizable asset management solution called AT&T Asset Management Operations Center (AMOC).
The AT&T AMOC provides a singular, integrated dashboard view of IoT assets, allowing customers to track, monitor, and manage them virtually wherever they are located. SAP has joined AT&T to extend the value that AMOC provides by enabling customers to gain insights in near real time. Intelligent technologies, collaborative enterprise planning, and advanced predictive analytics help further optimize operations.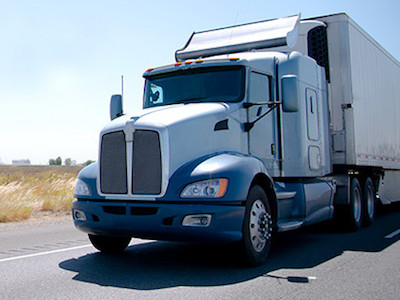 Transportation Solutions
Transportation companies are turning to technology to gain a competitive edge, reduce costs and create new efficiencies.
AT&T AMOC is a flexible platform that works with asset tracking devices across multiple networks. The solution simplifies customers' IoT implementations, providing visibility of mobile assets from different vendors on one integrated dashboard. AT&T AMOC can help companies gain operational efficiencies, reduce waste, and increase productivity with a virtually complete view of the location and conditions of their assets. The use cases are robust:
Transportation visibility
Light, motion, and temperature monitoring to prevent tampering of goods, exposure to harmful light rays, theft, or shock
Shipping statuses
Paramedic and EMS service tracking
Equipment monitoring
Inventory control
Food/CPG quality control monitoring such as humidity levels
The SAP relationship allows customers to use the data that AT&T IoT solutions gather for analysis by SAP 'intelligent technologies' around near real-time analytics and advanced analytics. – Kent Phillips, AT&T IoT Solutions
Putting big data to work for long-term growth
An inherent by-product of connecting IoT devices is actionable data. But what if that harnessed data could be stored, analyzed, and put to long-term use beyond simple, near-real-time asset adjustments?
Insights derived from data are an increasingly critical factor in competing in a digital-driven marketplace. But until now, making decisions in near real time based on captured IoT data and the longer-term predictive analysis capabilities of big data have been delivered as siloed solutions not optimized to work together.
With robust back-end architecture from SAP, data collected from IoT assets is stored for predictive analysis, giving companies greater power to make decisions that can impact the operational efficiencies of their business.
The AT&T AMOC and SAP solutions can help companies further optimize their operations and supply chains across industries: from manufacturing, oil and gas, energy, agriculture, and retail to automotive, utilities, healthcare, and construction. AT&T AMOC and SAP solutions can together help businesses make more intelligent decisions based upon a richer dataset.
AT&T AMOC and SAP solutions can help businesses:
Gain better visibility and control of their mobile assets
Capture and save valuable data to help make decisions which can impact long-term growth
Enjoy flexible platforms that adapt to changing needs—working with asset tracking devices across multiple network types
Says Kent Phillips, AT&T IoT Solutions, "The SAP relationship allows customers to use the data that AT&T IoT solutions gather for analysis by SAP 'intelligent technologies' around near real-time analytics and advanced analytics. The results produced by these applications are ultimately the dashboards that our customers will use to make business decisions across their enterprise. 
"For example," he says, "today, a company may have mobile equipment such as generators distributed across a vast area that they regularly service and fuel using relatively static routes. By putting sensors on this equipment and generating IoT data, the company can gather relevant data to know when (and how) the equipment needs to be serviced. They can then dynamically schedule the routes to optimize and reduce the service costs while increasing the availability of the equipment. SAP applications can help ensure that the correct parts and tools are scheduled with the appropriate technicians, so each service can be completed with a single trip."
He explains, "The SAP applications may be getting package tracking data based on scans performed by delivery crews. When I get notifications from transportation carriers, the last message I see might be, "On the truck for delivery today."  Okay. So (tracking) is better than it used to be, but with IoT, the information provided to a customer could be much more granular. 
"Back to the SAP side of this: by using the continuous data points provided by an AT&T IoT solution, the SAP application could analyze thousands of deliveries, while identifying those choke-points in the supply chain that cause delays in delivery."
Are you ready to see what IoT solutions can do for your business? Learn more about how AT&T AMOC and SAP solutions can be customized for your IoT needs by visiting the AT&T AMOC site.

SAP is offered separately by SAP, and any purchase of SAP is between Customer and SAP. AT&T does not warrant or assume liability for services or products..