How COVID-19 is accelerating contact center transformation
Learn how Financial Services providers can achieve deeper relationships through technology and journey orchestration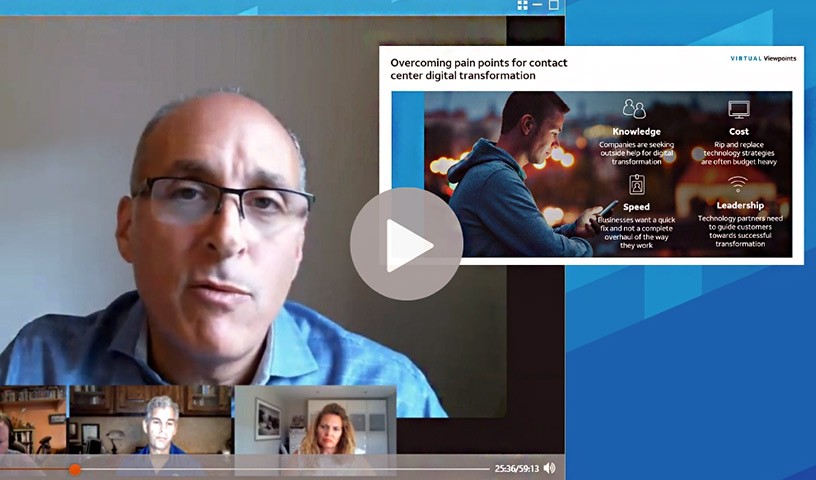 In this on-demand webinar, contact center experts Gary Barton (GlobalData), Robert Gamiel (AT&T Consulting), and Anita Stein (AT&T Business) discuss balancing high tech and human touch for more successful interactions in the COVID-19 era.
Contact centers across banking, insurance, and wealth have experienced unprecedented changes in call volume and patterns. This have often prevented customers from getting the help they seek at the time they need it most.
Our customers are telling us that a flexible, dynamic, elastic model is really central to their consideration of Cloud
Share this quote
Gary Barton, Principal Analyst for Enterprise Technology and Services at GlobalData, cites a recent survey that speaks to the unsustainability of the status quo. "Companies are looking for help with their digital transformation strategies… and approximately 50% of enterprises have increased their IT budgets as a result of the COVID-19 crisis." Barton also highlights some of the trends that are influencing technology shifts. "Customers now expect omnichannel. They prefer automation for more routine inquiries, and mobile apps are increasingly important."
Bob Gamiel, Associate Vice President, Strategy and Practices at AT&T Consulting, talks about the benefits of the hybrid model of contact center solutions. "Our customers are telling us that a flexible, dynamic, elastic model is really central to their consideration of Cloud and how fast they move." In addition, Gamiel shares practical guidance and lessons learned from helping customers with these kinds of transitions. "Customer experience should be a pillar of your enterprise digital transformation, and naturally, the strategy around your contact center should be the nerve center, holistically addressing [cloud, blended workforce, and omnichannel] because they are interdependent."
Anita Stein, from her perspective as Contact Center Product Management at AT&T Business, empathizes with the challenge of moving from legacy contact centers to an integrated, hybrid model. "We've heard a lot about migration. Migration planning is critical. The Cloud brings in utility, flexibility, and lots of new functionality that you wouldn't see traditionally in an on-premise contact center. Some of these cloud solutions offer workload automation technology, so it makes it easier to migrate to the Cloud."
"We know that there are lots of disconnected silos with those [legacy and on-premise] applications. Ultimately, you're trying to get the best value out of the tools you already have, utilizing things like APIs And SDKs to do that. Analyzing those customer journeys, identifying the bottlenecks… it provides a much deeper, more empathetic engagement with the customer."
Watch the full webinar, browse other "Virtual Viewpoints" in this series, or schedule a virtual meeting if you'd like to dialog directly with AT&T Contact Center professionals.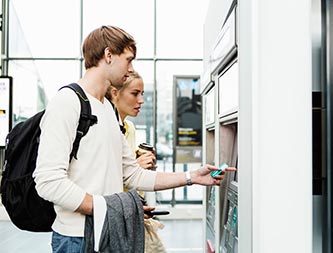 Financial Services
Inspire renewed loyalty, streamline operations, and position yourself to outpace competitors with integrated, data-driven solutions.
AT&T Business is a leading provider of Edge-to-EdgeSM solutions for Financial Services. Help achieve smarter, more trusted interactions with our unique ecosystem of highly reliable, highly secure technology, expertise, and global network.