How can IoT fleet solutions give you a competitive advantage?
Tracking and monitoring vehicles, equipment, and other assets can reduce fuel costs, boost productivity, and improve safety
Companies that own and/or operate fleets are learning how the Internet of Things (IoT) can protect their business. In fact, IoT solutions have been key to meeting electric logging device (ELD) and hours of service (HOS) requirements since they were implemented in 2019. 
For many, adopting ELD was beginning of their IoT journeys. Since then, IoT services and capabilities for fleets have continued to expand. Now, a new era of vehicle solutions is helping companies that own and operate fleets to meet these new standards and do more. 
Solutions like the AT&T Fleet Complete suite deliver flexibility through IoT to track fleets and assets. They include smart, connected devices that can make fleet operations more efficient and productive and open new opportunities for revenue growth. 
To understand the benefits of IoT for transportation, let's look at a day in the life of a fleet operation. Imagine a fleet that operates nationwide and offers end-to-end transportation services across all industries. It has refrigerated trucks for transporting food, chemicals, and medicines. There are also flatbed trailers for getting construction equipment where it needs to go.
And for additional revenue, it subcontracts vans it owns to a massive online retailer for local deliveries. This company even goes beyond over-the-road with rail, tractor trailer, and cargo shipping. 
This is a complex and sophisticated operation. The scenarios that follow are simple compared to the day-to-day reality. They may help you identify the many benefits of IoT for fleets and how they may apply to your operation. 
Here's an example of a day in the life of an IoT fleet management-based operation.
Make ELD Compliance easy for drivers

It's 8:00 a.m. and the local delivery van drivers are gathering at a distribution center. One of the first things they do after their route assignments for the day is to review and complete a Driver Vehicle Inspection Report (DVIR). Federal rules require drivers to complete a thorough safety inspection of a commercial vehicle before they use it. They're one of several forms drivers complete using an ELD.
But not all ELDs are created equal. The best ones, like Fleet Complete BigRoad ELD, are intuitive and easy for drivers to use. Drivers can submit forms from their mobile devices and managers can review them from desktop or mobile in real time. This keeps them in compliance while providing reliable records that help them avoid unwanted attention from regulators.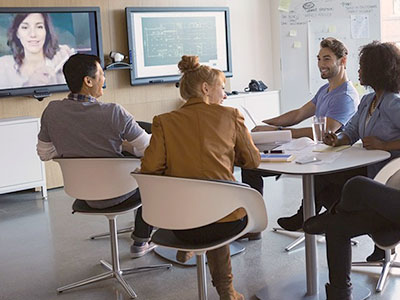 Professional Services for IoT
Need a partner to get your fleet moving? Professional Services has you covered
Work more efficiently and save fuel with data from fleet management dashboards

By 8:30 a.m., dispatch and scheduling are well underway. Dispatch receives an order from a construction customer who needs a Bobcat delivered to a site ASAP. A few minutes later, they also receive an order from a warehouse customer for a refrigerated container. The company needs to transport frozen seafood from a nearby port to several warehouses across the country.
The Fleet Complete Hub makes coordinating these movements easier. The dispatcher dashboard displays asset details – type, location, availability, status, and more in real time. As customer orders and field requests come in, dispatchers can respond quickly. The dashboard simplifies this complex operation and empowers dispatch to plan. But it does more. It provides the flexibility to make moment-to-moment changes on the fly. 
How does this work, though? IoT tracking, part of the Fleet Complete Connected Devices module, is the key. For example, the fleet's heavy equipment and containers are outfitted with slap-and-track monitoring. Besides always knowing where they are, the monitoring provides insights into how they're doing. In addition, IoT sensors monitor variables like temperature and humidity levels so refrigerated cargo doesn't go bad or spoil. If they detect a drop in temperature or too much vibration, dispatch can respond quickly to fix the situation immediately.
Then there's route optimization, which can have a big impact on efficiency, reducing operational costs, and improving customer satisfaction. Better routing might mean time for more truck rolls per day. Not to mention, it helps to reduce downtime and idling time, improve fuel efficiency, and operate more sustainably. With unpredictable gas prices, fuel savings may be the most significant IoT benefit for fleets today. 
This solution eliminates manual, time-consuming processes, and offers everything businesses need to make in the moment decisions from one easy to use dashboard. It creates potential for any mobile asset business to increase efficiency exponentially.
Share this quote
On-board cameras promote driver and road safety
A tractor trailer driver's day is well underway at 10:00 a.m. when he gets a notification on their heads-up display. A Bobcat pickup has been added to their tasks. Their schedule and routing information are automatically adjusted. 
As the driver goes about their day, the Fleet Complete Vision onboard cameras monitor and record what happens on the road and in the vehicle to improve driver safety. The dual-facing camera records incidents on the road and audibly alerts drivers of changing road conditions to help reduce harsh breaking. Inside the cab, it monitors the driver for seatbelt usage, distracted driving, and more. Powered by artificial intelligence, camera solutions provide insights to prevent accidents and proactively address safety issues.
Back at the office, managers can use this data to identify safety gaps and provide coaching to correct unsafe driving habits. Capturing driver actions and related data also enables them to document what happens in case the information is ever needed for insurance purposes.
Sensors monitor vehicle and asset health
Later at 2:00 p.m. in a local repair shop, a mechanic is just finishing up scheduled maintenance on several vans in the fleet. Predictive maintenance made possible through IoT solutions have let fleet managers know what needs to be addressed before it's a problem on the road. Sensors have given them the power to monitor the mechanical health of vehicles and other assets. They can plan maintenance services to keep them in good running condition and ensure they use fuel as efficiently as possible. 
By monitoring the health of fleet vehicles, trailers, and equipment, our IoT solution can help fleet managers to avoid breakdowns that lead to downtime and expenses from towing, rescue, and repair—not to mention unhappy customers.
Take action on your data
It's 3:00 p.m. at the home office. The operations department is using data from a variety of its IoT services to find savings, operate more efficiently, and uncover opportunities for growth. They're able to analyze safety, productivity, and sustainability across their operations. 
They've discovered efficiencies that may help them to address an industry-wide issue—their driver shortage. With the savings they're getting across the fleet, they might be able to hire more drivers at a higher rate. Or, improved routing could enable a single driver to do the work of two. And that means more pickups, deliveries, and faster response times.
Data captured and analyzed as part of this company's IoT solution can also help them realize:
Lower insurance premiums. Insurance providers are more likely to apply lower rates when you have a program to improve driver and road safety.
Cost savings by avoiding litigation. Our IoT solution can document activity in the cab and on the road, removing doubt or uncertainty. 
Savings from fines not imposed by regulators from improved driver compliance.
In the end, IoT solutions helped this full-service transportation services company reduce overhead, improve safety and compliance that reduces the risk of fines, and give them more flexibility to hire and retain quality drivers and employees. 
With the AT&T Fleet Complete suite of fleet management tools and services you could realize any—or all—of these benefits, too. 
Make it all work together 
IoT solutions for fleets can deliver tremendous benefits. But there's no getting around it—the wide range of capabilities, devices, technologies, and applications can be challenging to sort through. On top of that, they're constantly changing and evolving. It's important to work with a technology provider who knows your business and can deliver reliable, cost-effective solutions with an eye on the future. Choosing the AT&T Fleet Complete  Solution Suite can help you move forward with confidence.
¹ Based on AT&T Fleet Complete customer feedback and reports
Contact your AT&T representative and start your fleet's IoT transformation today. 
Request info
To get sales help from a Business Solutions specialist, please complete this form.