High availability plus virtual firewall: Resilient, highly secure SD-WAN solutions for the global enterprise
Software Defined Wide Area Network (SD-WAN) and network function virtualization (NFV) have simplified and streamlined how companies deploy networks. The demands of modern digital business require an "everything as a service" approach, where software and virtualized services are abstracted from the underlying proprietary hardware infrastructure.
SD-WAN offers companies greater flexibility by allowing them to select network technologies on a site-by-site basis—like VPN, internet, and LTE — and letting them mix and match SD-WAN and non-SD-WAN sites. The ability to have application-based routing, and self-provisioning capabilities is critical for many businesses to remain competitive.
Why a secure SD-WAN network is essential for today's companies
A successful digital transformation includes a holistic approach to cybersecurity, as this software-centric environment can greatly expand the threat landscape. Executive teams need to be confident that investments in digital transformation initiatives won't increase risks to their business.
That's why companies seek managed SD-WAN solutions that offer more than just connectivity — they want a package that provides comprehensive, best-of-breed functionality. A managed service provider (MSP) that aligns itself with best of breed SD-WAN and security vendors can be the quickest an easiest way to ensure your network supports the SD-WAN and Security VNFs functionality required to deploy a highly secure SD-WAN. AT&T provides scalability and allows enterprises to create an ideal SD-WAN architecture with their preferred security, cloud infrastructure, and network management technology from a variety of certified vendors.
That ideal SD-WAN architecture should also incorporate high availability and a highly secure firewall VNF together.
An SD-WAN solution with high availability retains network access in the event of specific outages through a combination of hardware functionality and design.
Share this quote
High availability, redundancy, and how it keeps your network running

High availability refers to a network's resiliency. An SD-WAN solution with high availability retains network access in the event of specific outages through a combination of hardware functionality and design. This is done through redundancy within the device itself. By building the device with redundant components and establishing a connection between devices across a businesses' sites, the network provides failover should a device be faulty or otherwise become unavailable.
While high availability can help protect you from equipment failure and outages, it's also become vital for protection from more malicious intent. Virtual firewalls are standard across most network architecture. But, with SD-WAN plus high availability, the same redundancy that applies to your MPLS and internet also applies to your cybersecurity measures. A virtual firewall enhanced with high availability can offer virtually constant proactive defense and threat detection to help keep your network safe from cyberattacks and the firewall can be updated almost continuously to help protect you from the latest threats.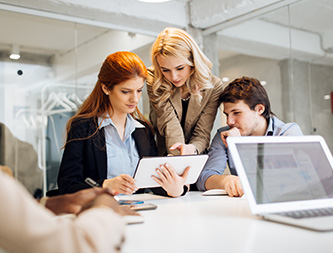 Network Services
Technology is changing rapidly and with that comes higher demands on your network while pushing bandwidth requirements to its limits.
AT&T SD-WAN Over-the-Top on AT&T FlexWare®

AT&T SD-WAN Over-the-Top (OTT) on AT&T FlexWare with high availability and vFirewall creates your ultimate secure SD-WAN solution. Maximize your network up-time with the functionality and support with many highly secure virtual SD-WAN and firewall vendor designs. [Link to page or brief]
Find a solution that includes it all
Ideally, businesses need an SD-WAN architecture with both high availability and virtual firewall configurations to enable resiliency at their hub and remote branch sites. AT&T SD-WAN OTT on AT&T FlexWare offers just that. It's an efficient network design that improves the ability to split traffic by critical applications while also offering virtual security firewall (vFW) options and high availability resiliency at your sites.
For more information on all the benefits AT&T SD-WAN can bring to your business, head over to our SD-WAN page for insights, solutions, and more.