Hidden benefits of cloud UC services
The hosted UC cloud model has evolved. What does it mean for your business?
A subtle and not highly-publicized benefit of cloud Unified Communications (UC) services is that all domestic long distance (local, intrastate, and interstate domestic long distance) is now included as a part of the monthly cost per user. This is an often-overlooked benefit of the cloud UC solution and should not be ignored. 
This inclusive feature is usually valued at $6-$8 per user monthly, based on average call times, cost per minute per outbound call, and average monthly call volumes. Bundling long distance in the cloud can bring the cost of cloud down a full 30% and 40%, as compared with cloud offerings just 36-48 months ago. This is a significant savings and should be included in a business financial analysis when considering a cloud-based UC solution.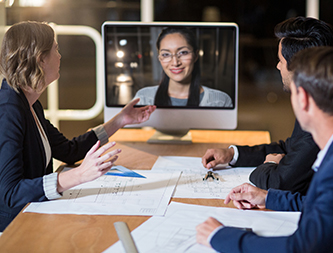 Voice and Collaboration
Empower your teams with solutions that can help you grow your business.
Other not-highly-publicized cost benefits include:

Costs for twinning (linking an external number) to mobile devices are included in the base price
Collaboration-based meet-me conferencing (dedicated conference bridges) is now flat-rated, including all meet-me conference costs and long-distance charges. 
Lastly, there are no SIP trunk or PRI costs required for the business. In a cloud solution these circuits are effectively a $0 cost monthly. For larger strategic sites, back-up POTS or PRIs or SIP trunks can be a cost-effective redundant alternative in the event an MPLS or SD-WAN link goes down, which would also include a survivable remote.
These cost drivers continue to make the cloud a desired alternate model to any premises-based solution.  
The hosted UC cloud model has come a long way. There are hidden extras available in UC solutions that should be investigated by businesses.
Share this quote
The hosted UC cloud model has come a long way since its inception. Enterprises are expecting a fully redundant, resilient solution that will operate at a five-nine's model as with a premises solution or legacy Centrex solution. The features and functions of a cloud-based solution now match (and in some cases exceed) that of a premises-based solution.

The less obvious benefits, including long distance and single dial plans for multi-site enterprises, are just some of the "hidden" extras available in a UC cloud solution that are not discussed very often. Including domestic long distance in a cloud offering brings the cost of a UC cloud down significantly and should not be overlooked. The long distance, twinning, and conferencing inclusion now make cloud services a competitive alternative to a premises-based solution.
AT&T Office@Hand is a great example of a UC cloud service offering the hidden benefits discussed above and should be considered when exploring a UC cloud solution.
When contemplating moving to the cloud, take into account the obvious and less obvious benefits of cloud services. They can make an impact on your business model moving forward.