Helping financial organizations securely connect distributed workers
Protecting employees and cloud assets with Secure Access Service Edge
New technologies enable businesses and consumers to adapt to changing circumstances, but they also give hackers new targets to attack and inspire fresh tactics. As increasing numbers of people work outside traditional office spaces, businesses grow more dependent on technology to remotely access servers, interface with applications, and correspond with coworkers.
These changes in how we work give malicious actors new opportunities to infiltrate networks and extract sensitive business intelligence. With every advancement in technology comes potential vulnerabilities that businesses must address. For financial institutions, the stakes are high—allowing unauthorized users to gain access to networks and applications can result in stolen account information, financial losses, and an erosion of consumer confidence.

In this article we'll review a few new security concepts and solutions—Zero Trust Access (ZTA) and Secure Access Service Edge (SASE)—and discuss strategies for implementing new best practices to help your financial organization protect sensitive assets in a rapidly-evolving economy.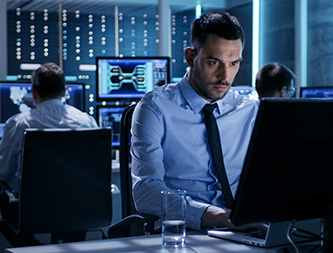 Cybersecurity Solutions
Security is never one size fits all. Learn how to build a cyberdefense plan to meet your unique needs.
Adapting to new work habits to protect infrastructure and sustain business continuity
To support a distributed workforce model, businesses are moving applications and critical networks away from on-premise data centers and into the cloud. This shift better enables workers to use remote access technologies to retrieve assets, collaborate, and stay productive.
Traditionally, Virtual Private Networks (VPNs) or virtual desktop solutions granted employees access to cloud resources. VPN uses certificate-based and token authentication to help protect unauthorized users from accessing cloud resources. But a new security concept, Zero Trust Access, presents a major evolution in cybersecurity practices and is drawing support from experts. With growing numbers of remote workers performing critical tasks, ZTA offers businesses a powerful tool for helping ensure consistent employee performance with highly secure connections.

Zero Tolerance Access: A new standard for distributed workforces

To illustrate the difference between traditional VPN security models and ZTA, it helps to use a metaphor: imagine your business's cybersecurity defenses as a walled fortress. Within your fortress resides your cloud resources, and the high walls help guard against unauthorized users accessing your sensitive data and applications. This wall represents your security perimeter. ZTA and VPN both try to limit access beyond the perimeter, but the way they grant access is very different.
VPN acts like a bouncer demanding an ID card. Once a user or device is approved and authorized, VPN technology lowers the drawbridge and grants total access to the fortress's bounty.

ZTA acts like a hall pass, granting provisional privileges to access specific resources within the fortress and monitors users' activity to help ensure compliance. 

Combining security features with the control of Software-Defined Wide Area Networks, AT&T SASE with Fortinet delivers much of the flexibility and performance that makes ZTA such a compelling security model.
Share this quote
VPN technology lets any authorized user roam freely within the fortress, so if a malicious actor manages to forge credentials and cheat his way beyond the wall, he gains access to the entire fortification. ZTA continually reevaluates users' status during their time spent interacting with cloud networks and applications. By default, ZTA considers every user and device a potential unauthorized operator and extends a security perimeter around individual resources. Using multi-factor user authentication, ZTA issues limited access to compartmentalized cloud resources. This better protects assets and mitigates the potential damage a hacker can inflict within the cloud infrastructure.
This capacity to grant application-specific privileges to users sets ZTA apart as a powerful cybersecurity tool. But implementing ZTA protocols can be challenging for businesses that still rely on a patchwork of solutions and vendors to support distributed workers or multiple office branches.

To help your business transition to ZTA, consider taking following steps:

Capture current solution components, costs, and usage

Assess vendor offerings with the goal of consolidating and standardizing
Evaluate and analyze architectural frameworks with a focus on identity-based solutions
Develop proof of concept and a production pilot approach
Deploy solutions
One route towards embracing ZTA models is to deploy a SASE solutions that offers an easy onramp to achieving improved cloud security for distributed employees.

Implementing ZTA with a smarter cloud connection and security solution

In the face of increased threats, AT&T SASE Branch with Fortinet can provide a unique path to innovation that converges network and security services to address many challenges for organizations. SASE is an emerging architecture model that combines wide area network functions with comprehensive security capabilities in order to support the dynamic nature of today's distributed workforce. It's an ideal solution for businesses that support multiple office branches and distributed workforces, such as financial institutions, and it's a step toward implementing the enhanced security performance of ZTA.
SASE architectures provide connectivity and security controls at the point of connection—at office branches or work-from-home endpoints, for instance—rather than routing traffic through a centralized data center. It's a single managed solution for supplying connections and security to businesses seeking highly secure, high quality user experiences.

Combining security features with the control of Software-Defined Wide Area Networks, AT&T SASE with Fortinet delivers the flexibility and performance that makes ZTA such a compelling security model. It offers comprehensive support for easy, automated, and flexible cloud access for distributed workforces. And it helps reduce risk by segmenting sensitive cloud assets, a key characteristic of ZTA models.

As a managed service, AT&T SASE with Fortinet gives administrators the ability to quickly update user permissions policies tailored to employees' needs. Plus, it offers 24x7 monitoring, giving businesses complete visibility of their users' access throughout their networks and applications. And because it's cloud-based, the solution helps relieve the cost and complexity of protecting your network and enables you to adapt and scale as you transform your network.

AT&T SASE with Fortinet offers:

Increased performance
Ease of use and improved cloud network control
Reduced complexity and costs
Reduced OPEX
Viable pathway to implementing Zero Trust Access
Improved security
If your financial institution is ready to implement ZTA security protocols, AT&T SASE with Fortinet is an excellent route to achieving enhanced security for cloud-based networks and applications.

To learn more, contact an AT&T Business representative or visit our SASE page.