Digitally transforming your contact center
How to exceed customer expectations and enhance customer loyalty in a rapidly evolving marketplace
For modern businesses and organizations, technology is disrupting the status quo. Digital transformation is altering customer expectations and reconditioning behaviors. What does this mean for your contact center?
Simply put, companies that fail to embrace digitally transformative technologies in their contact center are at risk of alienating customers. Only businesses willing to adopt digital transformation can deliver the exemplary experiences required to maintain customer loyalty and support revenue growth.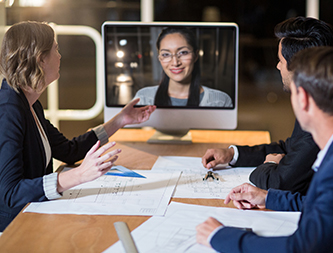 Voice and Collaboration
Empower your teams with solutions that can help you grow your business.
Contact centers at the heart of digital transformation
What is digital transformation? Gartner defines digital transformation as, "The process of exploiting digital technologies and supporting capabilities to create a robust new digital business model."
Yes, digital transformation is nothing short of creating a new business model for yourself. Daunting, right? And digital transformation in the contact center can challenge even the biggest organizations—but it's a crucial move.
Organizations are beginning to reorient their practices around the way consumers interact with them. At the heart of these encounters lies the contact center. Once dominated by live phone conversations, contact centers must now build a digital ecosystem with an array of diverse channels to provide flexible options to consumers.
Why? These consumers are accustomed to an increasing variety of outreach methods. Rather than rely on a voice-centric interaction model, contact centers must consider which channels appeal to particular demographics. 
Delivering best-in-class customer experiences is central to retaining customers and protecting market share. It's also a potential revenue driver.
Share this quote
A new customer mindset
With the rise of mobile applications, self-service solutions, and artificial intelligence (AI), consumers expect more from you. Today's consumers demand that businesses conform to their routines and preferences, not the other way around. In the contact center, new thinking and technologies are rapidly replacing long-standing models.
Satisfying customer expectations in the new technological landscape is no longer optional, it's a fundamental business imperative—and the clock is ticking. If you're willing to adopt emerging digital tech to enhance customer experiences, congratulations. You are investing in a key differentiator separating forward-looking industry leaders from reluctant stragglers.
What do your customers want?
When a customer contacts you, they expect several things. First, they desire to contact you when and how they want. When they transition across channels, they want a virtually seamless transition between channels, agents, and bots—no matter how much time has elapsed since their last contact. They don't want to restate their issue or resubmit their authentication details at every new engagement.
That means securing a digital handoff between agents assigned to different channels, passing the customer data baton from one stage of the journey to the next without burdening the customer. Enabling agents to access customer data from a consolidated application—or "single pane of glass"—is equally critical to supporting seamless and satisfying customer interactions. This describes a true omnichannel contact center.
Customer experience as a potential revenue driver
Delivering best-in-class customer experiences is central to retaining customers and protecting market share. It's also a potential revenue driver. 
A recent report revealed that even modest increases in customer experiences at a typical $1 billion company can contribute an additional $272 million to $462 million in revenues over 3 years.
Giving customers the opportunity to engage across multiple channels of their choosing will help your organization remain competitive and responsive to evolving cultural expectations. As we will see in our next article, supporting a genuine omnichannel infrastructure is key to enabling a truly customer-centric experience.
To learn more about how to digitally transform your contact center and deliver exceptional customer experiences, read our white paper entitled "Welcome to the digitally transformed contact center."