Digital transformation begins with the cloud
3 key considerations for companies moving to the cloud
Digital transformation means different things to different businesses. It can mean creating an online experience for your customers, moving your business to the cloud, or simply overhauling your network to enhance collaboration between your employees and customers. Whatever the motivation, you have a unique opportunity to transform the way you do business in the digital age.
Where are you in the digital transformation journey?
The stakes are high for industries to remain competitive and relevant in an evolving digital environment. Making the digital transformation journey, of course, requires a clear vision with the end goal in mind and a well-defined plan to get there—and an awareness that digital transformation is ongoing, not a one-and-done project.
Throughout this transformation, it's not just about changing out systems or applications, but about changing the way businesses operate and interact with customers and create and deliver products.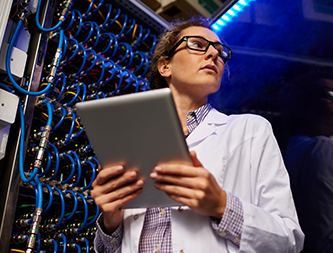 Cloud Based Solutions
Flexible, high-performance cloud services for the way things work today.
In a recent study from Frost & Sullivan, 49% of IT decision makers say the cloud is the foundation of their digital transformation strategy. In that same study, 64% say that their cloud strategy is "essential to remain competitive in their industry."
To remain competitive and relevant, every industry from retail to manufacturing and financial services to healthcare are looking for ways to transform their organizations with digital capabilities that will deliver results.
Considerations for moving to the cloud
While the decision to make the move can provide benefits to your business, such as enhancing operational efficiencies and laying the groundwork for cost savings, the journey to get there can prove to be challenging for any IT organization. Here are some key considerations as you plan and implement your ongoing digital transformation.
The journey towards digital transformation has many potential benefits including cost savings, operating efficiencies, and a competitive advantage.
Plan your strategy—To make the transformation to the cloud, you will need buy-in from everyone impacted by the migration. It will require a cultural change that begins with stakeholders across the organization providing input into the planning process and adoption of a digital strategy for the business. Business leaders and stakeholders need to work together to provide a clear and concise roadmap that outlines key benefits that will lead to a long-term success of digital initiatives.
Staff for success—As technology changes, you need to have the right people in place to keep up with the constant changes and advancements in technologies. According to Frost & Sullivan, 55% of IT executives, say they don't have the right staff with cloud expertise to implement their cloud strategy effectively. There are several options for IT leaders to consider with their cloud migration plans, including a cloud service provider, platform provider, managed services provider, IT vendor, and a security service provider. The route you take will depend on your migration strategy and overall goals.
Protect the cloud—When thinking about moving to the cloud, you have many variables to consider; however, one key area is data protection. Providing for the protection and integrity of your stored data is not only key for your business but key for you customers as well. One approach is data encryption. With data encryption, you have an extra layer of security knowing that you or your customer's data is safe if it is in the wrong hands in the event of a data breach. Consider additional security technology that adds an extra layer of protection that will make it difficult for attackers to get a hold of your data.
Innovate to stay ahead—embrace new technologies that make sense for your business

The journey towards digital transformation has many potential benefits, including cost savings, operating efficiencies, and a competitive advantage. While many organizations continue to do business the old-fashioned way, more and more are transitioning to the cloud.
The International Data Group, states that 69% of businesses have adopted cloud technology and 18% plan on implementing cloud-computing in the future.
This is not to suggest that your business should make the transition to the cloud just because everyone else is doing it. It does, however, suggest the importance of adapting quickly to the new digital realities of business—before it's too late.