Dedicated connectivity can help improve the employee experience
How one large insurer retained more top performers and increased revenue
When annual budgets drive the design of your network instead of a modern, integrated strategy, you can end up with short-term solutions cobbled-together without overarching vision. Agents and employees at a large U.S. insurance provider were competing for shared network infrastructure, so when one office used too much bandwidth, other offices were forced to go without.
Who knew soccer was so popular with insurance agents?
During the recent global tournament, a large provider in the U.S. watched their network struggle to stay on its feet. Enough multi-tasking agents in New York were live streaming the match to crash the network firewall. It was a major IT foul, and one that kept many of their East Coast colleagues from achieving their own goals that week. With so many workers unable to close deals or respond to policyholders in a timely fashion, both revenue and reputation were at risk.
It was an important moment for leadership. Why did their Washington, D.C. firewall node go down because of soccer-streaming agents in New York? They concluded the network was not set up to support the demands put upon it. According to one manager familiar with the incident, "When you let budget dictate your network design, it usually does not yield the best outcome."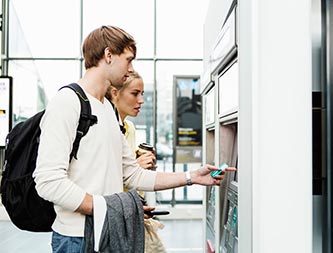 Financial Services
Inspire renewed loyalty, streamline operations, and position yourself to outpace competitors with integrated, data-driven solutions.
The challenge
Network performance had been a source of growing frustration for the company. The main issue: two separate categories of workers were sharing the same network infrastructure. Both groups had distinct needs, and existing IT strategy hadn't been updated as bandwidth requirements increased.
While corporate employees needed access to the internal network, independent agents typically needed access only to the internet. Because VPN-to-internet requires a network-based firewall to protect against cybersecurity and compliance risks, it can cause bottlenecks for every office on the network if one location is using excessive amounts of bandwidth at any given moment. Among the biggest pain points for this company were latency delays and bandwidth constraints as independent agents were routed via MPLS through the corporate firewall to data centers or other shared platforms before they could reach the internet.
In addition, dissatisfaction with network performance was jeopardizing recruitment and employee retention. The company was concerned about losing top performers because of the technology complaints, and younger workers were especially vocal about an employee experience they considered outdated and cumbersome. According to Forrester, it's "paramount" for workers to "believe that their IT department helps them be productive," and to "have the right technology and equipment." But even without having retention issues, a poor employee experience can still adversely affect the customer experience.
Over time, the CTO organization found itself maintaining a patchwork of "squeaky wheel solutions" funded by one-off budget allocations that were never intended to be permanent infrastructure. They set out to find a trusted advisor to help them accomplish a holistic network transformation across their entire footprint, and to get it done in under two years.
Over time, the CTO organization found itself maintaining a patchwork of 'squeaky wheel solutions' funded by one-off budget allocations that were never intended to be permanent infrastructure.
Share this quote
The solution
Because this insurance company knew they didn't have the expertise or the manpower to resolve their issues alone, they prioritized their next steps:
Finding a world-class network provider with a broad ecosystem of experts and alliances to reduce the complexity of working with multiple technology providers.
Planning how to keep up with shifting enterprise networking demands with greater agility.
Implementing integrated, future-flexible solutions with an emphasis on cost efficiency.
The company CTO and VP of Engineering worked with AT&T Business architects and engineers to design and deploy a digital office transformation. Teams from AT&T Business embedded themselves in the insurance company's locations around the country and conducted "day in the life" assessments of the network, applications, and usability challenges.
With the breadth of coverage, depth of connectivity portfolio, and expertise from AT&T Business, the insurance provider was able to replace their Wi-Fi infrastructure and apply more comprehensive network controls. AT&T Business provided multiple access services across the technology spectrum as well as additional high-speed services.
The team recommended one management platform for all routers, switches, circuits, and firewall for greater efficiency, security, better troubleshooting, and assistance to more easily comply with Health Insurance Portability and Accountability Act (HIPAA) and insurance industry regulations. The new integrated network design included VPN business and a premise-based firewall. Dynamic routing policies were designed to help control bandwidth usage with new dedicated and/or shared internet connectivity mode. Dedicated internet high cap flex circuits would provide independent agents with highly secure, direct access to the internet without congesting the main network-based firewall. Failover contingencies were also implemented that included a smaller network-based firewall to be used as needed.
The results

Since deployment began, this insurance provider has reported:
Significantly increased network performance
Millions of dollars in revenue added
Nearly 75% reduction in complaints from agents
Improved corporate employee retention and attrition rates
A "before and after" difference noted on employee surveys
Enhanced capabilities for both employees and customers
Instead of struggling to retain top talent or experiencing a revenue loss, the company expressed appreciation for the breadth of experience, product knowledge, and convenience of working with a single vendor with the largest fiber footprint for businesses in the U.S.
Learn more about the measurable results and customer success stories Financial Service providers have achieved with Financial Services Solutions.
AT&T Business is a leading provider of integrated solutions for Financial Services providers. Our unique ecosystem of technology, expertise, and highly secure global network can help you tackle today's challenges and seize tomorrow's opportunities.