Creating a digital transformation roadmap for retail
Where to start, and where you can go
Everyone involved in the business of retail can see a seismic shift is happening. Retail-focused companies are experiencing the competition and influence of e-commerce in varied ways. While some brands layer newer technology and strategies on top of what has worked for them in the past, many have figured out that holistic digital transformation is key to surviving and thriving in the new connected, consumer-driven world.
Digital transformation continues to develop new meaning as technology evolves and consumers become more skilled and reliant on tech. People's expectations rise for real-world experiences as a result of new online possibilities (like app-driven 'social shopping'), and as old things improve through software (think "machine learning") or faster data processing through edge computing. An effective digital transformation today must incorporate a holistic approach that unifies the digital and in-store experiences.
Retail can do it best, so the story goes
The retail industry as a whole is the most agile and forward-thinking in embracing new technologies and analyzing consumer behavior to shape digital and in-store strategies. But if the entire retail industry is leading the charge on digital transformation, that means your competition is upping their game on providing a digitally integrated retail experience, too. Data alone will not give you the competitive edge. You'll need to combine it with creativity to elevate the in-store experience and keep customers coming back. To read more on retail industry insights derived from our global online survey of senior IT executives, click here.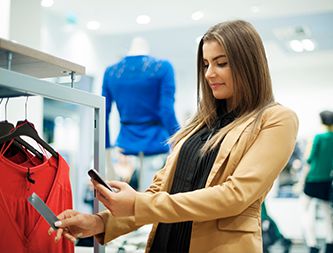 Retail Solutions
AT&T empowers retailers with data insights and secure technology solutions to help provide a powerful, connected consumer experience.
For retailers, digital transformation means more than upgrading Point-of-Sale (POS) technology and providing free in-store Wi-Fi; it's now a business strategy to blur the lines between how customers experience and interact with your brand online vs. when they are in your physical stores. Achieving this symbiosis is not a one-and-done action item—it's a roadmap of connected technology, strategies, and practices you can design to evolve as your retail digital transformation needs evolve.
But, where do you begin to create a digital transformation roadmap? We're going to show you 4 areas to focus on.
1. Resolve the roadblocks
Before you get on a roadmap, it can save time and money to evaluate potential roadblocks and resolve them early.
The biggest roadblock starts at the top, when leadership is unclear or not fully aligned in their understanding of retail digital transformation and the strategy and investment involved. This lack of clarity can easily spread across teams, diminishing urgency and collaboration.
Other roadblocks can include lack of understanding of what legacy systems need replacing, and a disconnect on the importance of open APIs in order to fully integrate many of the best and most sophisticated retail technologies on the market.
Get everybody on board – make executive and leadership buy-in for your digital transformation roadmap your first priority.
2. Prepare your network—pave the way for 5G
The retail sector is cautious about technology that is still in its infancy, but the 5G network is coming. Retailers who have not prepared their systems and endpoints will be eclipsed by competitors who are positioned to take advantage of the new network. Worse, they will be overlooked by a wave of early-adopters who are expected to seek out 5G-connected businesses.
Some technologies that will be greatly improved by 5G, particularly for retail experiences, include augmented reality/virtual reality (AR/VR) and 3-D printing. Imagine trying garments virtually, or customizing and producing a product in-store. Read more about how 5G will impact retail, here.
"5G has to be an important consideration if you believe in a world in which people, process, and assets are all connected," says Abhi Ingle, SVP, Digital, Distribution & Channel Marketing, AT&T Business. "And when you're running a company, you're essentially orchestrating these three elements as efficiently as you can."
Retailers have to take advantage of technology and creativity, along with their deep understanding of customers, to deliver the real-life retail experiences their customers crave.
3. Equip your stores to deliver digital experiences
Part of your digital transformation must consider how new devices and technologies are going to run, in-store. Equipping your retail environments to use new devices and technologies as efficiently as possible will help smooth and blur the edges between online and store experiences. Multi-access Edge Computing (MEC) technology is well-suited to retail stores because it allows you to control your cellular traffic route, thus increasing data traffic efficiencies. You can prioritize data, sending it to a local server for processing, and send lower-priority data down the traditional processing path. A comparable level of reliability, security, and speed from a wireline network will be enabled wirelessly, allowing your digital transformation to operate more smoothly and effectively.
Retailers know that Wi-Fi availability affects consumer behavior – from influencing the decision to enter your store, to deciding which email address they provide to access your Wi-Fi, to the digital signage content they can interact with while shopping. Wi-Fi doesn't just benefit the consumer, it can also lead to deeper customer relationships and support new initiatives. Your store can use Wi-Fi to enable digital signage and security monitors. It can also function as your store's failover connectivity for mission-critical applications like sales software.
4. Unify your online and physical store experiences
Once you have readied your network for 5G, increased the efficiencies of your data traffic, and enabled your in-store Wi-Fi, it's time to consider Internet of Things (IoT) technology.
There are a wide variety of roles for IoT in retail, including: inventory apps enabled through a manager's smartphone; tablets and smartphones enabled for POS, inventory status, online ordering, delivery tracking, and Content Management Systems; and, digital signage and interactive touchscreens that can engage customers.
Sales tools like inventory apps and mobile POS capabilities can empower your retail staff to serve customers in faster, more efficient ways, all over the store. These tools can help reduce or remove the real-world friction points that can drive people to shop online. Retailers can avoid losing customers who would rather leave empty-handed than wait in line at the register when a sales associate can offer express checkout on the spot. You don't have to turn away a sale of a temporarily out-of-stock item when a sales associate can view the re-stock delivery status and offer to send the item to a customer the next day, completing the sale in-store.
Customer-facing interactive screens and digital signage can help unify the physical look and feel of a store with its online counterparts. Dynamic, content-rich video and text can extend the storytelling aspect of branding to create exclusive in-store opportunities that can be teased online. Digital signage can help maximize your marketing budgets and create a more complete and convenient customer experience that rivals the online experience.
Writing your brand's next story of retail success
Fulfilling customers' wants and desires is the very core of what retail does at its best. Technology and e-commerce have placed that level of trust and understanding at a crossroads. The fact that customers' wants are changing more rapidly than any time in history means retailers have to utilize technology and creativity, along with their deep understanding of customers, to deliver customers the real-life retail experiences they crave.
Start by customizing our digital transformation roadmap for your retail business, and get on the road to implementing your digital transformation. When you are successful, your brand will be able to write its next story of retail triumph, connecting your customers' real-world shopping experiences to digital life.
Learn more about digital transformation for retail. Highly secure digital solutions from AT&T can help you improve consumer engagement, increase productivity, and exceed shopper expectations. Contact an AT&T Representative.