Consider these 5 things when upgrading your digital platform for IoT
"Massive connectivity" is a massive opportunity for P&C insurers
In this article, we share practical insights that emerged during our conversations with Mark Breading, an expert in advanced technologies and their implications for the insurance industry. A Partner at Strategy Meets Action, his specialty areas include customer experience, digital strategy, InsurTech, and transformational technology. You can follow Mark @BreadingSMA.
Strategy whiteboards have been filled with ideas about how to create new value from data that has never been available before.
Share this quote
The Property and Casualty (P&C) insurance industry is speeding into a new phase of transformation. Modernization of core systems, implementation of mobile capabilities, and initiatives to improve the customer experience (CX) have been underway at most firms for several years. Now the industry is seeking to move beyond COVID-19 and harness the value coming from billions of connected devices as people, places, and property increasingly become "nodes" on the Internet of Things (IoT).
Strategy whiteboards have been filled with ideas about how to create new value from actionable data that has never been available before. Insurers are just beginning to capitalize on near real-time insights about risk gleaned from connected vehicles, homes, wearables, farms, and pets. Experimentation is happening industry wide as business and IT leaders analyze new sources of data and determine what it means for customers, risk assessments, and internal operations. The impact of this data will be realized in the coming years, with the potential to spark new products and services for policyholders, and to shift business models for insurers.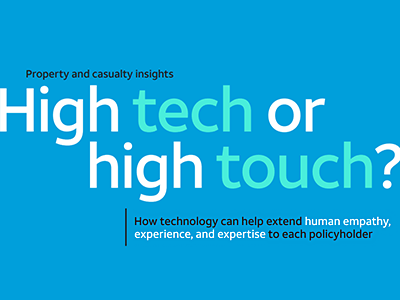 High tech or high touch?
How technology can help extend human empathy, experience, and expertise to every policyholder.

Managing networks and the data transmitted by them is even more vital in a digitally connected world. Insurers need a technology platform that can help manage, support, and enable evolving communication and data needs. The infrastructure required to support massive volumes of data at the edge, updated requirements for high capacity and low latency communications, and the capability to manage data across edge, cloud, and on-premises environments undergird these 5 key considerations for upgrading your IoT strategy:
1. Security:
Orders-of-magnitude more digital data and increasingly sophisticated criminals have spawned enormous cyberthreats. Insurers need world-class information security, not only within their enterprise, but throughout their supply chain.


2. Data flow management:
Insurers can benefit from establishing governance and management structures for data spread across edge devices, cloud, and on-premises. Determining where data should reside and managing the flow between locations will become even more important to support high-value applications like connected vehicles and smart home environments.


3. Network operations:
Networks continue to increase in complexity as nodes increase in number. The requirements for ultra-high capacity and low latency are becoming commonplace. Managing the reliability and availability of the network and connected devices is vital if insurers want to rely on near real-time data to help customers better manage risk.


4. Asset management:
Insurers are faced with tracking and managing network-connected assets like employee and agent mobile devices, partner systems, and newer devices like drones and those considered "massive IoT."


5. DevOps / Application integration:
Many of these potential benefits will fail to materialize if they cannot be supported by a modern DevOps environment that enables business applications to be dynamically created, tested, and migrated into production use.
There is no shortage of IoT opportunity. Virtually every corner of the P&C business will be reshaped by connected devices and data. One of the great industry challenges of our time involves operationalizing the early-stage strategies that have the greatest transformational potential. A foundational component of moving from strategy to execution is the ability to manage the flow of data with a comprehensive digital platform.
Learn more about the measurable results and customer stories that companies have achieved with Financial Services Solutions.
AT&T Business is a trusted advisor to insurance professionals and a leading provider of Edge-to-EdgeSM solutions for Financial Services Solutions, with more than 69 million IoT connected devices on the AT&T network. Achieve smarter, more trusted interactions with solutions that integrate our ecosystem of technology, expertise, and highly-secure global network to obtain near-real-time intelligence from virtually every corner of your enterprise.