Connecting every corner of your business
How businesses like yours are embracing edge technologies to gain a competitive edge
In 2018, the word on every small to medium sized business leader's mind was "optimization". As we saw in last year's AT&T Intelligent Business report, 98% of business leaders projected increasing their technology investments for the next 12 months, with "Internet of Things" being the top ranked investment priority. Across the world, businesses were looking for ways to improve IT and add devices that would increase efficiencies and provide more meaningful customer interactions.
But, as we get deeper into 2019, businesses are moving on from the question of "how do I get these technologies in place?" to "how do I get these technologies to work together?"
That question has led to a newfound focus on establishing a network that serves as the intelligent backbone, adaptable to the ever changing technology landscape for existing and next-generation technologies like Internet of Things (IoT) devices, software-defined networking (SDN), blockchain, artificial intelligence (AI), 5G— all of which are essential to the future of your customer's experiences and your business' back-end operations.
Let's look at a couple of forward-thinking businesses that have invested in these next-generation technologies already and are gaining deeper insights, faster work, and greater collaboration.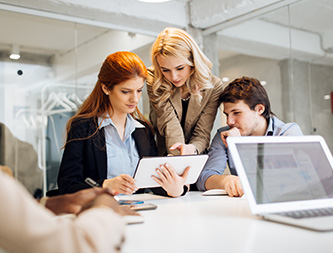 Network Services
Technology is changing rapidly and with that comes higher demands on your network while pushing bandwidth requirements to its limits.
Feed supply company gains better visibility and control of data
At its core, edge intelligence is the virtually seamless integration of the network and the plane of digital devices it connects. Companies are using this greater level of reach and control to fuel their growth, enabling smaller companies to scale up faster and more effectively.
In the case of an animal nutrition and aquafeed supplier, integrating new locations into its network had been difficult. These locations spanned across the globe and were often in rural areas where connectivity was limited. Any adjustments to their network (updates, hardware additions, etc.) was a costly, time-consuming, and often, an unreliable process.
But, by adopting technologies, such as SDN and edge computing, the company removed the arduous process of ordering and maintaining hardware components across their locations. Through virtualizing its network functions, control over their network was condensed into one centralized portal.
Processes like adding a router, or a firewall, or a firmware update—projects that could have potentially resulted in extensive travel and taken months to implement—can now be done with one click through a web portal.
In addition, edge computing helped bring data processing closer to the end-user. Decreasing the distance that data has to travel means lower latency and greater bandwidth available for 5G business applications. This provides a future-ready network equipped to handle the latest, data-hungry technology.
Commercial designer enables near real-time intelligence and collaboration
The promise of a connected frontier, a whole world of IoT, is to make work easier and enable a collaborative process without borders. Edge intelligence helps to deliver on this promise to businesses of all sizes.
When a residential and commercial kitchen design business outgrew its network, the staff was hampered by the limits of traditional network architecture. It lacked the bandwidth to allow designers to share large Computer-Aided Design (CAD) files and work collaboratively across the company, and with clients and vendors.
Through the implementation of SDN and edge computing, the company built a network that empowers their employees with seamless, near real-time collaboration tools. Digital processes have become faster, and critical data is processed at the edge of the network, closer to the device.
As their tools have become faster and better connected, employees can work more efficiently and be more creative. Now, designers can stay mobile and offer more immersive client interactions, allowing on-the-fly changes to design mock-ups and models that can be shared with a client in near real-time.
Companies of all sizes should partner with a provider that can guide them into the future and start implementing essential technologies that make sense for their business, today.
How will you use edge intelligence?
In 2019, we're right on the cusp of a digital revolution. Advancements in technology that are on the horizon—AI, machine learning, 5G—they will all bring to light new ways for businesses to connect every corner of their network. Companies of all sizes should partner with a provider that can guide them into the future and start implementing essential technologies that make sense for their business, today.
Through edge intelligence, every business, not just enterprise, has the potential to enable new services and drive revenue thanks to more rapid data analysis, lower latency, and improved connectivity, helping to enable your business to sense and adapt to change like never before.