Communicate to collaborate, collaborate to succeed
Learn about collaboration technology that can help your business transform
Looking to the future, it's easy to focus on intended desires and outcomes – business goals and digital transformation progress – without realizing all the details that help get you there.
Basic elements like collaboration, continuity, efficiency and positive customer experience are the building blocks that help companies realize those milestones.
If employees are lacking the basic, modern, effective and efficient tools that help them collaborate at optimal productivity, however, attaining and exceeding business goals and expectations may take longer than you want. That's why the right tools are crucial in any ongoing digital transformation initiative.
With the necessary tools, digital collaboration enhances customer engagement, accelerates problem solving, and jump-starts productivity.
Nemertes Research report
Nemertes Research recently published a report that addresses the digital initiatives and infrastructure needs for businesses looking to transform.
The research firm asked nearly 400 companies three questions about technologies:      
Which technology is the most vital to your digital transformation initiative?      
Where do you plan to increase spending in the next year?      
Which technologies do you use or plan to use in the next year?
Learn more about digital transformation in the business world and the enabling technologies in this free, interactive white paper report complete with statistical graphs and analysis.
AT&T Collaborate
With AT&T Collaborate, businesses don't necessarily have to completely overhaul existing tools or complicate the working environment. You have the flexibility to choose which tools work best for you.
These tools can help connect communications across teams and platforms seamlessly, with benefits that can extend beyond the workstation, whether you need a messaging application that helps your remote teams keep tabs on each other and share files and messages, or an upgraded voice and answering system that helps your workers keep in touch with clients, partners, contractors and customers to help enable successful, positive interactions and steady transactions.
Businesses are seeking to enable employees to work together in an environment that improves productivity and efficiency with open, easy collaboration tools that are highly secure and backed by service and expertise. That's what voice and collaboration solutions bring to the workplace: the right way for your teams to work together, a better way to keep your customers happy and a tailored solution that can boost your transformation progress without busting your budget.
Work together. Work toward transformation. Most importantly, work for your customers. It doesn't have to be complex – or costly – when you collaborate and transform.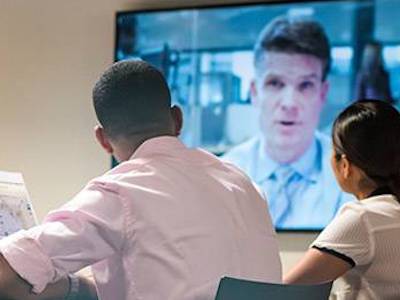 Catalyst for change
Learn why digital transformation strategies require telecom and network upgrades in this free, interactive report from Nemertes Research.