Can brick-and-mortar boost your digital engagement?
How this major bank is mobilizing branch locations for competitive advantage
The challenge
To be a laggard or a leader in digital transformation? To merely survive—or thrive?
That was the choice facing the CTO of one of the most established financial institutions (FIs) in the world. After decades of growth that had created billions in assets, short-term survival seemed like a given. But the industry was changing fast. In a digitally transforming world, how could this long-established institution survive—and thrive—amid the increasing competition from financial technology companies (FinTechs) that have been upending the status quo?

Give your customers what they want—or they won't be your customers anymore
Big balance sheets were enough to fend off competitive threats for the first few years of the digital transformation era. Then it became clear that the pace of customer expectation and industry innovation was rapidly accelerating. This FI faced a potentially make-or-break turning point.
Can you disrupt the disruptors? 
The big question was this: What to do with their branches? The FI had lots of brick-and-mortar locations. Would these be their Achilles heel? Smart leadership recognized their massive footprint of physical branches could be their key differentiator and competitive advantage. After all, they provided powerhouse branding opportunities for community goodwill and relations. And it was something the competitor FinTechs couldn't replicate. But unless the FI could transform its branches to deliver on new customer expectations, the branches would be a revenue-drag.
What if the FI could transform its branches into something new? A place where the strengths of digital and physical space came together in an experience that would give customers more than they expected? The physical branches could become catalysts for new business that pulled in customers and overdelivered on their expectations.
Ultimately, the FI needed a solution to help lower costs, enhance user experience, support the reliability and performance of the network for both customers and the business, improve time to market, and grow top line revenue.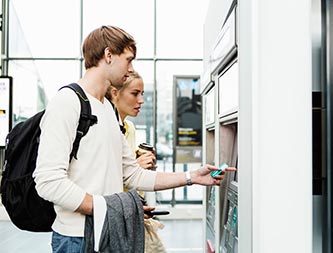 Financial Services
Inspire renewed loyalty, streamline operations, and position yourself to outpace competitors with integrated, data-driven solutions.
Solution
AT&T Business worked with the bank to explore solutions like guest Wi-Fi that could enable greater customer engagement—including mobile app adoption—as part of a branch overhaul. Software-defined wide area network (SD-WAN) architecture was considered to help move applications and compute closer to where they were consumed, empowering the IT team to respond and reconfigure quickly. In addition to supporting enhanced capabilities and cybersecurity, SD-WAN could reduce management overhead and the cost of individual transactions. It was a plan that could be implemented at scale: numerous branches, supported by the flexibility and agility of multiple transport options connected to SD-WAN.
Building the infrastructure
AT&T Business began an aggressive installation schedule. A robust Wi-Fi platform was deployed across branch locations, enhancing authentication, management, analytics, and reporting, in addition to helping migrate transactions to the mobile app, in many cases reducing the cost of those transactions. The SD-WAN configuration was capable of policy-based routing, dynamically managing traffic through a variety of transport options (including LTE, MPLS, and AT&T Dedicated Internet). The combination of Wi-Fi and SD-WAN enabled greater network versatility by aggregating available broadband bandwidth for the best possible application performance. It also saved the bank money by routing traffic with the aid of an intelligent, software-enabled infrastructure rather than more costly hardware.
Hitting tight windows and avoiding disruptions

More than 100 branches per week were brought online, hitting tight transition windows. AT&T Business deployed the network architecture and new circuits while disconnecting the legacy circuits in one fell swoop. As a result, multiple truck rolls were not required at the branches, which could have negatively impacted the customer experience.
Creating a digitally-augmented branch experience
Mobile and IoT solutions were adopted across all locations to enable branch employees to augment face-to-face services with tablets and other smart devices.  The addition of an updated mobile app also provided customers a more seamless omnichannel experience—mitigating the big draw of competing FinTechs.
Smart leadership recognized their massive footprint of physical branches could be their key differentiator and competitive advantage.
Share this quote
Results

Leadership wanted to elevate customer experiences through more personalized encounters and digital solutions. The CTO and team aspired to bridge the digital divide with the introduction of a new mobile app and to build a world-class network infrastructure to support it. Most of all, the CTO and team wanted to re-establish the bank as an innovation leader.
Digitally enhancing the in-branch experience not only re-shaped the FI as an innovation leader, it has also delivered greater customer satisfaction, as evidenced by surveys and their net promoter score (NPS).
The bank has been able to streamline time to market and in many cases, decrease its average cost-per-transaction, 90% per transaction.
Leadership now enjoys greater business agility, a healthier bottom line, and the SD-WAN virtualization gives the bank a wider range of flexible options for the future.
Why AT&T?

With the project calling for so many installations, AT&T Business was uniquely equipped to deliver the scale required to support an enterprise of this size. This capacity, along with a unique breadth of capabilities and expertise—ranging from program management to implementation—made AT&T Business the ideal single provider to deploy Wi-Fi, implement an SD-WAN architecture with new circuits, and disconnect legacy systems efficiently.
To learn more, contact your AT&T representative or download this report with insights into building a more flexible and reliable infrastructure, specifically with options available today and on the horizon for the WAN.
AT&T Business is a leading provider of edge-to-edge solutions for Financial Services Solutions. Ranked #1 in managed SD-WAN services, AT&T has installed SD-WAN in thousands of companies around the globe. Achieve smarter, more trusted interactions by integrating our unique ecosystem of technology, expertise, and highly-secure global network to obtain near-real-time intelligence from every corner of your enterprise.