Building a Better, Connected Hybrid Workforce
Remember when we used to talk about business resiliency in terms of continuity planning for a hurricane, earthquake, tornado, or some other one-off natural disaster? That narrow focus almost seems quaint these days. Two years into a global pandemic that has changed pretty much everything about our lives, we now look at business resiliency quite differently. Now we view it not so much as a one-off event, but something that will evolve operations for years to come.
In the past, the workforce was bound to a primary workplace, making it fairly simple to troubleshoot and address any issue the user had. Now most enterprises have a distributed workforce comprising both on-site and remote workers. Extending enterprise-class network connectivity to a hybrid workforce becomes a real challenge.
Hybrid work is the new normal
It's important to remember that just because our daily lives are starting to resemble years past, that doesn't mean everything will go back to exactly the way it was. During the height of the pandemic, many employees who would have typically been asked to be in the office, were hired as remote workers with a sort of "maybe" caveat dictating when (or if) they would ever go into the office on a permanent basis. You're also seeing an already distributed workforce become even more so as people take advantage of the freedom to improve their work-life balance by traveling, relocating to new, exotic locations, or just moving closer to family.
According to recent studies, 48 percent of pre-COVID onsite employees will work remotely at least some of the time[1] while 74 percent of CFOs are planning to shift some employees to remote-only work[2]. Because of these numbers, analysts expect that IT resources will increasingly be diverted to supporting a hybrid workforce.
The challenges of managing a networking solution for the hybrid workforce
You've probably already experienced many of the challenges that come with having a distributed workforce. But despite this dramatic shift, remote networking solutions in the market today are mostly ad-hoc. It's common for a remote worker to simply use a Wi-Fi router provided by an Internet Service Provider (ISP) or purchased off the shelf at a retail store, and this presents many challenges: 
Difficulties scaling with a growing number of remote workers
No centralized management, deployment, and troubleshooting – you can't monitor all distributed locations from a single console
They're not optimized for cloud applications like Software as a Service (SaaS) that are mission critical to a modern enterprise
Remote workers don't have access to enterprise-level security, so their devices and data aren't as secure as they were in the office or on campus
Lack of visibility beyond traditional network boundaries and increased time to repair, prolonging service disruptions
Rely on a single, shared, residential grade internet connection
It's not easy for IT administrators to provision and manage new remote locations and equally tough for employees to connect their wired and wireless devices because it isn't a plug-and-play process. You need simple, zero-touch onboarding and provisioning, but how can you gain that with an ad-hoc approach? The answer is you can't, but we have a solution that we feel will greatly benefit your organization, so read on!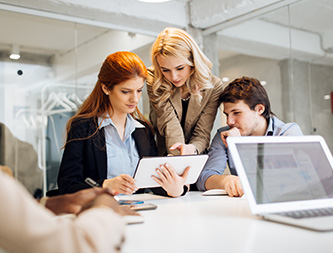 Network Services
Technology is changing rapidly and with that comes higher demands on your network while pushing bandwidth requirements to its limits.
From remote work to a hybrid networking solution

Remote work solutions have naturally shifted over the years, starting with simple, direct internet access to SaaS-based services with enhanced security, a software VPN, and access to the corporate data center. It's now progressing to a hardware-based VPN either on a router or wireless access point, with always-on VPN connectivity supporting multiple devices such as VoIP phones, video conferencing devices, and printers.
This evolution is now moving towards SD-WAN as the next logical step. Remote workers are seeking increasingly sophisticated enterprise solutions optimized for cloud-based SaaS applications and IaaS. They're looking for quality of service, high availability, enhanced visibility, and comprehensive security. To this end, AT&T SD-WAN with Cisco offers hybrid networking as a mainstream solution for home offices and remote workers, with a compelling price and key enterprise SD-WAN capabilities.
This networking solution for hybrid workforce utilizes AT&T SD-WAN with Cisco Integrated Service Router with integrated Wi-Fi. This high-performance ISR 1100 Series can be used with existing home broadband internet and optional LTE hardware bundles.
The networking solution for hybrid workforce from AT&T and Cisco provides the following benefits:
Extension of existing enterprise infrastructure from campus to branch, multi-cloud, and home office
Easy to set up – the user simply connects the router to the broadband, and it can self-authenticate so that it's quickly identified and receives the latest configuration, allowing a secure WAN to be up and running in minutes
Centrally managed and offers enhanced analytics for network performance monitoring
Provides an easy transition to Secure Access Service Edge (SASE) including integrated cloud-based security and Zero Trust Network Access (ZTNA) with Multi-Factor Authentication (MFA)  
Optimize cloud application performance
This solution allows you to extend your existing enterprise infrastructure to a home office environment. Centralized management and monitoring ensure your policies and security remain consistent across all remote workers, and you can migrate toward a SASE framework with cloud-based security.
Learn more
We encourage you to read more about our networking solution for the hybrid workforce. Also, don't forget to check out AT&T SD-WAN with Cisco and AT&T SASE with Cisco.
[1] Future of Work Trends Post Covid-19, Gartner 2020
[2] CFO Actions in response to Covid-19, Gartner 2020
Request info
To get sales help from a Business Solutions specialist, please complete this form.