Big returns from network transformation
How a giant wealth management group increased capacity while lowering costs
The leadership team at one of the world's largest asset management firms was under pressure. High-dollar pressure. To stay competitive, they needed to streamline the flow of data across the business—boosting network capacity while lowering costs.
Wall Street was watching.
The challenge
Keeping millions of clients connected to billions in assets would be crucial—while at the same time consolidating data centers and moving the WAN to the Cloud, transitioning to a more modern hybrid network.

The bandwidth requirements were mammoth: LAN and WAN traffic, financial data and documents, sensitive customer records, and workforce information. They needed a strategic migration supporting billions in annual revenue across millions of transactions, and they needed it to be highly-reliable, highly-secure, and future-flexible.
You don't become one of the world's largest wealth management firms without a keen eye for efficiency.
The solution
The team engaged the problem solvers at AT&T Business, who implemented solutions to increase efficiency and protect the data from edge-to-edge, including—
VPN Business (a Virtual Private Network on a global MPLS network) - to support reliability, bandwidth, and security
AT&T IP Flexible Reach - to provide call routing and call management tools that enhance operations and the customer experience

The bottom line
You don't become one of the world's largest wealth management firms without a keen eye for efficiency.
The private, symmetrical connectivity of VPN on a global MPLS network delivers a high-speed, high-bandwidth, highly-secure integration that maintains traffic separation for direct connectivity to other corporate sites without having to go through the public internet. By combining that with AT&T IP Flexible Reach, the firm accelerated the transformation of one of their largest locations and laid the foundation for virtually seamless voice and data communications across their business. 
By taking advantage of the unique ecosystem of AT&T Business technology and expertise, they're now seeing cost savings, increased capacity, and a more sustainable path to delight customers, employees, and shareholders.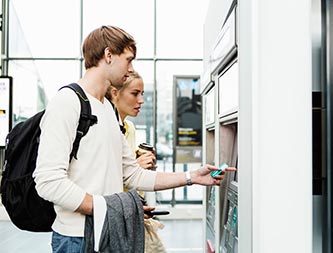 Financial Services
Inspire renewed loyalty, streamline operations, and position yourself to outpace competitors with integrated, data-driven solutions.
AT&T Business is a leading provider of Edge-to-Edge Solutions for Financial Services Solutions, and the largest SD-WAN provider globally. Achieve smarter, more trusted interactions with business solutions that integrate our unique ecosystem of technology and expertise with our highly-secure global network to obtain near real-time intelligence from every corner of your enterprise.