Discover how IoT, 5G, and edge technologies are transforming industry operations
Are you ready for 5G and IoT?
Internet of Things (IoT) technology and the advances brought by IoT changed "business as usual," seemingly overnight. IoT enables businesses to gain visibility into key factors of operations and provides data that helps companies make smart decisions. Forecasts suggest that the global market for IoT solutions will reach nearly $1.6 trillion by 2025,1 showing that IoT has been well adopted around the world.
As 5G and Edge Solutions promise to take business potential even further through enhanced connectivity and easier access to data, many businesses struggle to envision how to put these technologies to work. It seems that in every 5G conversation we have, IOT and edge find their way into the discussion. You can't bring up one without the others coming into play. As manufacturers embrace IoT and install increasing numbers of data collection devices, the role 5G plays in supporting IoT infrastructure becomes more important. The desire for automation and near-real-time decision making amplifies the need for edge-based, local, and cloud compute resources.
Every business should ask, "Am I taking full advantage of the Internet of Things? Is the use of IoT in our business driving profitability, improving process, and yielding insights? Are there gaps that will be overcome by emerging technologies?" 5G brings speeds that revolutionize what IoT is already doing for businesses, opening new possibilities and use cases. Edge computing augments and expands the possibilities of cloud capabilities, creating opportunities for real-time decisions so companies can put their data to better use than ever before.
Businesses are searching for guidance
While 61% of companies globally have already implemented IoT applications, 97% feel there are challenges to creating value from IoT-related data,2,3 or they just don't know how to "get there." Some struggle to identify which solutions can help them achieve their goals, or how to incorporate IoT solutions into legacy operations systems. Add to that the arrival of 5G and edge, and many are wondering just how to incorporate these new powerhouses or manage complexity.
This article touches on business use cases that are in play today while hinting at the art of the possible with 5G and edge technologies. AT&T 5G and edge consulting practice has played a key role with our clients in developing these real-life use cases which can serve as considerations for your technology future.
So, how are IoT solutions helping businesses in the emerging 5G context?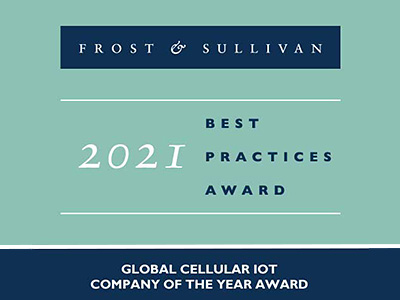 Internet of Things (IoT)
Drive your innovation into the future with our best-in-class IoT solutions. Discover why we're recognized by Frost & Sullivan as the 2021 Company of the Year for Global Cellular IoT.
CONNECTED TRAFFIC MANAGEMENT
IoT has already made a positive impact on traffic management systems around the world, easing congestion and improving traffic flow in cities that have adopted this new, exciting technology. How does it work? Cellular networks and IoT sensors provide cities with near-real-time traffic optimization resources to help reduce vehicle congestion and control emissions—all without major overhauls to existing infrastructures. 5G provides low latency and near-real-time situation monitoring to allow managers to observe developing situations and intervene when necessary. By installing IoT Roadside Sensor Units (RSUs) and cameras at critical intersections, cities can monitor traffic density and deliver adaptive traffic signaling to ease congestion. When traffic patterns slow along major roadways, traffic signals can respond automatically to synchronize movement and ease blockages. There's no doubt these technological advances will continue to better city life as we know it as it is embraced around the world.
MANUFACTURE MONITORING, OPERATIONS TECHNOLOGY, AND CONTROL  
Manufacturing businesses want and need to have a complete view of facility operations. 5G supports more sensors to enable this and works well in challenging environments such as manufacturing plants where high ceilings can limit Wi-Fi effectiveness. With its lower latency and greater bandwidth, 5G can connect IoT sensors embedded within manufacturing equipment to help monitor quality control, efficiencies, and even the safety of workers. High definition cameras mounted at key positions along production lines can detect product flaws and automatically halt production, limiting costly waste. Edge technology enables data processing in the cameras and provides faster fault detection by eliminating the need to transmit data to the cloud for initial analysis. Manufacturers can then review event metadata, reconfigure production floors without having to adjust network infrastructure, and free their Wi-Fi networks for other tasks. In some instances, the cost of cabling can add up to 20% of the expense associated with line reconfiguration. Beyond production processes, IoT sensors can monitor building status, including HVAC performance, fire and safety systems, environmental conditions, and more.
VIDEO INTELLIGENCE AND ANALYTICS
Deploying video cameras as IoT sensors is an emerging concept that will continue to increase demand for high bandwidth networking. 5G technology provides the network capacity to support many cameras in a single environment, and edge computing enables near-real-time processing on site. Using machine learning and Artificial Intelligence (AI), cameras can identify production anomalies, cases of unauthorized access, safety issues, inventory status, theft incidents, and more. They allow businesses to automatically detect factors within their environments that can impact operational efficiencies or compromise profits. By capturing movement, recognizing objects, and tracking persons, video sensors deliver a wealth of data without the need for staff to monitor video feeds. Edge capabilities enable on-site data processing, eliminating delays caused by relaying information to the cloud and reducing streaming jitter and pixelization. And 5G delivers higher quality images and video to help detect patterns and identify objects.   
FEDERAL GOVERNMENT AND DEFENSE
Federal organizations require advanced technologies to achieve their unique mission objectives. IoT and 5G networks enable defense installations and military colleges to explore better ways of achieving their global mission. They also provide the Department of Defense with new resources for improving land, sea, and air operations capabilities. Combining sensors with private networks and 5G technology, military leaders can equip infantry, aircraft, and other military vehicles with powerful sensors that relay critical data to commanders in mobile operations control centers. Whether delivering health metrics, location data, or mechanical status information, IoT sensors give warfighters greater insight into combat conditions. 5G adapts well to many sites and scenarios, making it an excellent network platform for military applications requiring flexible battlefield solutions. It also enables massive data transfers, such as rapid handoffs of intelligence info from passing reconnaissance aircraft to ground personnel.
Your business may already recognize that it cannot ignore IoT without potentially falling behind competitors. But where should you turn for dependable expertise?
Share this quote
CONNECTED HEALTHCARE:
IoT and Internet of Medical Things (IoMT) technologies are radically improving healthcare for patient care. IoT can help improve facility operations, staff management and training, and patient care, and aids in the advances of medical technologies such as the design of prosthetic limbs and more. 5G offers speeds that further enable faster decision-making, faster file transfers and download speeds, and remote video capabilities that aid in training and medical assessment and aid. For example, 5G and IoT can help healthcare businesses:
Reduce operating costs
Support patient care, even after discharge
Support staff, manage schedules, enable cutting-edge telehealth solutions
Use remote monitoring and wearables to track patient vitals and status
Offer better visibility into patient medication usage and tracking
Collect data to analyze patient care and offer more thorough assessment and planning
Improve interfacility operations, worker scheduling, and attention where it's needed
Learn what AT&T Business Professional Services for IoT can do your business.
We can help define and launch your IoT initiatives so you can integrate exciting capabilities into your business. By providing end-to-end support during every phase of deployment, we help ensure a smooth business transition into IoT, no matter your industry.
IoT Consulting: Design, roadmap, and implement your IoT vision from proof-of-concept to mass deployment.
Deployment Services: IoT device certification service using our experience in more than 150 countries and territories.
Managed Services: Full suite of services designed to manage your IoT solutions including discovery and planning, strategy and business plan design, systems integration, configuration and testing, asset delivery and deployment, full-service management with end-to-end operation support with SIM management and training, and robust security on IoT devices, applications, network and cloud, and across operations.
Learn how IoT Consulting can transform and drive your digital information across your entire business.  Schedule a meeting today with your representative to discover how we can help accelerate your IoT, 5G, or edge project.


Sources:

¹Statista, "Forecast end-user spending on IoT solutions worldwide from 2017 to 2025," January 2021
²betanews, "61 percent of companies now use IoT platforms," March 2021
³techjury, "47 Stunning Internet of Things Statistics 2020 [The Rise of IoT]," October 2020