Proof of Concept showcase for AT&T SD-WAN with VMware and AT&T 5G with Network Slicing
AT&T has been named an award winner of the MEF 3.0 Proof of Concept (PoC) Showcase in the category of "Edge for Vertical Award" which recognizes the clearest demonstration of the use of the Edge for a specific vertical industry"  at the 2021 MEF virtual event announced on March 10, 2021.
MEF is a global industry forum for network and cloud providers. It serves to empower enterprises to transform digitally, which can help them to improve their day-to-day-operations and meet their goals.
AT&T has been recognized by MEF for its forward-thinking innovative Proof of Concept Showcase with VMware and Ericsson. As a result of working together, we demonstrated innovations with AT&T SD-WAN with VMware and AT&T 5G with network slicing enabling:
Simplified order-to-service, including smart placement
Use of automated delivery to accelerate the adoption of value-added services
Use of a self-service portal to efficiently deliver and manage advance use cases
Businesses to test new service more quickly to learn, fail, or succeed, and move forward
Ultimately, this PoC provides businesses with a foundation for how they can innovate and operate more efficiently, delivering a higher quality experience and better service to their customers.
AT&T is always learning, innovating, and collaborating to bring its customers the best-in-class technology and solutions. AT&T is honored to do so with other technology leaders. To learn more about the PoC showcase and how it may benefit your business, visit SD-WAN & 5G with Network Slicing (PoC 133).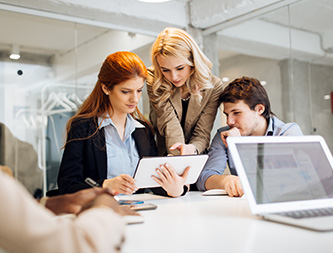 Network Services
Technology is changing rapidly and with that comes higher demands on your network while pushing bandwidth requirements to its limits.