The Case for a SASE Managed Services Provider
The Case for a SASE Managed Services Provider
Secure Access Service Edge (SASE) is a framework that integrates SD-WAN with multiple cloud-based security solutions.  The inherent complexity of SASE lends itself to the need for a variety of uncommon skills.  Because of the evolutionary nature of each of the different skills required to design, integrate, and operate the SASE suite of services, over 80% of large enterprise organizations intend to leverage a Managed Services Provider, (MSP) and 2-3 different SASE Service Providers. 
Each SASE Service Provider represents to the market a single vendor solution however each service could have multiple different software development life cycles indicating the need for a multiple vendor and single MSP solution to maintain a "best of breed" solution. 
The MSP becomes the SASE service aggregator across multiple services and vendors.  SASE builds on SD-WAN on the transition path to a pure cloud-based solution.
Financially leveraging an MSP for SASE Services enables the enterprise organization to consume with OPEX as opposed to CAPEX for solution components that may be changed out every 36 months as opposed to the market norm of 60 months for the capital depreciation schedule.  Consuming cloud security and networking services on a subscription model, rather than a licensing model, allows the enterprise to evolve on demand as well as pivot from one technology lifecycle to the next.
SD-WAN is in the middle of its maturity cycle while SASE is still ahead of the curve.  Committing to a traditional CAPEX model requires a short equipment lifecycle due to software development maturity cycles requiring additional compute resources to enable new features.  Essentially a router today will require more processor, memory, and storage space within 24-48 months to enable new feature sets that the enterprise may require due to compliance or other business drivers.  Knowing this information on the front side of the process allows Senior IT Leadership to choose the OPEX path which will allow the on-demand changes required with the platform to enable business value.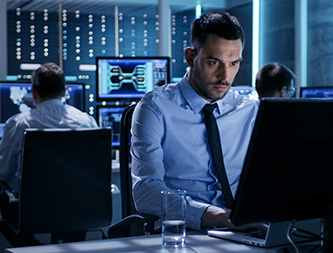 Cybersecurity Solutions
Security is never one size fits all. Learn how to build a cyberdefense plan to meet your unique needs.
One of the greatest benefits of managed SD-WAN is the ability to partner with a neutral third party that can support multiple different original equipment manufacturer (OEM) SD-WAN solutions.  This vendor neutral approach allows an enterprise to change as needed without impacting production.

Through APIs, we have the ability to automate, and automation is the key to reducing human labor intervention that would slow intervention and recovery of the SD-WAN solution.  It is common for every enterprise network to use at least one API to integrate the ITSM functionality with the Software Defined solution.  This is a primary benefit of disaggregation and software definition.
ServiceNow integration is increasingly becoming the most common platform integration.  The primary use case is for ticket correlation with events produced from monitoring.
AIOPS is starting to become more common.  In the past this was a huge financial burden to the point of striping all cost effectiveness out of the solution.  Today almost every SD-WAN vendor offers an automated operations platform that is capable of monitoring for SLA/SLO violations and intervening to bring the solution back into compliance with objectives.
An important distinction is the difference between an Orchestrator and an Element Manager.  An Element Manager manages one component or platform involved in an overall solution whereas an Orchestrator can combine multiple Element Managers to create a cohesive overall solution with basic or advanced levels of interoperation.
"Orchestration defines the sequence and conditions in which one Web service invokes other Web services to realize some useful function. An orchestration is the pattern of interactions that a Web service agent must follow to achieve its goal."  Source(s): NIST SP 800-95 Web Services Glossary - W3C Working Group Note 11 February 2004
SD-WAN analytics are often very good and can be leveraged for automated interventions, leveraging third party systems.  The focus of most SD-WAN solutions is real time analytics which offer visibility to somewhat hidden details that were previously not seen by network operations teams. 
Far too often the separate SASE reporting system offers a poor overview as compared to the real-time analytics of the individual services components.  Complex reporting requirements may require a third-party reporting system.  Both analytics correlation and reporting can be solved by leveraging the right managed services provider.