5G may offer more convenient healthcare choices
Faster connections can expand the reach of health care providers beyond the hospital
Improving the way people access and transmit information can alter entire industries.
The arrival of 5G has the potential to do more than increase the speed with which people obtain data – it could ultimately usher in fundamentally new organizational and operational models that change the way familiar products and services reach customers.
One example is in the industry I support, healthcare. 5G is expected to enable a greater role for non-traditional health venues such as urgent care centers located outside the boundaries of hospital systems. Known as decentralization, this practice equips practitioners with the tools they need to bring advanced treatments to destinations far removed from conventional care networks.
As network architectures grow more sophisticated, they're changing the ways healthcare organizations interact with patients outside the confines of conventional healthcare venues.
NEJM Catalyst reports that "The exponential growth of digital and virtual health, the deployment of advanced technology deeper into the community, and the movement of higher-acuity care into the outpatient environment create opportunities to shift from a large, centralized health care system to a smaller, faster, more cost-effective one in which health care is more accessible, more affordable, more personal, and closer to home."
I think 5G has the potential to propel decentralization by improving the performance of remote access platforms that allow office personnel, physicians, nurses and support staff to interact more efficiently. We anticipate that 5G will eventually help deliver innovations in chronic pain management by generating immersive environments that distract and sooth patients and reduce their dependence on opioids.
5G's lower latency will eventually enhance live-stream video conferencing, provide faster access to electronic health records, improve online and live remote consultations, and enable clinicians to transfer large files such as PAC and MRI images in seconds. By powering better clinical collaboration tools, 5G will assist clinicians in effectively driving more productivity. In the future, 5G technology may even help support remote procedures performed with surgeon-controlled robots.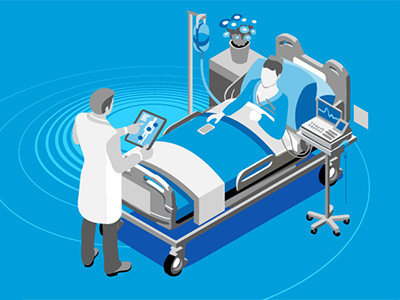 5G & Healthcare: the future is now
5G, the fifth generation of cellular wireless technology, will offer massive connection power and fast speeds that can help transform how healthcare is delivered. Download this free eBook to learn more about this exciting new technology and how to prepare your organization.
Linking healthcare practitioners in decentralized facilities to the databases, experts and tools located in large hospitals helps expand the reach of the healthcare network and potentially saves time, money, and patients. With remote access to patient records, second opinions, and large diagnostic images, practitioners in smaller clinics gain the benefits of major health centers. They can treat patients residing hundreds of miles away from traditional hospitals, saving patients the expense and hassle of traveling.
5G-enabled decentralization has the potential to also save health systems money by reducing costs associated with the urgent transportation of health records, diagnostic images, and in-person consultations.
These are only a few of the ways 5G is expected ultimately to revolutionize healthcare. To learn more and discover how your organization can prepare for the changes, read our new 5G and Healthcare eBook.