5G and manufacturing
How 5G is poised to help transform manufacturing as we know it
If you could design your factory to be everything you wanted it to be, which technologies would you include? What would your throughput look like? How would your safety protocols be reflected by these technologies? Now, here's the big question… do you have the network in place to help bring your plans to life?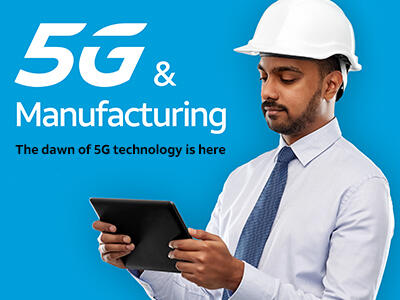 5G & manufacturing
5G, the fifth generation of cellular wireless technology, is poised to help transform the way the manufacturing industry operates. Download this free eBook to learn more.
Many manufacturers are considering these questions. They see the technology that the industry is embracing, but they wonder if they have the network infrastructure to carry the extra demands for bandwidth, speed, and low-latency required by this tech.
For example, a data-intensive technology such as autonomous-guided vehicles (AGVs) may be competing with other technologies and mobile devices for space on the network. If another process or incident comes through that requires more bandwidth, the AGVs could have an interruption in communication and collide with one another. Another example is with augmented reality and virtual reality (AR/VR). For a quality experience, it's recommended that AR/VR operate at extremely low latency, which today's networks may be challenged to provide.
Through unprecedented speed, low latency, and bandwidth capacity, 5G can enable manufacturers to collect more data and compute more information faster to make better business decisions.
Share this quote
So how does a manufacturer solve for this? They can implement Multi-access Edge Computing (MEC) to help prepare for 5G. MEC enables a customer to control the routing of specific cellular data traffic for processing at the edge of the network. It can also help address Wi-Fi capacity and reliability constraints. MEC works with LTE networks, but can be scaled to 5G when available. 5G is poised to transform factory operations even further by eventually delivering unprecedented speed, lower latency, and improved reliability.
Learn more about the 5G revolution in our 5G and Manufacturing eBook and how you can adopt the new and emerging tech for your business.