5 ways FirstNet helps healthcare providers
Enabling fast, reliable communication for COVID-19 response and other emergencies
An emergency isn't a single moment in time. After the initial crisis comes the aftermath; victims, families, and emergency personnel descend upon the hospital—all at the same time.
A hospital's emergency response plan is activated, and priority communication is key to life-saving trauma care. While the ER focuses on triage, administrators oversee care coordination between the ER, OR, radiology and various specialty departments; all hands are on deck.
It's during these seconds that a healthcare organization's communications network is at its most taxed, while also being at its most vital. Traditional network architectures can struggle to support emergency services communications in these situations. This reality can be a significant challenge for medical personnel and IT staff alike.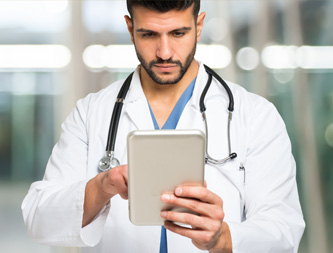 Healthcare Solutions
AT&T provides edge-to-edge technologies that help healthcare organizations orchestrate the transformation from healthcare to human care.
Giving priority communications to priority personnel
FirstNet®, the nationwide public safety broadband network, provides stable, highly secure, and prioritized network access for medical professionals located in hospital settings, as well as for the first responders it was specifically designed to support.
Hospitals are finding that FirstNet helps their life-saving healthcare personnel by helping to ensure they can communicate fast when timing is critical.
Here are 5 ways FirstNet is helping healthcare providers:
Disaster Communication - When emergencies strike, networks can become congested. FirstNet provides eligible medical professionals access to the only dedicated nationwide platform with always-on, 24-hours-a-day priority and preemption across voice and data, helping ensure that they're given a dedicated lane of connectivity when they need it. This means FirstNet subscribers are protected against commercial traffic congestion. That's unique in the industry and something they won't get anywhere but on the FirstNet network.
Interoperability - With FirstNet, information can be transmitted between devices and different sites to quickly prepare for incoming patients. This means medical records, on-site images, and patient vitals can all be coordinated between personnel fast, so care can be delivered quicker and more efficiently.
Healthcare-focused applications – With the FirstNet App Catalog, FirstNet subscribers are offered a catalog of applications designed and certified specifically for public safety, including healthcare.
Cybersecurity – FirstNet operates on a highly secure platform with redundancy and a dedicated Security Operations Center that provides 24x7x365 monitoring and oversight of the FirstNet environment, helping to ensure reliable communications availability for first responders in the face of the constantly changing cyber threat landscape.
24/7/365 support – FirstNet provides voice, text and data access to devices built for dynamic environments with innovative accessories to help both medical professionals in the field and in the hospital with dedicated technical support 24/7/365.
Hospitals are finding that FirstNet helps their life-saving healthcare personnel by helping to ensure they can communicate fast when timing is critical.
Share this quote
With more than 11,000 subscribing agencies with more than 1.2 million connections to FirstNet and counting, more hospitals and medical professionals are discovering how to use it to improve their operations and quality of care.
For more information on FirstNet, click here. Or, for more information on innovative healthcare solutions powered by emerging technology, take a look at our healthcare solutions page.