5 steps to contact center digital transformation
Key stages towards delivering a customer-focused experience
This is the third article in our series about the digitally transformed, omnichannel contact center. For those organizations that want to transform their contact centers to support customer-centric experiences, the question becomes: How?
Businesses and organizations encounter considerable challenges when they try to digitally evolve their contact center. Without a clear plan, the task may appear daunting.
Fortunately, you can break the overall transformation down into 5 smaller transformations: customer journey, process, workforce, platform, and culture.
Customer journey
Obstacles often block the path your customers take to resolve issues and achieve their goals. Inconvenient interruptions and repetitive steps can damage organizations' reputations and threaten customer loyalty.
In the customer journey stage, you examine and improve this path. It's crucial that you take time to understand your customers' preferences in reaching out to your business. Intelligent, AI-powered customer engagement tools can aid you in identifying customer intentions and the many individual journeys they will travel towards resolution.
Only when your organization develops a better grasp of your customers' wishes can you choose to deploy tools such as AI that satisfy their needs. Knowing the customer's preferences will also aid you in allocating the right number of live agents and self-service options to strike an ideal balance between personalized and automated resolution pathways.
With this knowledge in hand, you can ensure that your contact center provides customers the best experiences possible.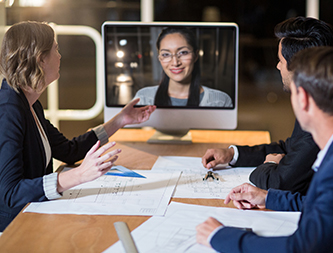 Collaboration Solutions
Empower your teams with solutions that can help you grow your business.
Process
Without an integrated process to guide customers through their conflict resolution journey, contact centers can't deliver virtually seamless, convenient experiences. Customers will have to repeat their personal information and complaint details every time they re-engage with agents or pass between channels. This redundancy frustrates your customers and erodes their satisfaction with you.
By automating key functions and agent tasks, your organization can reduce the friction inhibiting customers from progressing along their issue resolution journey.
The aim of automation is to enhance the efficiency of every agent by deploying technologies that (1) streamline common tasks and (2) match customers with the most qualified agents. Automation-enabled chatbots can also guide customers through the engagement journey while updating key systems with the latest customer information. With more intelligent screening and routing procedures, your contact center can quickly connect customers with the best agent for their needs or resolve their issue through time-saving self-help applications.
Workforce
As your contact center embraces automation technologies, your agents will encounter more specialized and specific issues. These more sophisticated customer goals may require agents to receive more intensive preparation and training to achieve satisfactory resolutions.
While technologies such as interactive voice response and other automation tools can augment agent roles, well-trained agents remain indispensable to delivering the personalized attention customers demand. Training should focus on giving agents the tools they need to adjust to their evolving role within an omnichannel infrastructure.
Platform
Frustrating delays, time-consuming and unnecessary interactions, and uninformed agents can all hamper issue resolutions. But the linchpin of every omnichannel infrastructure is the hardware configuration enabling genuine channel integration.
Whether you chose an on-site architecture, a cloud-based model, or a hybrid approach, your selection of an omnichannel platform should reflect your customers' habits and preferences. Review how particular demographics pursue issue resolution. Bear in mind how the type of issue influences customer behavior. Do customers with certain issues typically chose one channel over another?
Your selection of a platform should also reflect your organization's operational and strategic priorities. Are you in a financial position to invest heavily in on-premises infrastructure? Or do you need to limit capital expenditures and operate on a fixed budget?
Each stage in the digital transformation process aims at developing competencies that satisfy customer expectations.
Culture
Finally, cultural transformation confronts entrenched behaviors and mentalities that make it difficult for your contact center to deliver excellent customer experiences.
Executive leadership is best positioned to orchestrate organization-wide capabilities upgrades and policy changes. A contact center's individual channels and tools may fall under the authority and supervision of different departments, complicating your organization's goal of delivering virtually seamless customer experiences. For instance, a CRM may be owned by marketing, contact center, or IT.
Senior leadership should harmonize disparate teams and rally management around a single strategic agenda to avoid creating unnecessary obstacles that needlessly introduce friction into the customer journey. If your contact center can't commit to immediately implementing the above changes, pick a single category to tackle first. Even incremental improvements can deliver measurable increases in customer satisfaction.
Put the customer first
Each stage in the digital transformation process aims at developing competencies that satisfy customer expectations. By placing the customer at the center of your operational priorities, you ensure that your organization is considering the relevant factors contributing to long-term strategic success.
To learn more about the 5 steps to contact center digital transformation and how to deliver exceptional customer experiences, read our white paper, "Welcome to the digitally transformed contact center."