3 key benefits of a managed SD-WAN solution
How handing off your SD-WAN can save you more than just a headache
There are many important factors that IT departments are responsible for when it comes to management of a business network. In addition to the moment-to-moment tasks needed to keep the network and other technology up and running, IT teams must also manage hardware from a variety of vendors. This can add to the complexity of a network. And while all of this is rapidly moving, the team must also make sure it keeps up with and understands the latest technology in order to advise company leadership about IT-related priorities.
This symphony of activities must flow together smoothly. And while some IT departments have strong teams that can handle the constantly shifting world of IT, most companies, even large enterprises struggle to keep up with its demands. If the team is unsuccessful, the business can suffer from low operational efficiency and ultimately damage customer relationships and the bottom line.
Keeping up with changes in mobile technology
While there are many key aspects that businesses share, every business depends on reliable communication technology to function. Today, that means that mobile devices have to stay up-to date with not just hardware, but the core network has to manage the amount of data that flows through it.
The advancement of cellular technology, which is the foundation for mobile devices, is the driving force behind the need for frequent changes in hardware such as the devices themselves. For many business IT departments, the goal posts are always shifting for how to keep up with these changes. It's a constant struggle against aging devices, rapid innovation cycles, and emerging tech trends.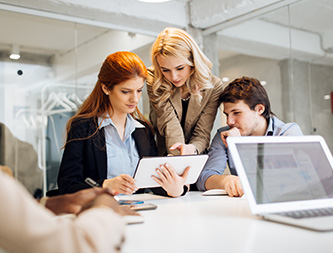 Network Services
Technology is changing rapidly and with that comes higher demands on your network while pushing bandwidth requirements to its limits.
Making the SD-WAN decision
In this ever-changing environment, many businesses use Software-Defined Wide Area Networking (SD-WAN) to give IT teams better control, flexibility, and visibility. Because of the benefits of SD-WAN, adopting this technology enables them to provide better control over how companies manage bandwidth and connectivity throughout the business. But, building an SD-WAN architecture has its own challenges. With the rapidly changing pace of today's digital world and the large-scale migration to the cloud, businesses are rethinking SD-WAN as a DIY solution. They're realizing that creating a solution in-house may seem to have benefits but will actually cost more time, staff, and investment down the line. Many are seeking third-party, managed SD-WAN service providers so they can help take the pressure off of internal teams to more efficiently monitor the company's solutions.
But which solution is right for your business? Should you invest in creating your own SD-WAN network? Do you have the resources? Or should you rely on a provider for a complete, managed solution? There are a variety of factors businesses need to consider when answering these questions to gain the benefits of SD-WAN. It all boils down to this: Do you have the time and resources to build a custom path to digital transformation? Or would you be better off using an experienced managed SD-WAN service provider?
For many, it's the latter. In fact, a recent survey of IT decision makers conducted by Frost & Sullivan indicated 54% of surveyed IT professionals prefer a fully managed SD-WAN service. Even massive organizations can be overwhelmed by the intricacies of a home-brewed SD-WAN solution. The key benefits of a managed SD-WAN solution can help businesses of all sizes.
Do you have the knowledge, time, and resources to build a custom path to digital transformation, or would you be better off using an already paved road and saving your investments for when you get there?
Share this quote
3 key benefits of a managed SD-WAN solution 
Less headache, less time, and less complexity

The main draw of a managed SD-WAN solution is that it removes the burden of, well, managing your SD-WAN. You don't have to spend time and money on training personnel. You don't have to analyze your applications, connectivity, and security requirements or devise, configure and deploy your SD-WAN solution. And you don't have to perform routine maintenance or troubleshooting. In addition, using a managed service can often cut weeks off the time it takes to get your system up and running. Providers that bring together disparate operations and management systems can take a considerable weight off the shoulders of your company. 

Holistic approaches – built-in capabilities

Typically, businesses aren't looking for just an SD-WAN solution. They want to build virtual functions using SD-WAN benefits as the foundation for other technologies. That means, for the do-it-yourself approach, there is a whole web of moving parts. These must all be worked out, vetted, and implemented in-house. A managed solution from a provider gives the business the opportunity to get these functions handled to meet your unique requirements.

For example, it's better to deploy SD-WAN and virtual security together. This allows network administrators to deploy security on the go for direct internet breakout to cloud-based applications. Or an SD-WAN solution coupled with the provider's integrated cloud services helps provide compatibility for cloud-based operations. You can offer a future-ready approach by working with a managed service provider that supports the spectrum of network functions.

Performance assurance and support

Sometimes it is easiest to leave things in the hands of the experts. A team completely dedicated toward building and managing SD-WAN will be more capable than an internal IT team stretched thin across other projects. A DIY solution relies on public internet, which can diminish the performance of your applications and collaboration tools. However, a managed solution can give you consistent, highly secure performance across virtually all your locations. More than that, many providers maintain 24/7 tech support and troubleshooting, so that problems that arise can be dealt with promptly. 
Finding the right provider for your business
If the benefits of a managed SD-WAN solution align with the goals of your business, then the time to find the right provider is now. AT&T Business is always listening to our customers and innovating. We offer an ecosystem of forward-thinking, interconnected technologies that help you meet you business goals. Our SD-WAN solutions, knowledgeable representatives, and expert support teams can simplify networking for even the most complex environments. Today and every day, we're here for you no matter where you are in your journey.  
For more information on how a managed SD-WAN solution can benefit your business, download the Frost and Sullivan report "Fast-Track Your Digital Transformation Journey with Managed SD-WAN." 
Request info
To get sales help from a Business Solutions specialist, please complete this form.