The transportation industry builds networks of the future
Executive summary
Transportation companies are stepping up the pace of digitalization. Although they tend to trail other industries when it comes to some digital technologies, the transportation organizations surveyed by AT&T Business have implemented others more widely (such as Internet of Things (IoT) sensors). However, there are significant questions being asked in the industry about whether companies' networks can adequately support the technologies they are prioritizing for development, like artificial intelligence (AI). This report finds that network modernization is a pressing matter for transportation IT leaders.
Following are the report's key findings:
Modernizing networks is top priority. Many IT leaders at transportation firms lack confidence that their existing networks can support IoT, data analytics, AI, and robotics technologies. To get on top of this, many are transitioning their networks to intelligent infrastructure, such as edge technologies and SD-WAN.


Open-innovation approaches are gaining momentum. Application programming interfaces (APIs) are widely used by transportation firms, and the use of external APIs is a major technology focus for 8 in 10 in the survey. A potential disconnect lies in the relatively small number of respondents whose firms are prioritizing investment in open network architectures.


AI and IoT pose security worries. Cybersecurity concerns, above all others, weigh heavily on the minds of transportation IT leaders. Cybersecurity is both a top investment priority and potentially a major barrier to network modernization. AI and IoT are viewed as the main sources of vulnerability, but technologies such as SD-WAN should allow for better security management.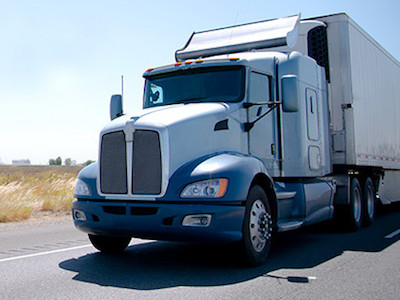 Transportation Solutions
Transportation companies are turning to technology to gain a competitive edge, reduce costs and create new efficiencies.
About the research
The analysis in this report draws on the results of a global online survey of 289 senior IT executives working in the transportation industry. They include CIOs, CTOs, and other C‑level roles, as well as IT directors, network managers, and other direct reports into the C‑suite. The survey was conducted in August 2018 on behalf of AT&T Business by Longitude, a Financial Times company that has world-class expertise in quantitative and qualitative research.

Respondents were based in 3 territories: North America (47%), EMEA (42%), and Asia Pacific (11%), and all work in large organizations that have annual revenues of USD1 billion or more.
Interviewees:
Rishi Dutta, Chief Information Officer, Public Transport Victoria, Australia
Andreas Pichler, Head of Innovation, Gebrüder Weiss
David Van Dorselaer, AVP Industry  Solutions – Manufacturing and Transportation at AT&T Business
Section 1: Networks for the digital era
Up to now, the transportation industry has dealt pretty well with potentially disruptive technologies. For example, airlines, trucking companies, and railways have vast experience in using sensor-based tracking systems such as RFID and GPS, or automated equipment tracking, to make sure their asset utilization and operating efficiency are on-point. However, the digital technologies that transportation companies are investing in today are potential game-changers. At the same time, developing use cases based on those technologies puts intense stress on the underlying networks that support them.
The transportation companies participating in the survey are wasting no time in deploying advanced digital technologies. IoT has been a dominant investment priority in the industry in recent years. The 61% of respondents who list it among their top 3 priorities outnumber even those citing cybersecurity. IoT sensors, combined with advanced data analytics, have been key to improving asset maintenance and efficiency. According to David Van Dorselaer, AVP Industry Solutions – Manufacturing and Transportation at AT&T Business, companies are also looking to use these technologies to improve driver performance and safety.
These objectives help explain why transportation firms plan to ramp up their investment in AI and machine learning. Whereas just one-quarter (24%) of respondent firms have considered AI a top 3 spending priority in the past year, over half (58%) plan to make it a priority over the next 3 years. It is one of the technology focus areas for Austrian logistics firm Gebrüder Weiss, according to Head of Innovation, Andreas Pichler. Among the projects the firm is currently piloting is an AI-powered chatbot.
Advanced analytics tools (such as predictive analytics, which is key to preventive vehicle maintenance) will remain a high priority for firms, as will new generations of IoT technologies. Many more transportation firms also plan to deploy robotics in the coming years. Warehouse operations and container loading/unloading are just 2 areas where robots, including drones, will come into their own.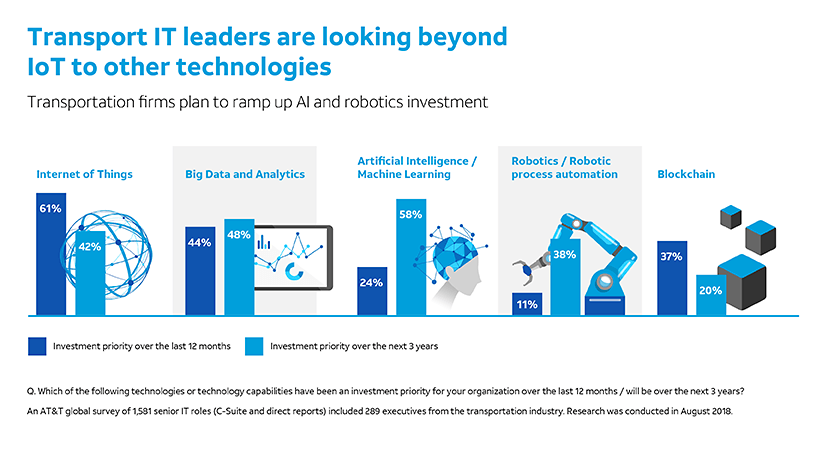 Ambitious as these plans are, IT leaders must be sure that their networks can support the use cases based on these technologies. Going by the survey responses, confidence in existing networks is low.
This applies equally to existing and emergent technologies that have yet to be deployed widely. For example, just 35% believe their current network largely or completely supports data and analytics use cases. The other 65% say it supports these at best "to some extent."
Things are better when it comes to IoT use cases: 46% say existing network support is complete or nearly so. Still, these respondents are in the minority. When it comes to more fledgling capabilities such as AI and robotics, few IT leaders believe their network currently provides adequate support. No more than 9% believe this is the case for AI, and 16% for robotics use cases.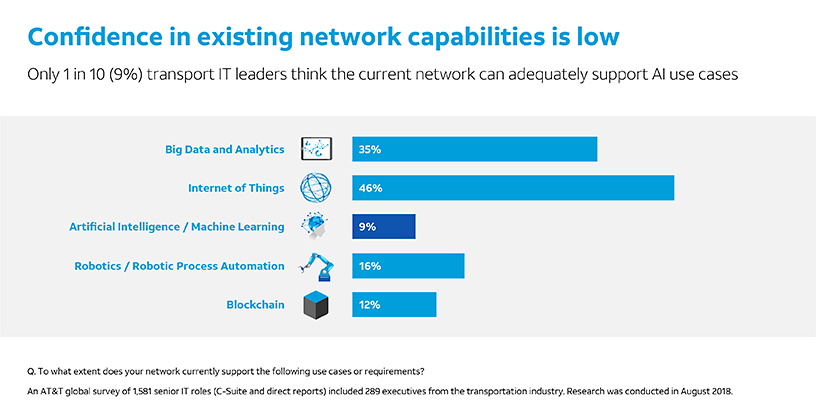 Full utilization of these technologies will likely stretch network resources in terms of bandwidth and data-handling capacity. Rishi Dutta, Chief Information Officer of Public Transport Victoria in Australia, sees his organization ramping up its computing power requirements over the next few years. "The driver for us is mainly the consumption and analysis of big data," he says. "We have steadily growing needs for more cloud computing power."
Potential disconnects are apparent here, however, as almost half of survey respondents expect no change in their needs for computing power in the next 3 years.
Embracing the network challenge

The challenge for transportation IT leaders is clear: they must modernize networks to support advanced digital technologies. "In the next 3-5 years our network is going to look considerably different to what it is today," says Dutta.
However, Dutta adds, the transportation industry specifically needs to integrate all new digital capabilities across both IT and operational technology ("OT", which is made up of road, rail, and other physical infrastructure and systems). Although network support for his organization's digital development is at the right level, constraints exist, he confirms. "We've progressed our network to where we want to support data analytics, for example. But network constraints do slow things down, as we have to take the whole organization with us."
Many of the surveyed firms are buying into modernization, investing in advanced network technologies and capabilities such as edge computing, policy and event orchestration, microservices, and SD-WAN. Of these, IT leaders in the industry are moving ahead fastest with edge computing technologies; currently a network feature in 29% of respondent companies, in 3 years it will be a big part of 62% of networks.
"In trucking, air, and rail, many of the technology challenges are geographic in nature, particularly around extending connectivity," according to David Van Dorselaer. "Transportation companies are looking to use edge-computing capabilities to extend network connectivity to harder-to-reach terrain."
Automated network management technologies such as orchestration tools will see similar growth, becoming part of 47% of transport company networks 3 years from now, compared with 26% today. The number of surveyed firms using microservices will more than double, from 20% today to 46% in 3 years.
The deployment of SD-WAN technology will also grow, although not at the same pace. It will be a feature in 29% of networks 3 years from now, up from 12% today. Surveyed organizations in other industries are moving ahead much more aggressively with SD-WAN.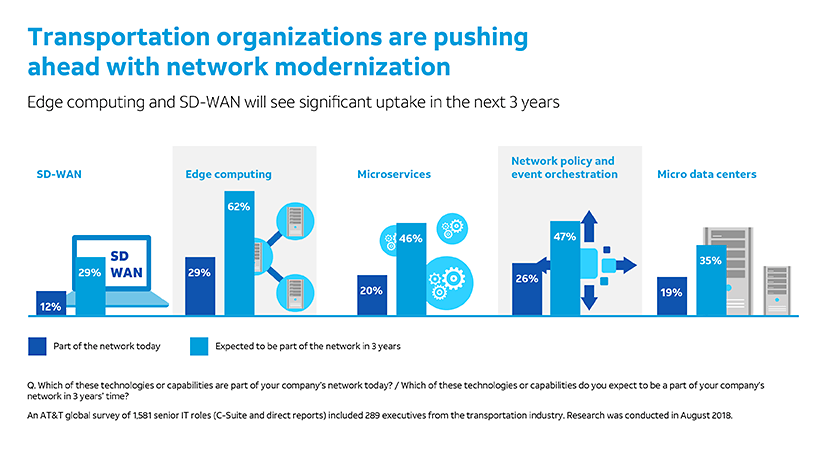 Section 2: In need of a roadmap
In the minds of transportation IT leaders, there is a clear link between network modernization and the digital transformation of their businesses. The vast majority of survey respondents, nearly 8 in 10, believe that digitalization depends on the successful transition to intelligent network infrastructure. It's a little concerning, then, that only a few have a clear strategy for network transition. Two-thirds (65%) are ambivalent about the existence of a transition strategy, while as many as 31% state that their firms have yet to develop one.
Given how new several of these technologies are, it is no surprise to find a lack of clarity around their capabilities, integration with existing technologies, and security features. Nor is it a surprise to find mixed support for them in the vendor community. "Far from all senior managers in transportation understand in a tangible way what intelligent infrastructure and intelligent transport systems mean," says Rishi Dutta.
At the same time, affirms David Van Dorselaer, the complexity of these and other technologies is the very reason that modernization strategies are needed.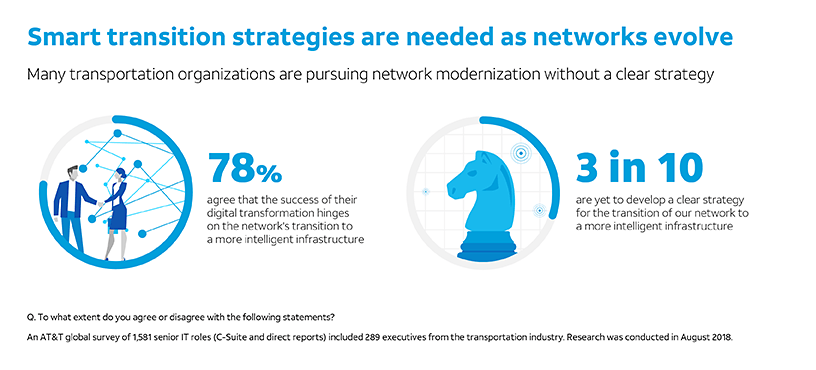 Beyond deployment of edge, orchestration, and SD-WAN technologies, transportation networks are evolving in other ways–all of which require a smart transition strategy. For example, the virtualization of networks is well under way. Almost 8 in 10 transportation respondents–far more than in other surveyed industries–say that the majority (between 61% and 100%) of applications are virtualized today. Half of IT leaders in the industry expect that all of their networks' functions will be virtualized within 4-5 years.
Another factor that requires a strategic approach to network modernization is the growing use of APIs and other forms of open innovation and collaboration. Transportation firms are highly dependent on partners to stick to schedules for passenger travel or cargo shipping. Near-real time data transfer and sharing is key to this, and APIs are increasingly the vehicle of choice. Eighty percent of transportation respondents–a lot more than in other surveyed industries–say that external APIs will be a major technology focus in the coming years.
A potential problem in this connection, however, is that relatively few IT leaders (14%) appear to be prioritizing future investment in the open network architectures that would support APIs.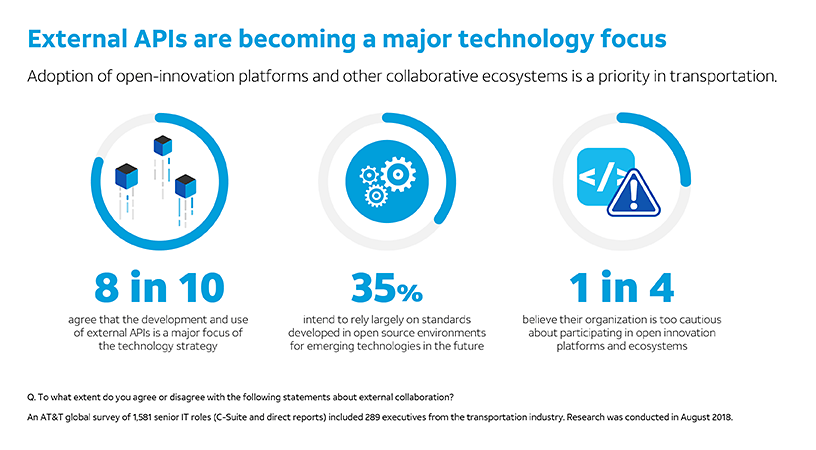 Section 3: Closing the security gaps
The distributed, highly interconnected nature of networks and technologies in the transportation industry, and the fact that IoT sensors are ever-present, are high risk factors for organizations. Until quite recently, says Rishi Dutta, senior executives hadn't fully come to grips with the security implications of IT and operational technology coming together. "People now realize that OT cannot be siphoned off from the IT network and threats to data that originate there."
This helps explain why IT leaders in the industry point to cybersecurity as a top technology investment priority and to cybersecurity concerns as among the biggest barriers to network modernization. Two-thirds of respondents believe cybersecurity to be one of the 3 biggest obstacles to modernization. Data privacy concerns are also ranked as a top 3 concern by over half of respondents.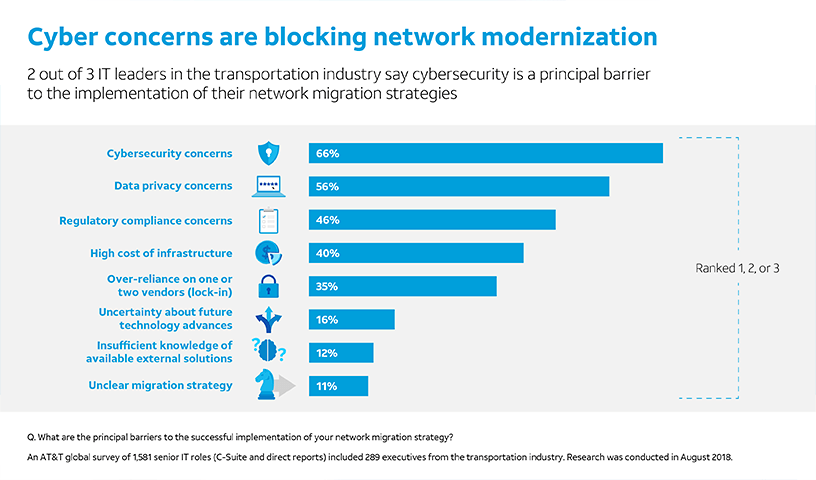 So, what are IT leaders really worried about? IoT sensors are seen as a major weak spot. With vehicles and their components now outfitted with dozens of sensors, doorways into networks are multiplied. The lack of universal security standards likely adds to executive stress.
The most frequently cited source of network vulnerability is AI-based technologies. Like IoT, these have yet to see widespread agreement on security standards. Given that AI will be a priority for transportation firms over the coming years, there is a push to evolve immature security solutions.
The protection that some of the new technologies offer can begin to reassure IT leaders. When asked, for example, about the main benefits offered by SD-WAN, over half of respondents (52%) point to its ability to centralize security.
Establishing the right balance between technology innovation and security is extremely difficult, says Andreas Pichler. "Part of the IT is moving to the cloud. We have different cloud service providers that we need to integrate. We're co-operating with start-ups that don't necessarily have the resources needed to devote to security. So we need a good balance between time-to-market and security."
Conclusion
Intelligent infrastructure technologies are just getting started, and few organizations in any industry have gotten very far in modernizing their networks. As a result, IT leaders in transportation firms do not have much in the way of precedent or best practices to look to when drawing up their modernization plans. A few lessons emerge from our research that can offer IT leaders some useful guidance.
Modernize today

Use cases based on AI, predictive analytics, blockchain, and other technologies that transportation firms are prioritizing will place greater demands on networks. Intelligent infrastructure should be put in place now to fast-track network modernization.
Build a roadmap
Too many transportation companies lack a clear strategy for modernizing their networks. Firms that go ahead without a strategy in place risk making poor investment decisions that they will regret down the line.
Come to grips with open innovation
APIs and other forms of data and idea sharing are central to transportation firms' plans. Open architectures will help networks support this collaboration.
Prepare for a power surge
IT leaders should have no doubt that computing-power needs will grow as they deploy newer technologies. Their networks must have the ability to cope.
Strike the right security balance
Cybersecurity threats will remain ever-present, and network defenses need to be tight as modernization gets under way. But IT leaders need to strike the right balance between ensuring security and pushing ahead with network transition.