The rise of multichannel contact centers: what's driving adoption?
Customer contact centers are using multiple channels to engage customers. Multichannel engagement can help improve customer service.
The days of the voice-only call center are over. Today, most organizations' contact centers engage customers through at least one non-voice channel in addition to voice. The Nemertes 2014-15 Enterprise Technology Benchmark, based on data gathered from more than 200 end-user organizations, finds the following: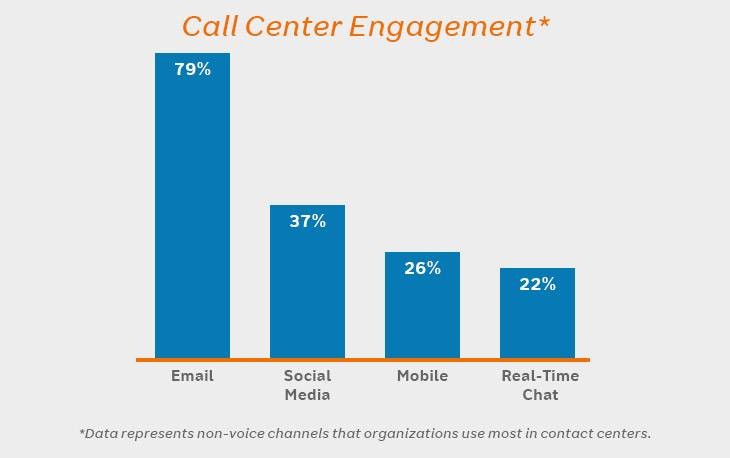 And, Nemertes expects engagement through each of these channels to continue to grow over the next year. With all of these new channels, some wondered: is voice going away? Nemertes' answer: not anytime soon.
Which channels do customers prefer?
Non-voice channels aren't displacing voice. Instead, they are enabling customers to contact organizations through whichever medium they prefer. Ninety percent of IT leaders from organizations with multichannel contact centers say voice is still the most important channel to their customers, even when other channels are available to them. Non-voice channels are still important to customers: 82% say email is one of their customers' top three channels, and 33% put chat in the top three. However, customers don't necessarily use these channels for the same purposes.
"Our customers prefer to handle things like status checks over chat or email rather than through a voice call," says one manger at a large manufacturing company. And, not all inquiries can or should be handled through every channel. "We found that you just can't get certain things accomplished in chat," explains a CIO from a large financial services organization that opted to turn off its chat features after their pilot chat program did not achieve high-enough customer satisfaction rates.
What's driving multichannel adoption?
So, why enable multichannel? Multichannel engagement can help improve customer service by making organizations more accessible to customers. In fact, 58% of IT executives state that they are adopting multichannel primarily to improve customer service, while 26% say customer demand is their main driver. "Adding multichannel allows customers to contact you in the ways they want to," states a director at a large retail company. "We have always prided ourselves on however the customer wants to contact us, they can do that," says a manager at a large healthcare organization.
What should contact centers managers do?
Nemertes recommends that all organizations engage both voice and non-voice channels in their contact centers and integrate these channels into a unified platform, so that information can be tracked between channels. IT leaders should also evaluate which channels matter most to their customers, analyze the types of inquiries coming into specific channel types, and monitor all channels for quality assurance.