The prognosis for telehealth and connected care
Healthcare industry priming IT for large-scale remote care delivery
Healthcare organizations see the potential of telehealth for convenience and cost savings, and many are exploring how to adopt it. From sparing patients costly trips to doctors' offices to linking on-scene first responders with the ER staff, telehealth is projected to save time, money—and ultimately lives.
A recent HIMSS Media research report, The Connected Patient: How Technology is Advancing Telehealth, reveals that a majority of surveyed health systems are priming their IT infrastructure to handle the hardware and high-speed networks required to make telehealth a reality. However, most hospital telehealth initiatives remain in their early stages, as leaders and decision makers address concerns about security and privacy, while vying for more budget and clinician buy-in.

Summary of survey results
HIMSS Media conducted the blind survey on behalf of AT&T in August 2018 to better understand where telehealth fits into the massive digital transformation occurring within healthcare. Of the 100 qualified respondents who completed the online survey:
45% represented IDN (integrated delivery network)/multi-hospital systems
They were almost evenly split between clinicians (36%), IT (33%), and business leaders (31%)
72% worked for large health systems with 500 or more beds
Among the survey's key findings:
A majority are advancing telehealth initiatives as part of a greater digital transformation, though few have fully realized their digital vision.
66% have made some progress toward digitally transforming to advance telehealth
From that group, only 6% have fully executed their digital strategy
The remaining 34% are still in the information-gathering or planning stages
Hospitals are using a variety of secure telecommunications and digital technologies to advance telehealth. Self-service tools and end-to-end cybersecurity top the list of solutions being piloted or already in use.
81% of all respondents have adopted 3 or more technologies
60% have invested in 5 or more technologies
Beyond telehealth, hospitals are looking ahead to leveraging their IT investments for remote patient monitoring and next-generation technologies like artificial intelligence (AI) and machine learning, voice interface, and social robots. So far, the most popular pilot testing or actual rollouts involve wearables.
47% are providing wearables to patients with chronic diseases
47% are conducting remote monitoring via in-home medical devices and smartphone apps with the help of high-speed networks
43% accept data from patient-owned devices
36% provide post-op patients with wearables to track their activity, with a similar number (35%) that equip patients with wearables to encourage preventative care
35% are actively testing or using cutting-edge tech like AI and machine learning, social robots, voice interface, and digital therapeutics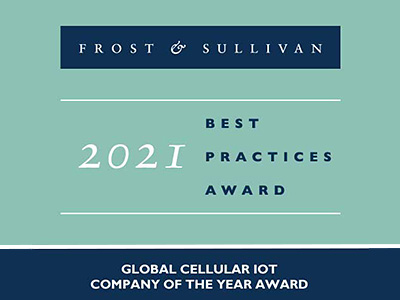 Internet of Things (IoT)
Drive your innovation into the future with our best-in-class IoT solutions. Discover why we're recognized by Frost & Sullivan as the 2021 Company of the Year for Global Cellular IoT.
Top drivers for telehealth initiatives include raising the quality of patient care and achieving better clinical outcomes. However, only a minority currently believe they've been highly effective at leveraging their chosen solutions to advance those goals.
55% say a top goal is improving the quality of patient care, but only 38% find they've effectively advanced that objective
52% want better clinical outcomes, with 42% currently making good on that goal
43% hope their tech decisions reduce hospital readmission rates, while 30% actually have experienced some improvement
Early successes currently include improved patient safety and greater patient access to specialists.
55% have seen early successes driving faster diagnoses and more timely interventions
45% believe their efforts have been very or extremely effective in improving medication management and patient safety
43% are improving patient access to specialists and other healthcare professionals
HIMSS Media conducted the blind survey on behalf of AT&T in August 2018 to better understand where telehealth fits into the massive digital transformation occurring within healthcare.
Share this quote
Budgets and buy-in among the barriers
Limited budgets and privacy, along with security concerns, top the list of barriers to telehealth that organizations must overcome. Another chief obstacle is convincing clinicians to use telehealth tools.
45% cited lack of budget to purchase new technology as a top concern
39% worried about privacy and security implications
29% found clinicians resistant to adopting telehealth initiatives
Enhancing patient care and outcomes
As the healthcare industry navigates through a massive digital transformation, hospital systems are learning how best to deploy their technology investments to elevate the patient experience, enhance collaboration and communication among caregivers, and conveniently and effectively deliver quality care remotely.