The financial industry builds its networks of the future
Executive Summary
In the financial services world, are IT networks up to the challenges of digital transformation? Motivated by the rapid growth and innovation of fintech (financial technology), the industry's established players are going for new technologies such as artificial intelligence (AI), Internet of Things (IoT), robotics, and blockchain—and in a big way. Their main aim is to create the new sources of value and efficiencies needed to compete effectively for the next decade and beyond. Getting the most out of the new tech requires on-point modernization of their IT networks, parts of which are not fit-for-purpose in the digital era.
Based on a survey of 350 senior IT executives in the financial industry, this report finds that network modernization is under way at many of the finance world's biggest hitters. Below are its key findings:
Networks of the future are taking shape. Many IT chiefs in the financial industry are concerned about their networks' ability to support the AI, data analytics, IoT, and other technology capabilities they are developing. As a result, network modernization is top of mind, with SD-WAN, edge, and cloud application infrastructure in line for considerable new investment in the next few years.
A strategy deficit will hold some organizations back. Digital transformation of the business will not succeed without the transition towards an intelligent network infrastructure—IT leaders in the industry are clear on this. But nearly half have yet to develop a clear strategy to guide the transition.
Security fears put the brakes on modernization. Banks, insurers, and other organizations are rallying the troops to protect their networks from security threats. For a large majority of IT leaders, cybersecurity concerns are still blocking their modernization efforts. Intelligent infrastructure can help them manage security more effectively.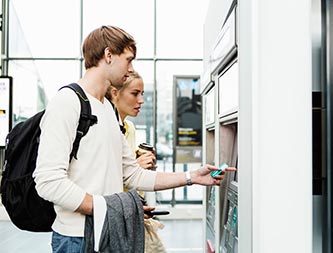 Financial Services
Inspire renewed loyalty, streamline operations, and position yourself to outpace competitors with integrated, data-driven solutions.
About the research
The analysis in this report draws on the results of a global online survey of 350 senior IT executives working in the financial industry. They include CIOs, CTOs, and other C-level roles, as well as IT directors, network managers, and other direct reports into the C-suite. The survey was conducted in August 2018 on behalf of AT&T by Longitude, a Financial Times company that has world-class expertise in quantitative and qualitative research.
Respondents were based in 3 territories: Asia Pacific (21%), EMEA (40%), and North America (39%), and all work in large organizations that have annual revenues of USD1 billion or more.
In-depth insights were obtained from interviews conducted with the following individuals (listed alphabetically by surname):
Dean Del Vecchio, Chief Information Officer and Chief of Operations, The Guardian Life Insurance Company of America (Guardian)
René Dufrene, Industry Solutions AVP for Financial Services, AT&T Business
Rob Harding, Chief Operations Officer and Chief Information Officer, CapitalOne (Europe)
Frederic Veron, formerly a CIO at Deutsche Bank and Global Head of Safety & Soundness
Section 1: A modernization mindset
The financial industry may once have been reactionary, but today it rivals any other industry in technology-led innovation. From AI-powered hedge funds and robo-advisers to IoT-based telematics in personalized auto insurance to the use of blockchain in payments and clearing, tech adoption in the industry runs deep.
Fintechs may be showing the way, but established banks, insurers and other financial firms are also putting these technologies into play, and they plan to push them harder in the coming years. Over half of financial industry IT leaders taking part in the survey say that advanced data analytics and IoT have been an investment priority over the past year.
AI and machine learning, meanwhile, are fast becoming a major focus. Whereas 31% of surveyed IT executives have treated AI as a priority this past year, nearly half (48%) will be doing so over the next 3 years.
"AI is a big part of our plans," says Rob Harding, Chief Operations Officer and Chief Information Officer at CapitalOne (Europe). "We're trying to use much more data in real time, but we're also trying to use it intelligently, which is where AI comes in."
Dean Del Vecchio, CIO and Chief of Operations at The Guardian Life Insurance Company of America (Guardian), says there is a good opportunity to utilize AI in, for example, supporting customers' physical therapy needs: "We could do virtually real-time physical therapy through high-definition and immersive experiences, where the individual may not be able to leave their home."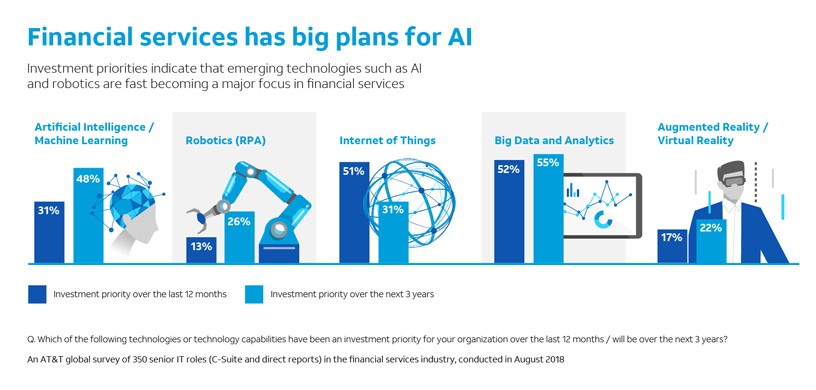 Not many IT leaders in the industry, however, are confident that their networks can support such technologies. No more than 1 in 5 (19%) think AI use cases can be adequately supported today. When it comes to robotic process automation (RPA)—a top investment priority for one-quarter (26%) of firms—confidence in network support is similarly limited. Some also worry about the adequacy of network support for more established technologies, such as IoT and data analytics.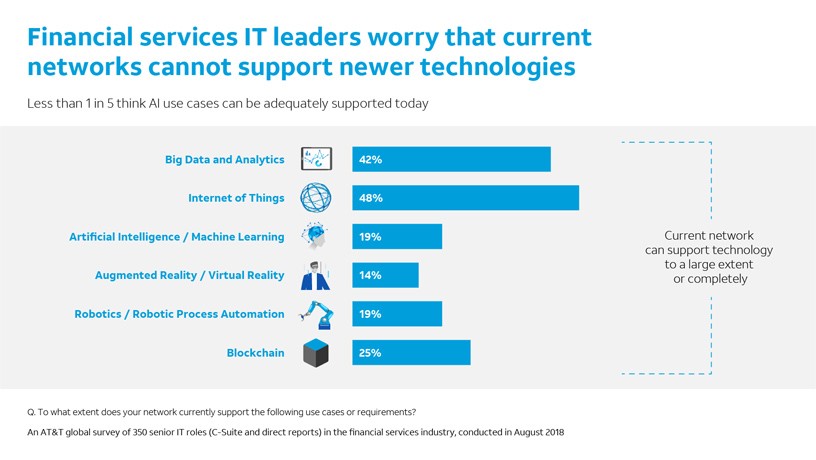 Another pain point is whether networks will be able to deal with the surge in computing power that such technologies will demand. Financial services providers need a lot of bandwidth to run many of the analytics tools, automation technologies, and AI-based applications that are being deployed. Nearly 7 in 10 (69%) of respondents expect their computing power needs to rise in the next 3 years.
A minority, 28% of respondents, expect there to be no increase in computing power needs. This figure is lower than in other industries but is still cause for concern given the bandwidth- and data-intensive technologies most institutions will be deploying.
Big plans for big data … and network power
Banks and insurers have ambitious plans for using data and powerful analytics tools to boost key parts of their operations. They understand the strain this will place on the network and are doubling down to meet the increased demand.
Rob Harding, COO and CIO of CapitalOne (Europe), says that his bank has been making big investments in data-streaming technology to execute core processes in near-real time, rather than in batch. "For example, we want to shorten the time-to-market for our new score models—the algorithms that underpin our underwriting and customer management processes. We'll be able to deploy a model in 8 days, a big shift from something that would traditionally take longer than 8 months."
Injecting new capabilities
According to René Dufrene, Industry Solutions AVP for Financial Services at AT&T, if IT leaders have concerns about their networks' existing capabilities, investing in them is the best response. The survey results confirm this. For example, 63% of respondents expect their networks to have edge computing capabilities in 3 years, compared with 22% who claim to have them today. Sixty percent of respondents say that, in 3 years, their networks will feature cloud-based application infrastructure, a steep rise from 39% today.
Networks are going to evolve continuously over the next 5 to 10 years. They'll need to in order to support the types of technologies companies are deploying. – Dean Del Vecchio, Chief Information Officer and Chief of Operations, The Guardian Life Insurance Company of America
SD-WAN will also feature in many financial organizations' networks. The number using it will almost double in the next 3 years, from 22% of surveyed companies to 42%. "Among other advantages, software-defined networks and 5G create the opportunity to do more with edge devices, and push data analysis further out," says Dean Del Vecchio. Additionally, when it comes to SD-WAN specifically, the survey respondents believe it will enhance network scalability, as well as the ability to centralize security functions.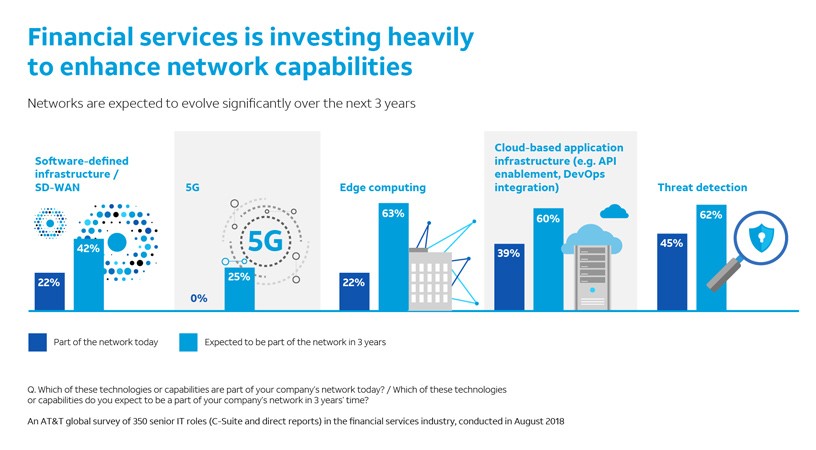 Several financial institutions also plan to utilize 5G capabilities, with 25% of respondents saying it will be part of their network in 3 years. "From an enterprise perspective, 5G will help us to support employees working on and off campus," says Del Vecchio. "We'll be able to utilize more video capabilities and white-boarding. And we'll have the possibility of having real immersive meetings remotely, through virtually any device."
Section 2: A strategy gap
Financial firms' investments in intelligent infrastructure demonstrate a clear commitment to using digital to transform their businesses. Three-quarters (74%) of the surveyed IT leaders suggest that successful transformation depends on the network's transition to a more intelligent infrastructure.
Against that backdrop, it may be cause for alarm that nearly half—46%—of IT leaders in the industry have yet to develop a clear strategy to guide the network's transition to a more intelligent infrastructure. Only 12% can state categorically that such a strategy exists.
For René Dufrene, one explanation lies in the complexity of transformation. "It's not just the technology," he says. "Digital transformation involves many facets of the business: how to engage a bank's customers online, in a branch or office, or in mobile apps, for example. The lines of business and IT must work together to create a comprehensive strategy that incorporates the network."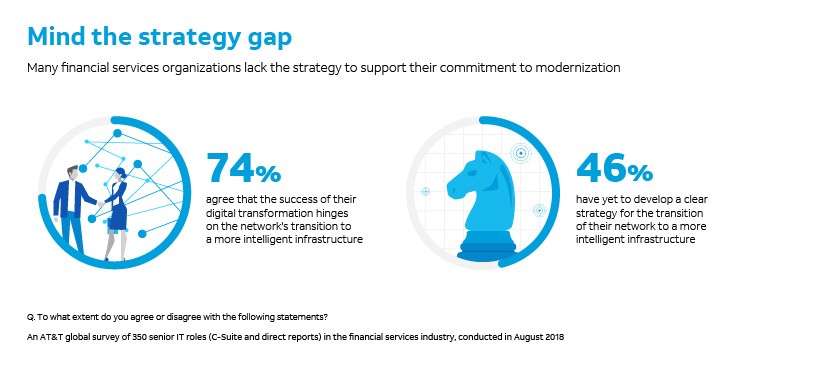 Developing a clear roadmap may be tough, but it is necessary as technology investment shifts gear. And networks are transitioning in other ways. Dean Del Vecchio sees virtualization of networks speeding up in the financial industry, and he thinks some organizations will have fully virtualized networks in 5 or 10 years.
With financial organizations pivoting toward a more open approach to innovation and collaboration, a strategy needs to be put in place to allow them to support this new approach.
A cautious embrace: open innovation and standards
Like it or not, open innovation platforms and standards are becoming a fact of life in the financial industry. Half or more of the surveyed organizations plan to make use of open ecosystems (for example, through the development of external APIs). But few are taking steps to ensure that their network environments are ready for open platforms.
The development and use of external APIs is a major technology focus for 64% of surveyed firms.
Nearly half, 47%, expect to rely largely on open-source standards for emerging technologies.
Over a third of IT executives (35%) think their firms are too cautious about participating in open innovation platforms and ecosystems.
And there is a disconnect when it comes to network readiness for such collaboration: no more than 22% plan to make open architectures an investment priority over the next 3 years.
Most organizations' focus is on building a platform economy and APIs are really critical to that. They want to provide a library of APIs to help people to liberate our services – I think that's what people are looking for today. – Frederic Veron, formerly a CIO at Deutsche Bank and Global Head of Safety & Soundness
Section 3: Defending the realm
Financial firms are extremely attractive targets for cyber-criminals. According to this article from ITSP Magazine, financial organizations in the U.S. fall victim to attacks 300x more frequently than companies in other industries. Incidents are also costly: In 2017, data breaches in the financial industry cost firms an average of USD7 million per breach—higher than in other industries.
This helps explain why taking a hard line on cybersecurity is viewed by most IT leaders as their top technology investment priority. Likely for the reasons already outlined, the figure of 69% who included security in their top 3 priorities for the past 12 months far surpasses that in other industries.
This is no surprise to René Dufrene of AT&T. In addition to the financial and customer trust implications of breaches, banks and other organizations must, he says, continually demonstrate to regulators that they have the technology and operational procedures in place to protect customer information.
For all the money being invested into cybersecurity, large numbers of IT leaders in the industry consider it a block on the implementation of their network migration strategies. Over two-thirds (67%) of respondents say such concerns jeopardize transition; another 56% also point to data privacy worries. This diversion of investment dollars is far more likely to delay transition plans than other potential issues, such as the high cost of infrastructure or regulatory compliance considerations.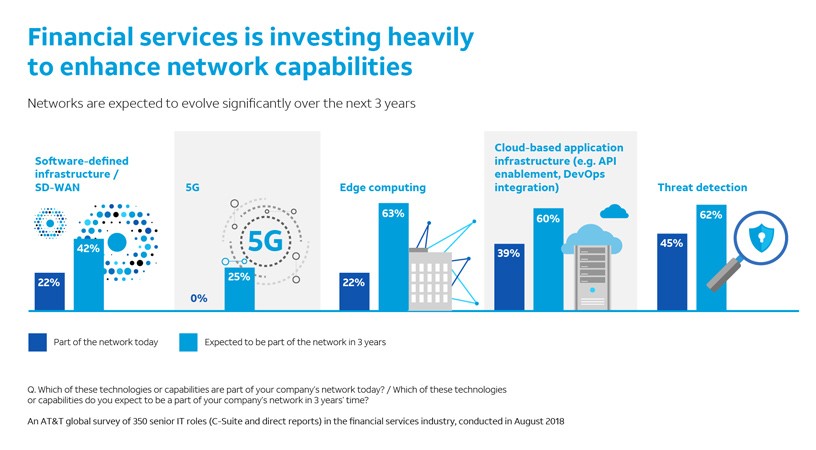 More so than other industries, IT leaders in the financial services industry view public cloud providers as a source of network vulnerability. Despite this, 58% of respondents plan to move more of their data operations (storage and analysis) to a hybrid cloud and on-premise environment.
Should IT leaders worry about vulnerabilities arising from SD-WAN deployment? Executives in other industries are a little jittery, although this mainly seems related to the fact that the technology is relatively new. According to Dufrene: "Early adopters of SD-WAN are not afraid of the technology. But they do a lot of due diligence to ensure that it's incorporated properly."
All in all, today's IT leaders can have more confidence in the security features of new tech and applications than could their predecessors. "Now more than ever, security is factored into the design," says Dean Del Vecchio. "From day one, we constantly think about it as we're designing things."
We need to get to a place where cybersecurity remains top of mind from a risk management point of view, meriting a considerable amount of ongoing investment, but becomes much more of a run-the-engine activity. Things like AI and machine learning need to be the top priorities to advance the business. – Rob Harding, COO and CIO, CapitalOne (Europe)
Conclusion
Most financial institutions have only just started the modernization of their networks. There isn't much in the way of precedent to inform such an undertaking. IT leaders will need to be flexible as they deploy new network assets and change processes around them. This research can point them in the right direction.
Modernize to stay competitive
The digital capabilities financial institutions are developing now—and the use cases based on them—will require reliable network support. You can't get started soon enough on modernization and deploying intelligent infrastructure.
Address the strategy deficit
The surest way to onboard the C-suite is to have a roadmap ready to show them on day one. If you lack a clear strategy, it could lead to out-of-sync investment that decision makers regret later.
Prepare for open architecture
Even in an industry as tightly regulated as financial services, banks and other organizations will need to integrate themselves into platform-based ecosystems. Utilizing these to the fullest requires an open architecture approach to network design.
Invest in your infrastructure
A large minority of IT leaders appear to be underestimating the likely trajectory of their computing power needs. Don't underestimate. Begin investing now in intelligent, scalable infrastructure that will support innovative new use cases.
Get the security balance right
Cybersecurity threats will remain front and center, justifying IT leaders' focus on strong network defenses. But security fears should not hold businesses back from deploying intelligent infrastructure. Make sure budgets proportionally represent a commitment to security and infrastructure.
For more insights, please visit: att.com/IntelligentBusiness
AT&T Business is a leading provider of Edge-to-Edge Solutions for Financial Services Solutions and is the largest SD-WAN provider globally. Achieve smarter, more trusted interactions with business solutions that integrate our unique ecosystem of network, technology, and expertise to obtain near real-time intelligence from every corner of your enterprise