Retail: Confident and proactive about tech transformation—but at risk
Executive summary
As global businesses continue to transition to intelligent networks, IT leaders operating within the retail industry are taking an even-handed, methodical approach to digital transformation. This includes a focus on consumer behavior via upgraded network capabilities to the creation of a balanced cybersecurity strategy. However, new research by AT&T reveals several issues that the industry must address to enhance transformational success.
What the research shows
 
Failure to identify future fault lines. While IT leaders believe existing network capabilities can support requirements, there is a disconnect with their networks' future computing-power needs. Over a third of respondents believe there will be no change in computing-power needs in the next 3 years. This is an unrealistic expectation given the increasing number of new intelligent network-driven technologies and capabilities being introduced.
Slow to embrace intelligent networks. The retail industry is aware of the benefits of intelligent networks. This is reflected by strong levels of investment in software-defined networking in a wide area network (SD-WAN) and virtualization. But the speed of execution—or lack of it—should concern IT leaders. Nearly half (44%) predict that full virtualization won't be achieved until 2024 at the earliest. This leaves them at risk of being overtaken by faster-moving competitors within their markets.
Confusion over transformation strategy and priority. A significant majority of IT leaders agree an intelligent network is vital to securing retail's future success. However, nearly half state they don't have a clear transitional strategy in place. This lack of vision could explain the sector's technology blind spots and intelligent network issues. If left unresolved, such issues could jeopardize the industry's transitional plans.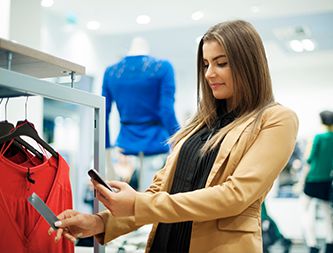 Retail Solutions
AT&T empowers retailers with data insights and secure technology solutions to help provide a powerful, connected consumer experience.
About the research
A global online survey of 1581 senior IT roles (C-Suite and direct reports) was conducted in August 2018 on behalf of AT&T by Longitude, a Financial Times company that has world-class expertise in quantitative and qualitative research.
The analysis in this report is based on the findings from the 331 senior IT executives from the retail industry who took part in the research. All of the respondents have oversight of, influence on, or involvement in their organization's decisions relating to network infrastructure.
Retail respondents were based in three territories: Asia Pacific (18%), EMEA (47%), and North America (35%), and all work in large organizations that have annual revenues of $1 billion or more.
In-depth insights were obtained from interviews conducted with the following individuals:
Section 1: Retail – Confident and adaptable
Predictably, retail's primary focus is on understanding consumer behavior. This is reflected in a commitment—greater than in any other vertical—to upgrading network capabilities to support IoT and big data/analytics. The survey also reveals retail's plans to integrate edge computing, microservices, and network policy and orchestration capabilities into their networks. This demonstrates that the sector is supporting its expectations with appropriate levels of investment.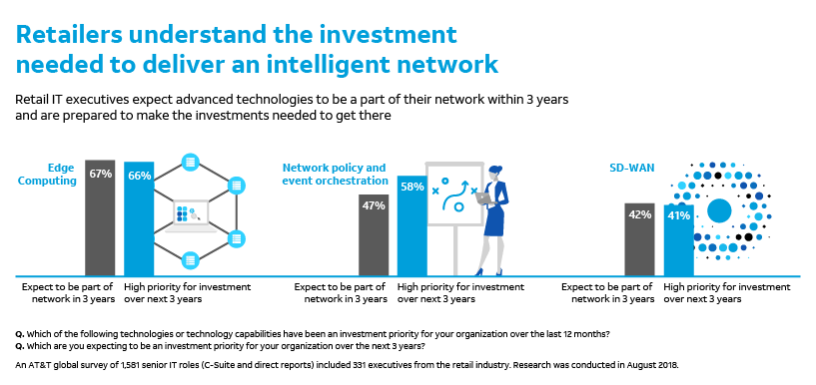 Crucially, retail is adaptable, ready to rebalance rollout strategies if and when inadequacies are identified. For example, in the past 12 months, retail businesses have had an unbalanced approach to investing in IoT (61% investment priority) and analytics (49% investment priority). This trend risks creating a high volume of data without the analytical processes in place to leverage it effectively. But the good news is that retailers seem to be adapting to and correcting this imbalance.
Over the next 3 years, 45% of retail respondents will make IoT investment a priority, and 44% will prioritize big data and analytics, producing a more balanced approach. To aid analytics transformation further, retail has also identified a previously low investment in AI/machine learning (28%) and plans to increase investment over the next 3 years, to 49%.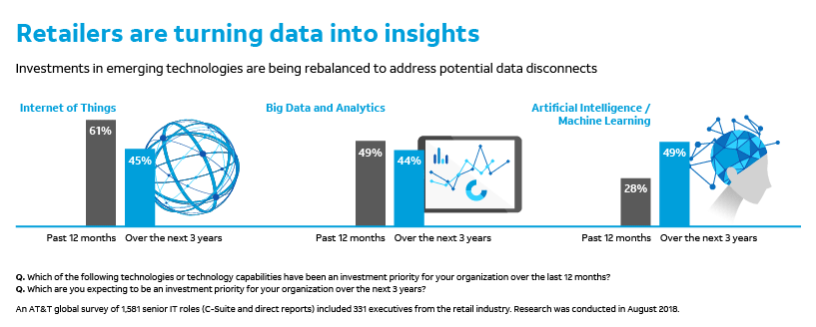 Cybersecurity: Striking the right balance
As in other verticals, security investment and priority levels remain the highest of all considerations within retail—but with one key difference.
Retail's prioritization is the lowest (40%) compared to the nearest sector, healthcare, on 47%. And this, research suggests, is a good thing. Retail may be less at risk than other industries who invest so much in cybersecurity that it reduces their investments in other key areas.
Retail's more balanced approach to cybersecurity is underlined by 81% of retail IT leaders being confident or very confident that their current network will improve cybersecurity. This sense of confidence is reflected in the fact that, while security has been the top investment priority (61%) over the past 12 months—tied first place with IoT—this drops to 47% over the next 3 years. Moving forward, retail would be wise though to reassess security strategies regularly to check its confidence remains well-founded.
It is important to have the core of your security platforms and processes well formed and understood. We include security as a core set of requirements when deploying any new technology and ensure that it is thoroughly investigated when we are proving concepts. - Adam Gerrard, CIO, Yodel
Section 2: Sector at risk of being blindsided
While retail's stance on transformation and cybersecurity investment is positive, there are hazardous blind spots in technology and network abilities.
Technology
Investment in key technologies is on the decline in the retail sector. For example, blockchain, while offering huge potential for critical retail functionality, is at risk of being sidelined. IT leaders expect investment priorities in the technology to drop from 32% to 21% in the next 3 years.
There also appears to be confusion surrounding 5G and its role within future networks. 5G offers increased connectivity and reliability across future networks. IT leaders, however, only expect investment priority levels to increase from 5% (in the past 12 months) to 7% in the next 3 years. Perhaps most revealingly, 75% of retail IT leaders do not see the tech as a high priority.
While the sector is adopting a cautious approach to a technology still in its infancy, any potential gains offered by 5G could well be lost if not invested in and leveraged correctly: "5G offers stability and quality of service," says Mark Ridley, a technology, growth and strategy adviser. "It joins up dead spots [in the network] to stop those frustrations of 'I'm trying to work here, and everything has just fallen apart!'"
Adam Gerrard, CIO at UK-based delivery service company Yodel, is cautiously optimistic about 5G: "If the real-world 5G services work as expected, then combining that capability with our IoT network could open up some very interesting opportunities," he concludes.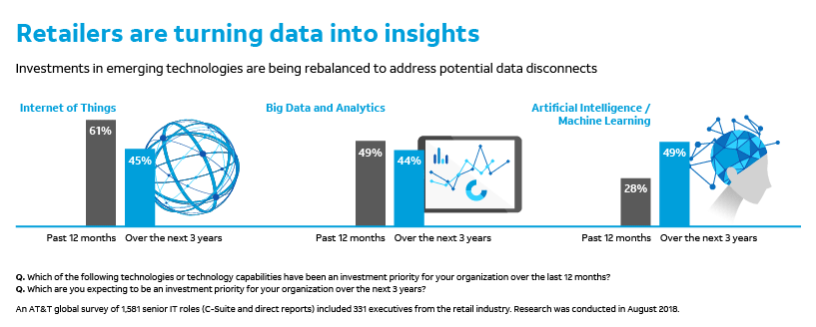 5G has to be an important consideration if you believe in a world in which people, process, and assets are all connected. And when you're running a company, you're essentially orchestrating these three elements as efficiently as you can. – Abhi Ingle, SVP, Digital, Distribution & Channel Marketing, AT&T Business
Open Architecture
The role of Open Architecture is critical to the future of intelligent networking. Mark Ridley explains: "Its huge participatory audience makes it a driver of innovation and of new and effective technologies." Yet the retail industry remains uncommitted to Open Architecture. In the past 12 months, investment levels have stood at 25% and are expected to be reduced to 22% over the next 3 years.
It marks an ongoing lack of commitment to a technology that offers the capabilities that IT leaders say are critical to their future operations. For instance, 77% of IT leaders agree the development and use of external APIs are a major focus of retail's technology strategy. Yet the investment priority levels supporting the increased use of APIs stands at only 21%. "Open APIs and standards enable us to create the right tools in the right places," explains one VP of IT Infrastructure at a $3B+ Retailer. "We use the open source nature of APIs to build, like Lego bricks, very complex, very two-purpose solutions that give us both speed to market and open flexibility as we move forward."

Cybersecurity

As discussed, cybersecurity confidence levels are high. What's more, IT leaders also believe an SD-WAN-enabled future will pay dividends. For instance, 52% state SD-WAN's main benefit will be centralized security. 31% believe it will enable more secure surfacing of data to external parties and end users.
However, concerns are emerging about the principal barriers to the successful implementation of network migration strategies. The top 3 concerns all relate to security and governance:
Cybersecurity concerns – 66%
Data privacy concerns – 61%
Regulatory compliance concerns – 38%
Despite retail's high confidence levels in the short and medium term, IT leaders believe security could be hindered by transitioning to SD-WAN. It's a concern that one VP of IT Infrastructure at a $3B+ Retailer can empathize with: "My security team is a little more nervous about SD-WAN because of the newness of the technology and the potential for not-yet-anticipated exploits. With SD-WAN, we've effectively got rid of a giant door [defending our data] and we've now put in 1,200 little windows that we have to monitor and protect instead."

Are IT executives being realistic about the future network?

The survey reveals a disconnect over short-term computing-power needs and the network's ability to deliver sufficient processing power going forward.
Nearly 4 in 10 (38%) believe there will be no change to their computing-power needs, despite the increasing levels of investment in new technologies. This suggests that some retail operations could find themselves with a network unable to cope during the rollout of new capabilities.
Section 3: Slow-moving strategies endanger future
Retail is aware of the benefits of intelligent networks, with companies making investment and prioritization commitments in SD-WAN and virtualization. While this illustrates that retail is on the right trajectory, is the industry proceeding at the right velocity?
For instance, the speed of virtualizing all network functions is expected to take a minimum of 6 years for nearly half of retail IT leaders (44%).
The issue of speed is echoed by retail's desire to move away from physical data centers. Currently, 88% have data centers but over half (52%) say it will be at least 2024 before they phase them out. The risk is clear—transitional laggards could be left behind by faster-moving competitors operating within their retail markets. This is especially pertinent as research shows company lifespans are, in part, being reduced by technological disruption. For instance, in 1958, a company could expect to stay on the S&P 500 stock index for 61 years. Today, the average is only 18 years with technological disruption believed to be a key factor in their eventual demise.
So why are some retailers suffering from a slow transitional pace? The survey suggests it could be connected to strategy and leadership issues. For instance, 77% of IT leaders agree that they need to virtualize their infrastructure. However, nearly half (44%) state they don't have a clear virtualization strategy in place. Not only that, but there seems to be frequent conflict between key stakeholders: a quarter (27%) of IT leaders claim to have priorities that conflict with those of business leaders.

We have a huge migration plan. You have to consider resources, understanding what is currently running on different platforms, the different codes, the different libraries, and more. We are assessing where we are and then building the same environment into a new platform. We can't just board that in one day; it has to be tested for weeks and months. - Tarun Samtani, Group DPO, Boden
Conclusion
Retail is clearly able to address shortcomings in key areas, as demonstrated by its rebalancing of investment in big data and analytics, IoT, and AI. Retail is also taking a more even-handed approach to cybersecurity than are other verticals. But some retail IT leaders must now apply this proactive mindset to their core transitional strategies—or risk a faltering transformation that allows faster-moving competitors to pull ahead of them.
How must retail IT leaders manage network modernization?
Deal with technology blind spots. Reassess your prioritization strategies to check key technologies and capabilities, such as blockchain, aren't being sidelined.
Stay open to OA. Revisit your Open Architecture strategy to confirm that it fulfills your expectations for key functionality, including API deployment.
Face up to future network computing-power needs. Re-analyze your current network computing capabilities: is your network computing power able to service your needs today and the future? If not, it could jeopardize your ability to evolve as new technologies come online.
Address SD-WAN concerns. Tackle SD-WAN-related security concerns now. Consider consulting with SD-WAN security specialists to help keep your network protected.
Collaborate to roll out your network strategy. A lack of strategy and leadership could be preventing successful transformation from happening at pace. Review your digital transition strategy to identify where you can accelerate it. Failure to do so could leave you open to threats from faster-moving competitors.
This report is part of a research series called The Intelligent Business.