Manufacturers embrace network modernization
Executive Summary
Smart manufacturing, or the digital factory, is no longer the future; it is a reality. Discrete and process manufacturers are putting Internet of Things (IoT) sensors, advanced data analytics, and robotics to work. On the back of almost unlimited processing power, they are improving asset utilization and operating efficiency and enabling hyper-personalized production. On top of this, they are creating new revenue streams from services. Businesses will soon be utilizing artificial intelligence (AI) with the same objectives. So, companies have ambitious digital manufacturing plans; but are their networks ready?
We conducted a survey of 318 IT leaders in the industry, which found that many manufacturers are actively pursuing network modernization to support their digital ambitions, investing in different types of intelligent infrastructure. Below are the report's key findings:
The modernization agenda is under way. Manufacturers are energetically deploying IoT and advanced data analytics across their operations, and AI and robotics are a high priority. Not all IT leaders are sure their existing networks can support these use cases and are backing them up by investing in intelligent infrastructure such as edge computing and SD-WAN.
Roadmaps are needed. A large number of manufacturers are moving ahead with modernization without the benefit of a clear strategy to guide their investments. This is despite their realization that digital transformation of the business hinges on the network's transition to intelligent infrastructure.
Cybersecurity worries can delay modernization. Security concerns are cited more often than any other factor as a block on network transition. Intelligent infrastructure such as SD-WAN should help manufacturers modernize and defend vulnerabilities.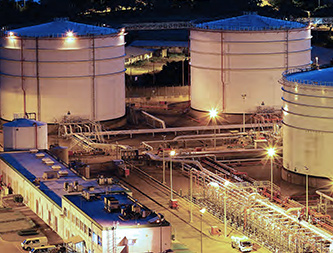 Manufacturing Solutions
Industry 4.0 technologies help manufacturers save money through better inventory management, improved asset utilization, and optimized production planning.
About the research
The analysis in this report draws on the results of a global online survey of 318 senior IT executives working in the manufacturing industry. They include CIOs, CTOs, and other C-level roles, as well as IT directors, network managers, and other direct reports into the C-suite. The survey was conducted in June and July 2018 on behalf of AT&T by Longitude, a Financial Times company that has world-class expertise in quantitative and qualitative research.
Respondents were based in 3 territories: Asia Pacific (34%), EMEA (32%), and North America (34%), and all work in large organizations that have annual revenues of USD1 billion or more.
Interviewees:
Ed Boris, Senior Director, Technology Architecture and Information Security, SNC-Lavalin's Atkins 
Dominic Howson, Supply Chain Planning and IS Director, Hovis
Nicholas Reeks - Director IT, Vendor Management, Tata Steel
David Van Dorselaer, AVP Industry Solutions – Manufacturing and Transportation at AT&T Business
Section 1: Manufacturer networks in transition
The manufacturing industry is no stranger to technology-led innovation. Digitization, however, embodied by the global Industry 4.0 movement, poses new challenges to manufacturers. In the digital era, their ability to gather, analyze and generate insights from data, to inject intelligence into production, and to make full use of technology-based ecosystems will be key to keeping them competitive.
Manufacturers in the survey understand this and are pushing advanced digital technologies throughout their operations, including on the factory floor. IoT and data analytics, in addition to cybersecurity, have been top investment priorities of over half the surveyed companies over the past year. Real-time analysis of data generated by networked IoT sensors embedded in production equipment is helping companies, among other things, to monitor and improve asset efficiency and reduce downtime.
Manufacturers are also making extensive use of IoT in their supply chains. "We plan to use IoT to give us real-time visibility into our silo stocks, which will allow us to optimize logistics planning from a milling perspective," says Dominic Howson, Supply Chain Planning and IS Director at Hovis, a UK baked foods producer.
Both IoT and data analytics will remain investment priorities for manufacturers in the coming years, and they will be joined by emergent technologies, notably AI and machine learning (we use the term AI to refer to both sets of capabilities in this report), as well as robotics. Whereas around one-third (32%) of manufacturers have prioritized the development of AI capabilities in the past year, over half (51%) say it will be a top priority in the next 3 years. Robotics technologies—which include intelligent shop-floor robots as well as robotic process automation (RPA)—are also rising up the priority list. The share of respondents giving priority to robotics will almost double, from 18% today to 34% over the next 3 years.
Few manufacturing IT leaders believe their networks are currently capable of supporting these newer technologies. Just one-fifth (19%) think AI use cases can be adequately supported by the network today. And no more than a quarter of respondents are confident of network support for robotics. Some even have doubts about network support for IoT and data analytics use cases, which manufacturers have been pursuing for a number of years.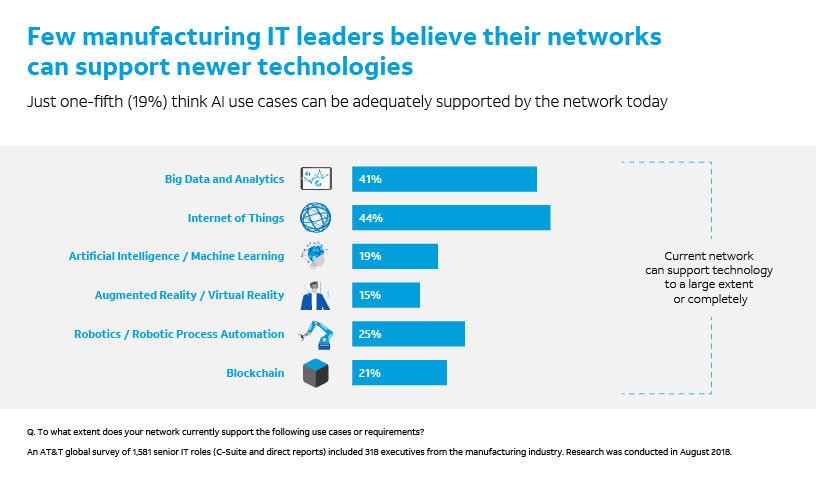 Networks will also need to be able to cope with continued growth in computing power needs. For SNC-Lavalin's Atkins, automation will be a major driver of growing power needs. According to Ed Boris, the company's Senior Director, Technology Architecture and Information Security, "Intelligent automation involves generation and analysis of a massive amount of data, which requires a massive amount of computing power." A large majority of respondents (67%) expect their computing-power needs to grow in the coming 3 years, although one-third (32%) anticipate no change.
A shift to intelligent infrastructure
Manufacturers are pushing for modernization in light of these growing demands on their networks. The number of businesses deploying intelligent infrastructure is set to rise sharply in the coming years. Today, SD-WAN features in the networks of 23% of surveyed companies; in 3 years, judging by the survey results, it will play a role in 43% of networks.
SNC-Lavalin's Atkins is nearing completion of a 3-year plan to implement SD-WAN in its network, says Ed Boris (see box in Section 2). "We have invested heavily in SD-WAN technology, which has enabled us to better manage external and internal data traffic and significantly reduce our operational expenditure."
Deploying SD-WAN means "bringing intelligence to our infrastructure," says Dominic Howson. "It's the next logical progression in terms of network technology. We very much trust it to deliver what's best for our users and our colleagues."
Edge computing will attract a considerable amount of network investment. Just a quarter of manufacturers have such capabilities in their networks today, but nearly two-thirds (64%) expect to have them within 3 years. According to David Van Dorselaer, AVP Industry Solutions – Manufacturing and Transportation at AT&T Business, one of the biggest challenges manufacturers face is providing low-latency network connectivity between applications on the production floor. Multi-access edge computing offers the ability to address latency, he says. "It allows companies to keep information locally on their network rather than having to send all of it back to the cloud."
Multi-access edge computing, and later 5G, will also provide low-latency capabilities for technologies that rely on it, such as augmented and virtual reality (AR/VR), which is increasingly used in product design. A fifth of manufacturers expect their networks to have 5G capabilities 3 years from now. And over half (55%) of manufacturers will operate cloud-based application infrastructure, such as API enablement, by then, compared with 36% today.
Section 2: Mapping the journey to intelligent infrastructure
IT leaders in the manufacturing industry draw a clear link between network modernization and digital transformation of their businesses. Over three-quarters of survey respondents believe the success of transformation hinges on the network's transition to intelligent infrastructure. Manufacturers are beginning to deploy intelligent infrastructure, and the pace will soon pick up. As many as 43%, however, appear to be doing this without a clear strategy.
David Van Dorselaer believes a transition roadmap is necessary in view of the complexity of a rapidly evolving technology landscape: "The pace of technology innovation is so high, with so many advances—cloud, IoT, AR/VR, software-defined networking—that manufacturers are struggling with how to bring all of it together."
Ed Boris argues that strategy is critical to ensuring continued senior management commitment to modernization. "If it's just tactical," he says, "the risk is that, at the budget review, management will say, 'We can't afford it.' If it's perceived to be about cost, it will eventually be cut. If it's about business value, if there is a narrative, if you can articulate that your network strategy underpins growth of the business, it's no longer a cost discussion—it's a value discussion."
A clear strategy will also help networks adapt to other factors in play. One is the accelerating pace of the virtualization of network functions. Almost half of manufacturers expect that all their network functions will be virtualized within 4-5 years.
Another is adoption of open-innovation platforms and other collaborative ecosystems, in which manufacturers and their networks must be able to share data and information efficiently and securely. The use of external APIs, for example, is a major focus of most (68%) of the surveyed manufacturers. And over half (52%) expect in the future to rely heavily on open-source standards for emerging technologies. "I'm a big advocate of open-innovation platforms," says Ed Boris, "and I don't believe that they are less secure than other development environments."
A small minority (17%) of manufacturers plan to prioritize investment in open network architectures in the next 3 years. Long delays in making such investments could make it tricky for businesses to take full advantage of open innovation and standards.
Section 3: A secure route to a digital future
Ask IT leaders in any industry about their network priorities and concerns, and the hot topic will be cybersecurity. Manufacturing is no different. Approximately 6 in 10 IT executives in the manufacturing industry (59%) count cybersecurity among their top 3 technology investment priorities over the past year. Only IoT comes close to this, as a top-3 priority of 55% of respondents.
Cybersecurity concerns are seen as the biggest block on network modernization, cited by two-thirds of manufacturers. The only other issue cited nearly as often is data privacy concerns. The main challenge of network modernization, according to Dominic Howson of Hovis, is "maintaining your physical and virtual security—making sure you don't expose your business to any risks down the side of your perimeter."
Survey respondents see IoT as the main area of vulnerability. This should be no surprise given that factory and warehouse floors, remote devices, and final products themselves are packed full of IoT sensors. A connected sensor is a potential door into the network, so if it is vulnerable this can endanger not just data or intellectual property but production operations themselves.
We are increasingly looking at the Internet of things and trying to understand, within that context, the consequences for additional security measures. For example, it's not just people accessing the network, but also devices. Cybersecurity is a focus for us as we meet the twin challenge of IOT as well as mobile users on the site. - Nicholas Reeks - Director IT, Vendor Management, Tata Steel
A related challenge, according to David Van Dorselaer, is the security gaps that exist between operational technology (production floor equipment) and IT systems. "Companies often have multiple security solutions that they've deployed over the years in both operational technology and IT. These have typically addressed niche problems in each set of systems, but as the two become more interconnected, the disparate solutions are creating security gaps. These need to be closed down."
SD-WAN can help manufacturers address such issues. Almost half of IT leaders in the industry view the ability to centralize security as among the technology's chief benefits. Edge computing will also help, says Van Dorselaer. "Manufacturers' edge plans are often driven by a need for security and ensuring that data stays local rather than traversing the network and going into the cloud." Public cloud providers are another red light in terms of network vulnerability for manufacturers. Ed Boris believes such fears are largely misplaced. "When you sign up with a cloud provider, you're not buying technology, you're buying competencies, and you're buying the possibility of becoming part of an ecosystem, giving you access to more technologies than you can find on your own. It's too easy to cite security fears about being in the cloud. No one's security, including your own, is perfect."
Conclusion
Both in IT and on the factory floor the pace of technological changes had never been faster. Moreover, this change has given rise to a new level of complexity. The opportunities to use digital innovations to create new sources of value and to vastly improve efficiency and safety are astonishing—but so are the challenges involved. It's likely that, without modernized networks, manufacturers will find it extremely difficult to take full advantage of these opportunities. A handful of lessons emerge from this research that can help producers chart the right path to the future network.
Don't delay modernization
Existing networks may be adequate to support well-established technologies, but that is unlikely to be the case for newer capabilities such as AI and robotics. Manufacturers need to get started on modernization.
Devise a transition strategy
The absence of a roadmap can lead to suboptimal investment decisions. A roadmap not only provides coherent decision-making but can help sustain senior executive support all through project execution.
Be ready for open innovation
Manufacturers understand the virtues of data sharing and exchange of ideas in ecosystems. The use of open network architectures can help ensure they get the most out of this collaboration.
Don't underestimate computing power needs
Bandwidth and data-handling demands on networks are almost certain to continue growing as the scope of digital manufacturing widens. The use of advanced network technologies such as edge computing can help networks cope.
Avoid cybersecurity paralysis
Manufacturers must not let security concerns with new technologies, however real, put a brake on network modernization. Newer network technologies such as SD-WAN can offer additional protection through more centralized security management.