Gartner names AT&T a Leader in M2M global services, IoT
AT&T was recently named a Leader in Gartner's 2018 Magic Quadrant for Managed M2M Services, Worldwide
According to Gartner, we were named a Leader for our ability to execute and our completeness of vision when it comes to managed machine-to-machine (M2M) services.
These services, as defined by Gartner, "enable businesses to collect, analyze, and interact with data streams, thus providing businesses with the ability to monitor, manage, and control (manually and through automation) assets associated with business processes. Managed M2M services may encompass integrated and managed IT infrastructure and systems, OT infrastructure and systems, software, network services (connectivity), and IT services."
In the Magic Quadrant report, Gartner separates M2M services into 7 solution elements:
Sourcing and logistics management
Service management
Device, SIM, and system management
Application management
Security management
Reporting and analytics
Multisourcing service integration
Gartner recommends, "CIOs building IoT-enabled businesses can use this document to assess vendors for multiregional connectivity and value-added services to support outcomes."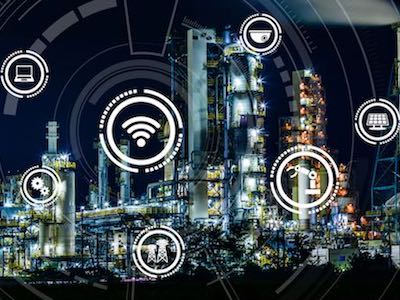 Internet of Things (IoT)
Entirely new experiences, revenues, profitability, customer relationships, business insights, and processes are now possible using IoT services and solutions.
Why 'ability to execute' matters in IoT
While we have had the honor of being named a 'Leader' by Gartner before, in the 2018 report, Gartner moved us up in the quadrant for our ability to execute. We believe the significance of that improvement is vital when it comes to IoT.
There are many vendors, and proofs-of-concept often stay on the ground. The IoT ecosystem we have developed helps customers with a full suite of flexible and modular solutions, with best-in-class alliances and collaborations in a one-stop IoT development shop.
Our value-added solutions are based on strong platforms that simplify multiple aspects of M2M and IoT solutions and enable our customers to scale when they need to. For example, the AT&T IoT platform aggregates third-party data feeds from partner networks and systems for a single view of M2M inventory management. It also offers a range of capabilities, including storage and data management, an open-source application development and management environment, and pre-integrated data connectors to data analytics services.
Thus, the ability to execute matters a great deal.
Leaders innovate: 5 key IoT trends in 2019
AT&T continues to lead the way in IoT innovation. As a Leader, we are focused on what's next. We see 5 key trends for 2019:
5G — This will bring not just faster speeds, but an entire connected experience that makes 5G and IoT a powerful combination. When implemented, lower costs, longer battery life, and improved coverage can create use cases that weren't feasible before.
Artificial Intelligence (AI) — While early IoT focused on digitally enabling physical assets, the next phase of IoT development is about augmenting human decision-making using data as a transformation tool. Manufacturing and transportation use-cases are enhancing efficiencies and outcomes for customers and workforces.
Blockchain — In 2018, we launched a suite of blockchain solutions connecting businesses with expertise, blockchain technology leaders, and the power of our network. Opportunities for use cases in the areas of asset management, physical and data flows, and risk reduction will only continue to increase in 2019.
Video-as-a-sensor — Another good example of the merging of IoT and AI is the increasing importance of video-as-a-sensor. Digital cameras are IoT endpoints, but they also  provide critical context for other IoT endpoints, such as inventory and manufacturing robots, IP safety and surveillance systems, and inspection-as-a-service models. Digital photos and video are a rich data source which require robust and scalable storage and network capabilities.
Edge computing — As video becomes more pervasive with 5G, the ability to process data locally becomes critical. Analytics and AI processing can be supported through edge computing, reducing latency. Applications such as near-real-time traffic, intelligent traffic redirection, and immersive AR/VR will all benefit from processing at the network edge.
While we have had the honor of being named a 'Leader' by Gartner before, in the 2018 report, Gartner moved us up in the quadrant for our ability to execute.
Share this quote
Predictions for the use cases IoT will soon make possible
These advancements can lead to interesting use cases. Chris Penrose, Senior Vice President of IoT Solutions, shares his IoT predictions for 2019:
1. The first mainstream self-driving 'things' likely won't be cars.
Tractors and farm equipment, heavy machinery for things like mining, drones, and robots will lead the first wave of automation. While self-driving cars may eventually be a staple on the roadways, that reality is still many years away. These other machines will provide an early proving ground and will pave the way for mass automation in the future.
2. Manufacturing, healthcare, and public safety are expected to be the early benefactors of 5G.
Smart factories will revolutionize the manufacturing process as they eventually connect the entire supply chain. The doctor-patient relationship and the traditional way that we think of healthcare will begin to transform. And first responders will start seeing new technology and lifesaving capabilities to protect citizens like never before.
3. The data-sharing economy will continue to gain momentum.
Beyond the consumer-sharing economy of things like houses, cars, and scooters, more and more businesses will look to share valuable data. Companies will be in an environment that allows partners, vendors, manufacturers, and other third parties to share data and insights from disparate information sources in an authorized, trusted, and highly-secure manner. Data sharing and advanced analytics will be key to maximizing the value of IoT.
4. IoT and AI will converge to spawn digital twins of assets and processes.   
Low-cost sensors, AI, and 5G networks will eventually allow customers to create virtual, software-based replicas, or digital twins, of their physical devices and processes. When that happens, users, manufacturers, and designers can receive near-real-time insights and take action without ever being near their assets. Digital twins of things like vehicles, cities, and manufacturing facilities will be able to drive a new wave of operational efficiencies and revenue streams. They will also be able to help engineers validate the design of a product at several points during its lifecycle. 
For a deeper dive, read the full 2018 Gartner Magic Quadrant Report. Also, discover how IoT Solutions from AT&T can help your business excel.
Gartner, Magic Quadrant for Managed M2M Services, Worldwide,  Pablo Arriandiaga, Eric Goodness, Leif-Olof Wallin, Toni Nygren,  Jonathan Davenport, Godfrey Chua, 3 December 2018
Gartner does not endorse any vendor, product or service depicted in its research publications, and does not advise technology users to select only those vendors with the highest ratings or other designation. Gartner research publications consist of the opinions of Gartner's research organization and should not be construed as statements of fact. Gartner disclaims all warranties, expressed or implied, with respect to this research, including any warranties of merchantability or fitness for a particular purpose.
©2019 AT&T Intellectual Property. All rights reserved. AT&T, the Globe logo and other AT&T marks are trademarks and service marks of AT&T Intellectual Property. All other marks are the property of their respective owners. The information contained herein is not an offer, commitment, representation, or warranty by AT&T and is subject to change.