AT&T Business earns the Frost & Sullivan 2022 United States Dedicated Internet Access Industry Market Leader award
AT&T has been awarded the Frost & Sullivan 2022 Frost & Sullivan Market Leadership Award for Excellence in Best Practices in the United States. Not all dedicated internet is the same. As the Frost & Sullivan report notes, the expansive AT&T network is the foundation for exceptional service. AT&T's core networking capabilities and connectivity services span the globe. These benefits, complemented with other products and services, can help businesses grow.
With five billion users worldwide,1 the internet is a crowded place. Businesses that use a connection that's shared with other businesses will find their connection's speed and availability may not be consistent or reliable. Upload and download speeds can fluctuate throughout the day. The quality of voice calls and conferencing may also vary.
Which brings us to your business. If you need reliable and secure internet access for connecting with employees, partners or suppliers, and customers, then AT&T Dedicated Internet may be right for you. But how can you be sure? Frost & Sullivan has some compelling reasons. (Figure 1)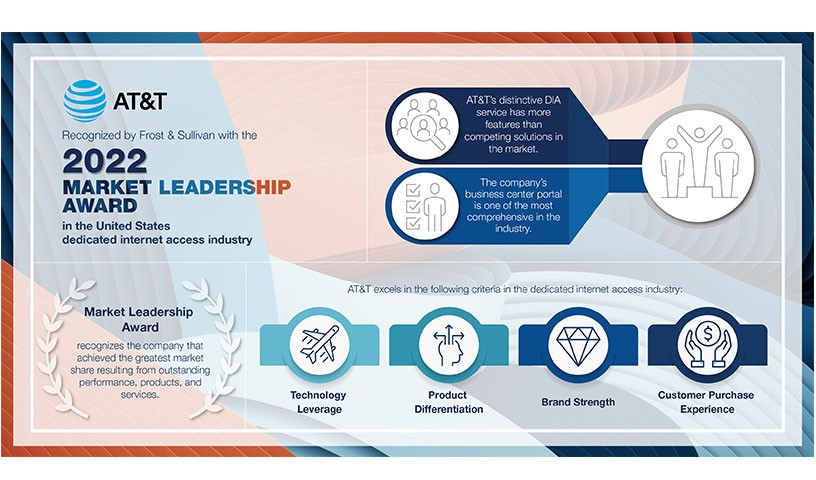 Businesses considering the speed and performance of their internet should ask themselves the following questions:
Why should I consider AT&T Dedicated Internet for my business?
Think of dedicated internet as a connection to the internet exclusively for your business only! It's an alternative to sharing your internet access with other companies. Unlike shared internet access, the connection is entirely yours. That means you have dedicated fiber internet that's more reliable with protection from outages through industry-leading service level commitments (we provide credits to our customers if we don't achieve 100% uptime).
An AT&T wireless backup router makes AT&T Dedicated Internet even more dependable. It delivers uninterrupted internet connectivity and provides 4G LTE-based wireless backup for automatic failover and failback. That way, your key applications, such as point of sale, web browsing, and messaging, can run during connectivity failures.
You also get application prioritization based on the needs of your business. Class of Service (CoS) lets you manage the most important traffic types like Voice over Internet Protocol (VoIP), streaming video, email and large data transfer, ensuring your most vital traffic is given top priority.
What can I expect from AT&T Dedicated Internet service?
Worry-free, simple, and dependable service. In addition to uptime and other service commitments, you can expect built-in, proactive monitoring and a personalized portal that puts you in control 24/7.
With high-speed connectivity up to 1 Terabyte per second (Tbps), we're not limited by the size of your business or the industry you're in. A robust underlay transport, free cyber threat analysis, and optional security add-ons are must-haves for businesses as they become increasingly digital.
Beyond that, our team of experts takes the time to understand your goals and works with you to implement connectivity solutions that are right for you. In addition, we can be your single provider with solutions for connectivity, security, voice and collaboration, devices, and more.
AT&T Dedicated Internet
Get 100% uptime and dedicated internet at the speed you choose. We deliver more than connectivity. That's why we're recognized by Frost & Sullivan with their 2022 Market Leadership Award for our dedicated internet.
"The AT&T Dedicated Internet service is built on the company's vast and unique foundation of networking capabilities. It's one of many products and services that enable them to meet the needs of any size business with intelligent connectivity from cloud to edge." Amrit Singh, Senior Industry Analyst, Frost & Sullivan
Share this quote
Discover the service that earned the Frost & Sullivan award
You have many options for connectivity, and we know choosing the best one for your business can seem overwhelming. Discover for yourself why we were awarded the Frost & Sullivan 2022 Frost & Sullivan Market Leadership Award for Excellence in Best Practices in the United States.
We'll help you understand your connectivity options and streamline the implementation process. Through expert guidance and advice, we'll make sure your connectivity adapts as your business needs change. Our unmatched portfolio of products and solutions, including AT&T Dedicated Internet, is designed to meet your needs today and take you well into the future.
Read the Frost & Sullivan report and learn why AT&T Dedicated Internet earned their Market Leadership Award for Excellence in Best Practices.