Frost & Sullivan gives top honors to AT&T SD-WAN
AT&T once again ranks as one of the best providers of Software-Defined Wide Area Network (SD-WAN) according to the new Frost & Sullivan report.
Business consulting firm Frost & Sullivan has released its annual report "Frost Radar™: North American Managed SD-WAN Services Market, 2020." It uses Frost & Sullivan's benchmarking system to rank major providers of Software-Defined Wide Area Network services according to the strength of their current offerings and the scope of their future opportunities. AT&T is positioned as a dominant player in the space and the report predicts that AT&T will continue to be a preferred SD-WAN provider for the coming years.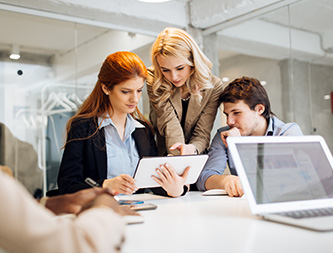 Network Services
Technology is changing rapidly and with that comes higher demands on your network while pushing bandwidth requirements to its limits.
Two robust service offerings
Frost & Sullivan describes AT&T SD-WAN offerings as "a two-pronged approach" consisting of a CPE-based solution and a network-based solution. The over-the-top (OTT) managed SD-WAN service "uses VeloCloud CPE and SD-WAN software to create an overlay network over any public or private MPLS network." Alternatively, the network-based solution "utilizes AT&T FlexWare devices—a universal CPE that can run multiple virtual network functions (VNF)—to host VeloCloud SD-WAN VNF."
Positioned to excel
According to the report, "AT&T is positioned as a leader in the North American managed SD-WAN services market radar, based on the total overall score across growth and innovation index criteria. The company also scores higher than any other managed SD-WAN provider on radar innovation index." One reason for AT&T dominance is the fact that it ranks "among the few providers that have launched SDN-based network services to offer dynamic bandwidth services, along with NFV-based virtual network services." AT&T's introduction of the expert engineer has also contributed to its market leadership, and the report notes that the role "offers post-sale support for SD-WAN customers with a high-tough, deep network design verification covering WAN, LAN, and applications." 
Strengths and opportunities
Frost & Sullivan notes that the AT&T SDN-based Network on Demand service "gives customers the ability to procure dynamic bandwidth across AT&T's Switched Ethernet and DIA [AT&T Dedicated Internet] services." Furthermore, "The ability to run SD-WAN functionality as a VNF on the AT&T FlexWare Device eliminates the need for separate CPE and allows business customers to almost seamlessly integrate SD-WAN functionality into their virtualization strategy." These factors separate AT&T from competitors and present excellent opportunities to continue innovating and expanding within the market.
Frost & Sullivan notes that AT&T retains customers by promoting a hybrid architecture. Rather than promote a rip-and-replace approach, "AT&T encourages its MPLS & IPsec customers to use hybrid networking alongside SD-WAN."
The hybrid approach delivers a greater range of options for customers looking to gradually implement a robust solution or who need to prioritize specific application performance. The report says "Using the hybrid approach, with pricing ranges from low priced IPsec sites, medium priced SD-WAN sites, and higher priced MPLS sites, AT&T is able to target a wide range of customer segments by giving them the a choice to deploy services that best suit their price points and application requirements." This flexibility is especially relevant today "as businesses of all sizes re-assess and optimize their technology spend to recover from the impact of COVID-19."
Growth
With "the most SD-WAN sites deployed in the North American market," Frost & Sullivan states that "the investments AT&T has made in SDN and NFV position the company strongly." In addition, the report recognizes that AT&T's offerings permit flexible implementation that "allows businesses to virtually seamlessly integrate SD-WAN functionality into their WAN architectures, thus driving additional revenue growth."
View the AT&T SD-WAN offerings.