Frost & Sullivan award for cellular IoT company leader
AT&T recognized as the 2021 Company of the Year in Global Cellular IoT Industry Excellence in Best Practices
Many companies like yours want to bring more digital transformation into their operations. You're likely aware that it can improve business processes, drive innovation, benefit the customer experience, and even improve revenue streams. What's important to digital transformation? The Internet of Things (IoT), built on a robust core network and cloud connectivity, offers benefits that can help you revolutionize your operations, your products, and your industry. However, with the number of options available, the process of choosing the right IoT solutions and implementing them can be complex. You may be wondering:
Can IoT be integrated into my existing system?
How can a solution be customized for unique and changing business needs?
Who owns the strategy to make sure that the connections, devices, applications, and other endpoints are operating the way they should? 
Another layer of IoT is cellular IoT. This technology focuses specifically on connecting physical endpoints, such as sensors and SIMs, to the network through the same cellular network that mobile devices use. This gives companies benefits such as more flexibility in what they can connect to the network, how they can connect, and where they can connect (more extensive coverage). Cellular IoT enables more reach, more innovation, and more opportunities for businesses and their customers.
With so many IoT adoption options, it can seem overwhelming to determine what best suits your business. We want to help. Through visionary innovation, we've developed a robust portfolio of products and solutions designed to meet your needs today and take you well into the future.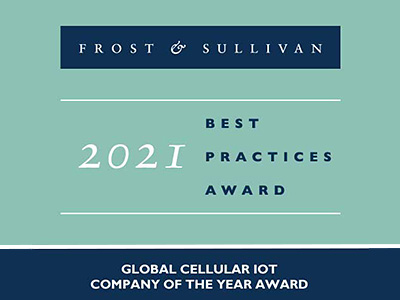 Internet of Things (IoT)
Drive your innovation into the future with our best-in-class IoT solutions. Discover why we're recognized by Frost & Sullivan as the 2021 Company of the Year for Global Cellular IoT.
Our exceptional customer care — from your first contact with us and beyond — includes helping you understand your options and simplify the process of IoT adoption. We listen, collaborate, and provide advice so you can meet your goals, grow your business, and better serve your customers. We can operate as your lead point of accountability to manage your integrated system for you.

Frost & Sullivan has awarded AT&T the 2021 Company of the Year Award for Global Cellular IoT, and we couldn't have done it without our customers! Excellence in ten criteria are required in Visionary Innovation & Performance and Customer Impact to receive the award. Here are examples in the healthcare, transportation, and manufacturing industries of how we've earned this honor.
Cutting expenses and improving care in healthcare
What do you do when there's a technology you need that you're not quite sure exists yet? That was the situation Innovative Perioperative Technologies (IPT) found themselves in. IPT is a health-tech startup that envisioned helping their surgical supply customers to better track their surgical assets. IPT creates disruptive solutions that reduce waste and support patient safety. By using technology to improve the efficiency and profitability of operating rooms, hospitals can provide better care for their patients. To offer this opportunity, IPT needed an IoT solution provider to meet their need for innovation.
IPT found their answer with AT&T Business. We developed IoT tags powered by AT&T Global SIM to track connected asset locations. We also provided the technologies and applications needed to support them. And our reputation for leading innovation and global leadership has helped IPT drive forward and establish greater credibility among their customers.
AT&T recognized as the 2021 Company of the Year in Global Cellular IoT Industry Excellence in Best Practices
Share this quote
Cellular IoT for electric vehicles

More of the world is going electric – in vehicles, that is. One of the concerns car buyers have in considering electric vehicles is that the infrastructure to support electric vehicles has not been available in all the places they would travel. This is especially so in rural areas.
Siemens is a global innovator focused on digitalization, electrification, and automation for the process and manufacturing industries. Their Electric Mobility Group develops charging stations that can be operational in more areas. The Electric Mobility Group found their solution using the AT&T Global SIM, which allows Siemens not only to activate charging stations, but to monitor them as well. The cloud-based solutions and IoT services enable the company to communicate with charging stations and collect valuable data around the user experience. AT&T Business is collaborating with Siemens to use this data to evolve and enhance the charging stations and provide an even more exceptional experience for electric vehicle owners.

Connectivity in today's digital factory

The Internet of Things has supported everyday products since the 1980s. It has been a natural evolution for the manufacturing industry to adopt IoT in both production and "into" its product development. As networks have evolved, machines and devices have become more capable of collecting rich data, and applications have become more complex. This growth of IoT in manufacturing has included connecting more machines on the factory floor and more devices to the network – and therefore creating incremental opportunities for innovation.
Manufacturing x Digital (MxD) is a research factory in Chicago that's used to test and demonstrate new and emerging technologies. AT&T Business is illustrating how IoT video intelligence, paired with a local 5G+ (mmWave) network and Multi-Access Edge Computing (MEC), can create new opportunities for manufacturers through three use cases – production accuracy, inventory tracking, and safety monitoring. The extremely fast, low-latency capabilities of these combined technologies enable manufacturers to reduce downtime, improve operational efficiency, and lower costs. Through this live, in-person demonstration, visitors can explore the possibilities for their business.  

Innovation for every business

How can IoT change the way you do business? Our history of innovation and commitment to designing solutions with our customers helps us stand apart. Our customers are at the heart of everything we do—whether  a startup with a desire to change the world of healthcare through better profitability for surgical centers and safer procedures for patients; a legacy, globally recognized technology company that aims to use cellular IoT to revolutionize the electric vehicle industry; or a manufacturing facility, small or large, that needs to have more efficiency, better safety for their workers, and improved inventory control. We deliver effective, future-forward technology solutions to help you drive your innovation forward.
Read the Frost & Sullivan report on why AT&T was chosen as the 2021 Company of the Year for the Global Cellular IoT Industry.