eBook reveals top priorities for adopting restaurant technology
Quick serve and fast casual executives prioritize digital transformation for today's customers
Business leaders in the quick serve and fast casual industry continue to learn better ways to provide quality, accessible service to their customers. As they make plans to respond to new customer trends and move beyond the COVID-19 era, these leaders are reshaping their priorities. They hope to capitalize on how technology changes the restaurant business to further enhance the customer experience.
To determine how they're adapting to these trends, AT&T Business and Incisiv conducted a survey of more than 100 executives in the quick serve and fast casual restaurant industry. We collected our findings in a new eBook, but here's a preview of what you'll find in our comprehensive report.
Here are our top findings:
Most restaurant operators think they're satisfying customer expectations:  Customers want more convenient ways to gain access to services and interact with businesses. For the restaurant industry, this means providing guests with more flexibility in how they conduct transactions. The majority of surveyed restaurant executives believe they are already meeting customer expectations, but only 27% have formulated a plan or roadmap to fully implement digital commerce into their operations.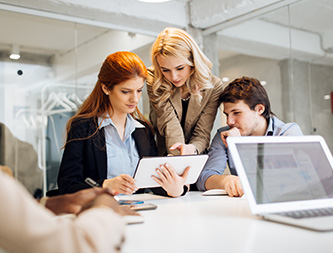 Network Services
Technology is changing rapidly and with that comes higher demands on your network while pushing bandwidth requirements to its limits.
Brands overestimate their ecommerce capabilities:  According to our survey, 69% of restaurant brand executives believe their franchises possess strong ecommerce features. But franchise operators, on the other hand, report much lower confidence in their ability to actually satisfy customers ecommerce expectations. This data suggests that there is an opportunity for restaurant brands to cooperate with franchise operators to create a digital roadmap, track progress, and find a middle ground for investing into a better ecommerce strategy.
Executives target new technologies for future investment:  Savvy food service and restaurant business leaders stay up-to-date with digital technology as a means to meet the evolving needs of their customers. According to our survey, executives prioritize technology upgrades that may deliver proven return on investment (ROI). This includes Internet of Things (IoT) technologies that monitor essential measurement such as temperature and moisture, connected smart ovens, and refrigerators. As a result, 52% of respondents indicate that they plan to invest in similar technologies within the next 24 months.
Mobile at the forefront of ecommerce strategies:  Because mobility has become essential to servicing diners for everything from restaurant online ordering to contactless payments, many executives plan to invest in mobile apps with payment capabilities. To meet these needs, 96% of respondents report planning to partner with third-party ordering apps, and a third of respondents indicate they will purchase digital kiosks in the next 24 months to meet the growing demand for contactless ordering options.
Only 61% have an operations roadmap to help achieve their goals, and only 21% use analytics effectively to track their progress.
Share this quote
Store infrastructure an obstacle to growth:  Adoption of digital transformation requires the right infrastructure. Today, 53% of restaurant executives report that their existing store infrastructure is incapable of supporting their 24-month technology roadmap. This includes the ability to carry and access operational data while also supporting traffic from employees and customers. They're looking for ways to expand their use of technology without having to start from scratch. With the right solutions, this is possible.
The time to act is now. Plot a path toward technology upgrades:  Digital transformation is no longer a choice for the restaurant industry, and most executives and operators recognize that delivering a seamless customer experience is a top priority. A highly secure network that enables easy access to data from restaurant POS systems, inventory management systems, and other endpoints helps leaders to stay agile in decision making. Yet, only 61% of leaders have an operations roadmap to help achieve their digital transformation goals, and only 21% use analytics effectively to track their progress. Digital transformation can enable businesses of every size evolve and operate more efficiently to better serve their customers.
At AT&T Business, we're invested in your success. Our team of industry experts is here to understand the unique needs of your food service business and provide guidance for the right technology to help you meet your goals. The findings in this eBook are designed to help you get there.
Read the eBook to view the complete survey findings. For more information about restaurant digital transformation, visit www.att.com/retail.